By Michelle Scheuermann
Explore an active volcano, see magnificent vistas, offering low-cost-high-value and just a short drive from a major U.S. airport? Yes, please!
Mount Rainier National Park, located just south of Seattle, is the perfect weekend getaway or side diversion for a longer stay on the Washington coast. It was recently named one of the "Ten Best National Parks" in 2017 by U.S. News & World Report, but I like Mount Rainier because of my family's history in the area. My grandfather was a logger in these very woods many years ago and my mom grew up, as she says, gazing at Mount Rainier from the family farm. Now my sister lives in this area, so all the more reason for a visit and adventure.
I was in the area for only 48-hours – after flying into SEA-TAC, my sister picked mom and me up and off we went on fairly curvy roads to begin our climb up Mount Rainier (roughly 50 miles south of the airport). Since this is a National Park, there is a car or per person entrance fee.
Our destination was the highest we could get at that time, 5,400 feet to Paradise Inn. Technically, you can travel higher to Sunrise at 6,400 feet, but in early June, when we visited, the snow pack was still large and in charge and you couldn't get through the pass. In fact, they just received 11-inches of show the night before we arrived. You can physically climb higher to get closer to the 14,410-feet peak, but that takes mad skills in navigating the mountain's 25 glaciers.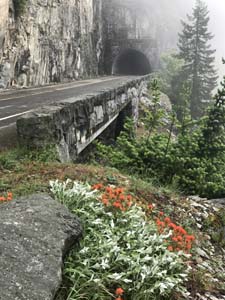 Paradise Inn is known as one of the "Great Lodges of the West" and while by today's standards the rooms are tiny, with no TV and absolutely no cell signal, the facility is pretty darn cool. The exposed timbers inside the great lobby area and intricate carved woodwork from a German architect in 1920 look like they were built a few years ago. President Roosevelt actually played the antique piano. And believe me, this place is popular. With Mount Rainier designated as a National Park, it's not like Holiday Inn can set up shop at 4,000 feet. There are lodging options, but Paradise Inn is known as the coolest (Note - Paradise Inn is only open May-October and is currently undergoing renovations). If you want it during high season (i.e. July) you better book it in advance or do what we did and go during shoulder season for less crowds and cheaper room rates. For true budget/adventure seekers, there are places to camp with only $20 overnight permits required.
This brings me to my first challenge on this trip – how to pack. The temperature change from Seattle to 5,400 feet was dramatic. Luckily, with my sister living in Seattle, I was able to borrow jackets and accessories, but I packed my own hiking shoes. One should never borrow a pair of hiking shoes if one can manage. I wear Irish Setter Vaprtrek with the 400 grams Primaloft Eco insulation, made to fit a lady's foot. For men, I recommend the Ravine or Drifter for hiking. It's important to be properly prepared for hiking with the right clothes, shoes and food/water – and maps/guidebooks. Cell service is very spotty on the mountain.
My sister is like most Washingtonians and has a very special skill - seeking out hiking trails. Mount Rainier National Park has more than 260 miles of hiking trails ranging from 5- to 100-miles – or do like we did and try shorter jaunts of half mile to one mile. Some of the shorter trails we did crossed rivers and entered 1,000-year-old red cedar tree forests. Yes, 1,000-year-old trees! To say they were massive is an understatement (I am speaking of the Grove of the Patriarchs trail). So, no, you don't have to hike far to experience very cool sights. If you are seeking a real challenge, then plan for the Wonderland Trail, which encircles the mountain for 93 miles.
Eating here is also a challenge; we packed snacks and picnic items as there are many places to throw a plaid tablecloth and enjoy the views. Our biggest food splurge was in the massive dining room at Paradise Inn.
I encourage you to take time at the visitor centers to explore and ask questions of Park Rangers. Watch the movies playing non-stop as you will learn so much about the park. For example, did you know when they built the roads for this park, they specifically did it so when you round a corner, boom, there's a view of Mount Rainier? Pretty amazing feat, considering that was done in the 1940's. And it wasn't the cheapest way to build a road as you can imagine.
Going during shoulder season in June gives you the advantage of less traffic (meaning you can literally stop in the middle of the road to take a picture of the top of mountain) and with spring in the air, the wildflowers are blooming and the waterfalls are gushing. My mom, the Master Gardener, was amazed at seeing two different colors of trillium and red moss. The multitude of waterfalls along the side of the road was my high point.
After getting our fill of sights, we started down the mountain and stopped in Elbe for the Mount Rainier Railroad. This steam engine train gives a two-hour tour, which includes a stop at a logging museum (this was very interesting for us given our family's history of logging). Tickets are higher for the first-class car, but I highly recommend it. It's in the front and less crowded, meaning you can ask the car attendant more questions for a better, personalized experience.
My 48-hour trip ended at a hotel near the airport for ease of getting in/out of the area (You don't mess with Seattle traffic). Altogether, I think I spent only $200 for the weekend. I used miles for my flight and split the cost of meals and rooms with my family. The biggest expense was the train ride. For more information on Mount Rainier National Park, visit
https://www.nps.gov/mora/index.htm