By Michelle Scheuermann
The water was clear, which is uncommon for a lake. I could see the bottom near the pier as I looked over from my kayak. It is fascinating. Was this how all lakes looked before man came into the scene? It was also very still. You could see ripples of the badgers as they harassed the loons who were obviously in their territory. That was fascinating, too. The loon babies scurried onto mom's back as the badgers swam closer and closer. Dad was off finding food; mom was on her own. We looked through the binoculars one of our camp-mates brought; we were yelling at Dad to get back to Mom, but she was doing pretty well standing her ground with two babies in tow. But wait, why am I watching loons when honestly, everyone who visits wants to see at least one of the 2,000 moose who reside here. Where are they?
Lake Superior has everything needed for a great story: drama, adventure, close encounters and even, death. You might think with the vast power of Lake Superior, it is off-limits for kayakers on a camping trip. Unless you know the perfect spot where there's an 893-square mile National Park protected by barrier islands that helps shield kayakers from Lake Superior's real powers.
Isle Royale National Park (pronounced 'royal') is the fourth LEAST visited National Park, according to park data from 2018 visits (The top three least visited are all in Alaska, go figure.) But, according Captain Ben Kilipela of the Isle Royale Queen IV 100-passenger ferry, Isle Royale sees the highest rate of return visits. And he should know as his family has operated the ferry service out of Copper Harbor, Michigan for nearly 50-years.
And why do people return? Moose sightings, probably. There are 2,000 moose reported on this small island. And if you remember the reports from last winter, a handful of wolves were airlifted into the park to help control that large moose population – and increase the wolf bloodline. The last two wolves who remained on the Island were a male and female, but they were also father/daughter and brother/sister. Think about that one for a minute.
Or maybe folks visit due the fact it is truly an off-the-grid property. You can unplug and be active by hiking some of the 14 trails ranging from one mile to 24 miles or kayak around the Island and camp in various locations – like my group did. My 'group' was an adventure tour organized by Becoming an Outdoors Woman, who has chapters in almost every state. They've completed this 5-day kayak/camping trip several times and have perfected the art of knowing where to go, what to pack and most importantly, how to read Lake Superior. They charged an all-inclusive rate, including kayak & gear, food, transportation from Copper Harbor, Michigan to Rock Harbor, Isle Royale and back for $1,399 per person. Learn more at uwsp.edu.
Also, there are no crowds. We visited Isle Royale the third week in July, peak season and while the Rock Harbor Lodge was full, the campgrounds were not. We saw a handful of other kayakers and ran into minor groupings of hikers. It was bliss.
Ready to book? Great! but here are a few things you should know.
The Isle Royale Queen IV out of Copper Harbor, Michigan is fast, but the ride is nearly four hours each way and runs once a day during peak season. You can bring your own kayak with you to the Isle Royale, which my group did. They simply haul it on top of the Ferry. Or you can rent kayaks and canoes once on site. Round-trip ferry cost is $136 per person, peak season.
Park fees are within the norm. Daily fees of $7 per person, per day. Or if you are with a group, opt for the $60 season pass, which covers up to three people traveling with the pass holder.
If you want to camp on the Island, you need to register in advance. Depending on group size, you could pay upwards of $100. Each campground is equipped with lean-to shelters with a wood floor and a screened-in open front. It was a treat to stand up in a shelter and be able to hang clothes. The night we were watching the loon/badger drama, our shelters were steps away from the waters edge. It was our own lakefront property.
If camping is not your forte, the Rock Harbor Lodge is an option. It varies in costs from $200-$300 per night. The original Lodge building is from their early 1900's, when there were six resorts operating on the Island. The National Park Service didn't take over until 1938, when the 'resort era' was in decline thanks to the Great Depression and their main transportation vessel, America, sank in 1928 (Parts of America's dock still exist today.)
The best time to go is July. You will pay a little less during the shoulder season of June and September/October, but you also have the opportunity of a very bumpy ferry ride and choppy waters for kayaking. Neither are appetizing. July also offers a bounty of northern flowers blooming, from lilies to berries.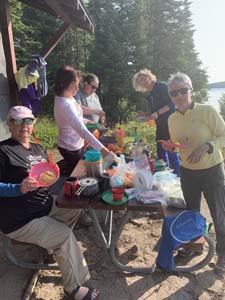 Besides the moose, a 'must-see' on the Island is to visit Rolf and Candy Peterson aka 'The Moose People'. They know more about moose than anyone on the planet. They've been studying them since the early 1960's and were the ones who helped change the minds of many that wolves needed to be brought into the park. They live on one of those barrier islands across from Isle Royale, the same little location as a former commercial fishing business and a former operational lighthouse (both you can also visit). They live in this off-grid lifestyle spending their days collecting moose data, which can be anything from sheds to full-on carcasses. In fact, the day we were there, the air was quite ripe from Roff "cleaning" a moose carcass.
Their "moose-eum" is a MUST SEE. All the sheds, skulls and bones collected are brought here for studying. How did this moose die? Was it from wolves? Age? Disease?
If you are kayaking, simply land at their dock and walk on in to chat with them. If you are sans kayak, take a water taxi from Rock Harbor. Lastly, if you so enamored with moose and want to help Rolf and Candy with their studies, you can. Join their MooseWatch every spring where you search the forests of Isle Royale for moose bones.
My group never did see a live moose. But we did see a dead one. Just a few feet off a main trail lay a decaying moose, innards in one corner, a hoof and a leg over there, cavernous ribs in the middle. Again, it was fascinating. Rolf and Candy don't think wolves did it, but rather, old age. They already took the skull with antlers and are allowing the moose to decay further before adding more bones to their "moose-eum."
If this article has piqued your interest in visiting Isle Royale National Park, here are a few resources:
Becoming an Outdoors Woman: https://www.uwsp.edu/ucm/news/Pages/BOW-Islekayak19.aspx
More on Rolf and Candy Peterson: http://IsleRoyaleWolf.Org
MooseWatch: https://isleroyalewolf.org/participate/participate/explorers.html
The Rock Harbor Lodge: http://rockharborlodge.com
The Isle Royal Queen IV: http://isleroyale.com
National Park Service, Isle Royale: https://www.nps.gov/isro/index.htm
Naked in the Stream : Isle Royale Stories by Vic Forester: https://www.amazon.com/Naked-Stream-Isle-Royale-Stories/dp/1933926228