KingKooker Jalapeno Rack with Corer
Put some spice in your holidays with the KingKooker 36-hole jalapeno rack. Use the included corerer tool to quickly hollow out your peppers and then stuff them with your favorite fillings. Use in the oven or on the grill for delicious hors d'oeuvres to keep your guests satisfied while they wait for the main course.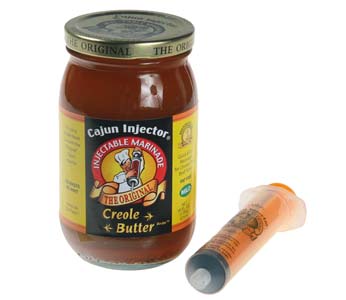 Cajun Injector Creole Butter Combo
When it comes to a moist, mouthwatering bird, nothing brings the flavor like Cajun Injector's Creole Butter. The blend of oils and spices are just the ticket for the most delicious turkey that will leave guests clamoring for an invite every year. It comes with an injector for shooting the flavor deep into the meat and also placing it under the skin for a perfectly crispy exterior and meat that retains it juiciness.
Presto 6 Quart Nomad Traveling Slow Cooker
A slow cooker is a great kitchen tool, but usually doesn't travel well without spilling the contents. Presto has created a version that offers portability and ease of use in a single package. Designed like a cooler on the outside, the Nomad Traveling Slow Cooker has a handle for easy carrying and a cool touch exterior for easy transport. The removable pot is submersible for easy cleanup and the locking lid prevents spills. A marker and dry erase board allow you to write the contents on the front and a tray with bungees acts as a utensil rest and means to transport your serving spoon. Take your slow cooked casseroles, soups, stews and roasts with you to grandma's house without the hassle of transporting a traditional slow cooker.
Lodge 7 Qt. Oval Dutch Oven
All of the amazing versatility of a cast iron Dutch Oven in a package attractive enough for the fanciest of dinner table is what you will find in the Lodge enameled 7-quart Dutch Oven. Large enough for roasting a small bird or for the largest of casseroles, this Dutch Oven provides even heating, quick cleanup and no need for seasoning, thanks to its attractive and durable enamel coating. Available in a variety of colors.
Char-Broil Big Easy Oil-less Turkey Fryer
There isn't much that tastes as delicious as a deep-fried turkey, but between the mess and expense of the gallons of oil, many choose to go the more traditional route and roast their bird in the oven. Now, thanks to infrared oil-less frying, you can enjoy the flavor of a deep-fried bird without the fuss. The Char-Broil Big Easy lives up to its name, making frying and cleanup fast and simple. Cooks birds up to 16-pounds and after coating them with some olive oil and injecting them with some Creole Butter, you will wonder why you ever cooked a bird any other way.
New Buffalo 6 Quart Ice Cream Maker
What could be better with granny's homemade apple pie than some home churned ice cream à la Mode? The New Buffalo ice cream maker combines old world styling of a wood bucket with the ease and convenience of an electric churn (No more tired arms for those old enough to remember hand churned ice cream). This updated version provides all of the fun and delicious enjoyment, without the hard work. But, in case the power goes out or you are far in the backcountry, this maker also includes a traditional hand crank so you can show the whipper snappers in your midst the way ice cream was made back in the day.
Camp Chef Deluxe Pellet Grill with Window
Throw away your old gas grill, retire that charcoal and upgrade to the newest pellet smoker and grill from Camp Chef. Featuring slide and grill technology to give you the best of flame broiled goodness or slow smoke, the Deluxe Pellet Grill also provides a window, so you can check on your meat while maintaining that perfect temperature. Dual probes allow you to see the internal temperature of your meat or the chamber temp with just a single push of a button. Easy ash cleanout and pellet swap means that maintenance time is minimal and you will never need a shop vac to use this grill. The 4,850 cubic inch cooking chamber is large enough to cook any size bird and the 22-pound hopper capacity means you can watch the game and not worry about refilling your pellets. This Sportsman's Warehouse exclusive is sure to make the neighbors jealous.
GrillEye Smart Bluetooth Grilling & Smoking Thermometer
GrillEye is designed to withstand the tough conditions during grilling and smoking, without loosing its premium style that makes it stand out of the bunch. The screen is made of a specially coated polymer that keeps the device lightweight while reflecting the sunlight, thus allowing you to read temperatures easily. For each probe, the GrillEye displays the current and the target temperature, using two different LED indicators, so that you can see what's cooking, even without your mobile. GrillEye uses a space-grade, aluminum rotating stand that allows you to adjust the device's position and enhance your viewing angle, whether you are standing or sitting. No more disconnections when moving away from your grill or smoker. GrillEye uses true, long-range Bluetooth that guarantees a hassle-free grilling and smoking experience.
FireDisc Bamboo Cutting Board w/ Built in Knife Sharpener
Carve your bird without fear of damaging your knives or endangering your guests. Bamboo is a very durable material and provides a harder surface than most wood cutting boards, plus the natural bamboo grain pattern adds a very unique look that will stand out. The natural finish is carbonized, with no dyes or stains used. The glue has been tested for food-safety. The sleek board is scratch and moisture resistant and won't dull knives. It has been treated with a special process to make it antibacterial. Rubber pads on the bottom keep the board from slipping. The built-in knife sharpener allows you to quickly touch up your blade while carving.
LEM Products French Fry Cutter
Mashed potatoes are nice, but what is better than fresh homemade French fries? The LEM French Fry Cutter makes quick work of peeled potatoes and even works great for homestyle skin-on fries. Simply insert your spud and press the heavy-duty handle to quickly julienne an entire potato at once. A strong plastic frame and stainless-steel cutting blades quickly wash up in the sink or dishwasher for fast cleanup. It comes with both a thick and a thin cutting plate for regular or heavy fries.
Presto FryDaddy Electric Deep Fryer
No more worrying about the correct frying temperature. The FryDaddy automatically maintains the perfect frying temperature with no dials to set. Uses just 4-cups of oil to deliver that perfectly deep-fried goodness each and every time. No controls to set. Crispy, crunchy deep-fried food! Delicious French fries, shrimp, chicken, onion rings and more. Handy scoop lifts, drains and serves. No messy basket. Easy to clean! Nonstick surface inside and out. The easy-to-store snap-on lid lets you store oil right in the fryer to use again and again.
Bear Paws
Bear Paws are the original, must-have BBQ accessory. A longtime favorite of BBQ experts across the nation, Bear Paws are specially designed for lifting and shredding meat. Channel your inner grizzly with the only meat shredding tool that fits your hands perfectly, acting like an extension of your arms and allowing you to shred meat without getting burned or melting your tools. The super-sharp, meat-shredding "claws" are strategically spaced so meat won't get stuck. Bear Paws offer a much better way to shred meat than the traditional knife and fork. They also work great for transferring your hot turkey from the roaster to the platter.