Everything you need for making jerky and sausage.
LEM Ground Meat Packaging System
Whether you are making ground caseless seasoned sausage or just plain ground game meat burger, this packaging system from LEM will speed up your bulk packaging and cut your bagging time by about a third. Utilizing a special tape dispenser, the Ground Meat Packaging System allows you to quickly stuff their bags, swipe them through the dispenser and get a neat tape wrap every time. Bags feature boxes for marking the date, species and other information to help you keep your ground meat sorted and fresh.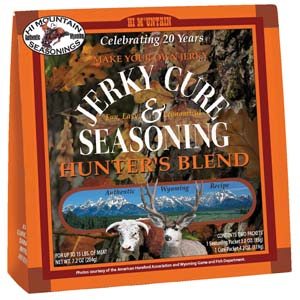 Hi Mountain Jerky Cure and Seasonings
In the time I have been making jerky, it seems like I have tested every brand of jerky cure and seasoning and the best tasting and easiest to use are the products from Hi Mountain Seasonings. Packaged in two different bags, the cure and seasoning are applied to the meat separately and allowed to sit for 24-48 hours before smoking or dehydrating. Their flavors run across the gamut from sweet and spicy, to earthy and traditional, to exotic. For delicious jerky that cures properly for longer shelf life and tastes delicious, you can't beat the seasonings from Hi Mountain.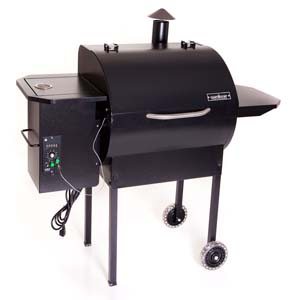 Camp Chef SmokePro DLX Pellet Grill
"Go big or go home", applies to the world of jerky and sausage making as well. With a variable temperature control that will go as low as 160 degrees, all the way up to 500 degrees, the SmokePro DLX gives you ultimate cooking capability for slow-smoked jerky to smoky, fully cooked sausage. With 429-square inches of cooking space, you can cook a lot of jerky at one time. Add in the tiered jerky trays and you can triple your jerky production. A high capacity hopper and a more efficient combustion chamber means that you can cook for hours without refueling your grill. A digital temperature control system keeps your jerky and sausage at just the right temperature with minimal adjustment. Use the internal meat temperature probe and you can set it and walk away, without worrying about overcooking your tender jerky.
Camp Chef Premium Hardwood Pellets
Using virgin wood sourced pellets for their SmokePro Pellet Grills, Camp Chef ensures that only the finest hardwoods are used to prevent chemical contamination that can occur from using treated woods left over from cabinet making or in the binders some manufacturers use to compress their pellets. While usually not harmful, these additional ingredients can transfer to the meat being cooked, imparting an off taste. Camp Chef uses hardwoods and only hardwoods in the manufacture of their premium Hardwood Pellets to ensure even flavor and consistent burn rates. They are available in six different hardwoods; competition blend, hickory, apple, alder, mesquite and cherry; as well as a natural herb blend for hints of sage and other herbs.
LEM Sausage Stuffing Kit
Using your grinder to stuff your sausage casings is usually sufficient for a small batch of sausage, but getting into full production mode requires the use of a stand-alone sausage stuffer. The Sausage Stuffing Kit comes with everything you need to do 5-pound batches of sausage very quickly. It includes the 5-pound vertical stuffer and enough casings and seasonings to make 30 pounds of tasty sausage, forcemeats like salami or bratwurst. The stuffer is very easy to use and features an oversized crank with a stainless-steel body and pressing plate that is super easy to clean and requires very little maintenance.
Hi Mountain Seasonings Jerky King Set and Variety Packs
If you are just getting into making jerky, the Jerky King set provides you with a hardwood cutting board with a lip for easily cutting the perfect thickness of meat. It also provides a razor sharp long knife for slicing quickly and cleanly through your meat. A nickel-plated jerky making screen lets you get proper airflow to your jerky, whether you use your smoker, oven or barbecue to smoke it. For those who can't quite decide which flavor they like best, Hi Mountain Seasonings also provides variety packs of several of their seasonings and cures to give you the ability to try new flavors.
LEM Handheld Round Meat Tenderizer
Nobody likes tough jerky and few want to take their most tender cuts of game meat to make it. One inexpensive way to soften up their less desirable cuts of meat for making jerky is to use the Handheld Round Meat tenderizer to break up those tough fibers. A few passes with the 24 stainless-steel points makes quick work of making the meat softer, but also opens it up for better marinating and curing.
Camp Chef Smoke Vault
For those times when you don't have access to an external 120-volt power supply, the Smoke Vault propane smoker from Camp Chef offers a compact, complete smoking system with just a bulk propane tank for power. Available in either an 18 or 24-inch wide configuration, the Smoke Vault features an internal thermometer for easy monitoring, a heavy gauge wood chip tray that will stand up to years of hard use and a water pan to keep your meat moist while smoking. Optional jerky trays let you make beef sticks and ground jerky without allowing them to fall through the grills. A full adjustable burner and dampers let you vary the temperature from 160-degrees to 400-degrees for "low and slow" or "hot and fast" cooking.
LEM Jerky Cannon
One way to get tender jerky is to fine-grind your meat and squirt it out into strips. To accomplish this quickly, you need a cannon; specifically, a large jerky cannon. This big gun from LEM holds a pound and a half of ground meat and shoots out flat and round sticks of flavorful jerky. It comes complete with two packages of Backwoods jerky seasoning to make more than 10 pounds of delicious strips and sticks.
Hi Mountain Fish Brines
Jerky doesn't have to just be red meats like deer, elk, beef or moose. Some great jerky recipes use white meats like pork, fowl or fish. Hi Mountain has you covered with a selection of excellent brines for Alaska Salmon, Wild River Trout and Gourmet Fish. Soak your catch in these brines before smoking for a delicious and flavorful dried smoked fish that will have your neighbors and their cats lined up outside your door.
LEM Collagen Sausage Casings
Nothing beats that firm pop of biting into a tender and delicious cased sausage, but anyone who has worked with natural pork intestine can tell you that they are a pain to soak, sort, stretch and inflate prior to filling. The small blood vessels tangle up and small holes can quickly develop into major ruptures during stuffing. To get the same texture as with a natural casing, LEM makes collagen cases that come shirred (stacked like a slinky) and are used dry for very easy stuffing on your grinder or stuffing machine. They are made from beef collagen for a great natural taste that easily takes a good smoke flavor.
LEM 5-Tray Single Door Countertop Dehydrator
While I prefer smoking as a way to desiccate my jerky meat, some people like a milder flavor for their meat sticks. The LEM Countertop Dehydrator is a great way to quickly dry out your cured meat. It features a 30-hour digital timer with an auto shut-off. The entire casing and shelves are made from a food-grade ABS plastic for easy cleaning and a neutral flavor transfer to your jerky. It is also suitable for dehydrating fruity snacks and even making fruit leather from juice with the optional juice trays.