By Dan Kidder
Managing Editor
With winter hitting the country hard, many drivers are finding themselves stranded in traffic jams, sliding off the road and getting stuck, or just breaking down far from help. The bad weather also impacts the response time of those tasked with rescuing the stranded, and in a decent snowstorm, you can wait hours or even days before help can get to you. Staying comfortable and safe is possible with just a bit of preparation and having the right items on hand to help you hunker down and wait for aid. Here is our list of items that you should assemble into a winter vehicle emergency kit, as well as a few steps you can take to minimize your chance of getting stranded.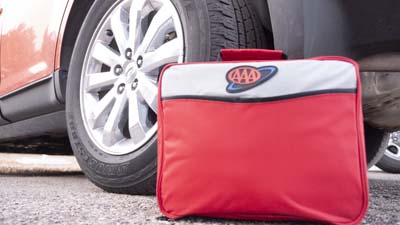 The first thing to look at is some means to get your vehicle running if it stalls out. Sometimes, it is just a matter of the battery dying from the extreme cold or from leaving the lights on. In many cases, just getting a jump can get you back on the road. A good starting point is the AAA Excursion Road Kit. It has a decent pair of jumper cables so you can get a jump if your battery dies. In most cases, this will get you back on the road and as long as the vehicle is running, the alternator will supply
enough power to keep your engine running. It often surprises me how many people don't have jumper cables in their car. In addition to jumper cables, the kit includes a screwdriver set and a pair of pliers that will be sufficient for many small repairs such as re-tightening a battery terminal or a hose clamp. The kit also includes an air compressor, emergency reflective triangle, gloves, flashlight, a very basic first aid kit, some duct tape, a rain poncho, a utility knife, bungee cord, some zip ties, and a few other basic items that make this kit a good starting place for your basic vehicle kit.
If you are unable to get the vehicle running, you may need to use it for shelter. A decent packable blanket like the ALPS Dayventure Waterproof Blanket can help keep you warm. It is also waterproof so you can stretch out on it while changing a tire or working on repairs under the vehicle in the snow. It packs very compactly into its own stuff sack for easy storage. It can also double as a picnic blanket on damp grass when you aren't stuck.
It is much warmer than those Mylar blankets and it breathes so condensation won't build up and make you wet, which will make you colder. A few air-activated hand warmers can also help keep away the cold and make your wait more comfortable. They will last for hours and are simple to use and store for a very long time.
If you are stuck at night, having a good quality flashlight that will survive a drop or a dunk in a puddle may be needed. I like the Fenix HM50R for this as it gives me several options. I can use it with the included head strap as a hands-free headlamp or take it off and use it as a very small but bright flashlight to shine into hard-to-reach-or-see places in the engine compartment that might be difficult to get to with a larger flashlight. It provides four levels of lighting with a max output of 500 lumens and is rechargeable via micro USB or can use a standard CR123 battery, so you have options.
If you are stranded as a result of an accident, it's a good idea to have a decent first aid kit. I am a fan of kits by Adventure Medical Kits, and their Family First Aid Kit is a great option. It has an assortment of bandages and dressings that can handle serious bleeding as well as an Ace Bandage for sprains and strains. The clear first aid guide helps you put these items to use. There are even small forceps that may be useful for removing glass from your skin. It all comes in a sturdy nylon zippered bag for easy storage and transport. This kit will serve you well if you are stranded but will also be a frequent go-to for daily adventures.
If you slide off into deep snow, two items may help get you back on the road. A decent shovel that you can use to dig out of deep powder, like the Lifeline Adjustable Utility Shovel. It can be made short and compact for easy storage or work in tight places, like under your wheel wells. It can also be adjusted to full length for more leverage moving a lot of snow quickly. It is made from a heavy-duty aluminum, so it will take a lot more abuse than a plastic shovel would but keeps the weight minimal. The wide flat face lets you scoop more snow and chop into ice to clear your tires. A T-shaped handle gives you better grip and control, especially when things get wet and icy.
The other item is a strong tow strap. The ProGrip Tow Strap combines 25 feet of stitched webbing that has a breaking strength of 8,500 pounds with two drop-forged steel hooks for extra strength. Sometimes a gentle tug from another vehicle is all it takes when combined with the power from the stuck vehicle. Like jumper cables, many people who are willing to help often don't have the equipment, so having your own tow strap is a great idea.
One other item I always make sure to carry is a can of Fix-A-Flat. For small holes in your tire, like a screw or nail hole, this will usually repair the leak and partially inflate the tire. I still like to have a compressor to get it back to its rated inflation, but even without a compressor, it may give you enough air to get to a service station and get the tire repaired.
The odds of you being stranded long enough to worry about starving are pretty slim, as the average person can go up to three weeks without eating. But you may get a little hungry and I like to keep a few food bars in my kit. One of my favorites is the
Pearson's Salted Nut Roll, but a few Clif Bars or some of the Pro Bar Meal Bars are great as well. If you want a hot meal that doesn't require a stove to heat it up,
one of the meals from Chef 5 Minute Meals can be stowed in your kit. One thing you should definitely have is water. The trouble with water is keeping it from freezing. One solution is to store it in a thermal bottle like the Stanley 35-ounce Insulated Stainless Steel Bottles. This will help protect your water from freezing and is tougher than just tossing a few bottles of water in your kit, so it has less chance of leaking.
To keep your kit contained and also easy to access and move around, I find it is best to keep it all together in some sort of bag. I looked for a bag long enough to store the shovel, as well as roomy enough to contain all of the other items, and easy to move around as I need to put other items in the trunk or backseat. I also wanted something tough enough that wouldn't tear or wear through bouncing around with the jack and spare tire. The Outdoor Products Large Utility Duffle was the perfect size and was durable enough to meet my criteria. At 30" long and 15" in diameter, it held the shovel and all of the other items perfectly and the tough Nylon material will take years of abuse. It even comes packaged in another bag that can be used to organize smaller items in your kit.
A few extra items you can pick up at your local hardware or grocery store are also helpful. A gallon bag filled with non-clumping cat litter may help give you just enough traction to get unstuck. Another bag of or tub of ice melt can help do the same, but can also make the ice more slippery if it is too thick for the ice melter to get through. Some warm, waterproof, insulated gloves are a great addition for warmth as well as working in the snow. Some warm dry socks are a good idea so you can change socks if the ones you are wearing get wet. I also keep a Carhartt Acrylic Watch Beanie and a packable jacket in the kit. Keep in mind that you will need multiple of some items depending on how many people you normally transport. If I am getting dressed up and will be wearing dress shoes, I may also toss a pair of warm insulated boots in the back seat in case of a breakdown and I need to walk a ways to get help.
While you may be tempted to keep a backpacking stove and a fuel canister in the vehicle to heat up some soup or coffee and provide a little heat, keep in mind that these give off carbon monoxide, which is poisonous, and could be deadly if used in the confined space of a car. Getting out in the elements to use it, may really negate the usefulness of such an item if it is frigid outside. A spare battery brick to charge your cell phone, as well as a charger cable, can be helpful if the battery in the vehicle dies and you can't charge your phone with the 12V accessory outlet. If you have small children, a couple of travel board games or coloring books and crayons may help them pass the time and take their minds off the cold for a bit.
Your emergency winter vehicle kit doesn't have to be huge, comprehensive, or expensive, but keeping these few items in your vehicle can make you much more comfortable if you get stuck this winter and could potentially save your life. Take care as you drive on winter roads and make sure you keep up on your vehicle maintenance to help avoid a break down. Having good tires, leaving plenty of stopping room between yourself and the vehicle in front of you, and slowing down on wet or snowy roads can all help you avoid a problem in the first place. And please for all that is holy, if you see another vehicle, tow truck, police officer, ambulance, or whatever on the side of the road; slow down and move over. The lives of those who are braving the storm to save others are far more valuable than the few minutes you may lose by slowing down and giving them plenty of space to work. Be safe out there.