By Kent Danjanovich Senior Editor
Southwest Alaska is vital to the salmon business of Alaska. All five species of salmon return to the waters of the Bristol Bay region yearly, totaling some 40 million annually. Nearly 50 percent of all sockeye salmon harvested in Alaska are from the Bristol Bay drainage. That is why you are hearing so much about the proposed Pebble Mine, which if approved, could have devastating effects on the system and its fish, animals and all of us.
Salmon, rainbow trout, Dolly Varden, Arctic char and grayling flourish, with even some lake trout and northern pike thrown in for good measure in some areas. One such area that seems to have it all is the Wood-Tikchik system.
At nearly 1.6 million acres, Wood-Tikchik State Park is the largest and most remote state park in the nation. This one park encompasses nearly half of the State Park land in Alaska and 15 percent of all State Park land in the United States. Wood-Tikchik State Park is named for its two systems of large, inter-connected clear water lakes located in southwest Alaska, just north of Dillingham.  The southern lakes, the Wood River system, drain into Bristol Bay via the Wood River.  The northern lakes, the Tikchik system, drain into Tikchik Lake then to Nuyakuk River, to the Nushagak River and on to Bristol Bay.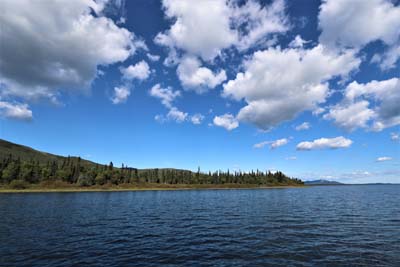 The lakes occupy deep glacial valleys, carved 15,000 to 25,000 years ago. The glaciers retreated, leaving behind valleys filled with water that are now the celebrated lakes of the park. Each lake spans a variety of terrain. Spired peaks, high alpine valleys and deep v-shaped arms give the lakes' western reaches a spectacular fjord-like appearance. The eastern edges of the lakes look out upon islands, gravel beaches and the expansive tundra of the Nushagak lowlands.
One of my favorite places to visit in this part of the world is Rob and Lisa Fuentes' Alaska's Bearclaw Lodge. The lodge sits on Lake Aleknagik or "First Lake" as it is known by locals, on the southern end of the park. All of the comforts of home await you on your arrival and all that is required of you is the ability to take in all of the beauty that surrounds you and be able to haul in as many fish as you can handle!
Their packages include six nights lodging/five days of fishing. Once you arrive in Dillingham, you will be picked up at the airport and taken by van for a short 20-minute drive to the boat launch on Lake Aleknagik. You and your gear will then be loaded onto their comfortably, covered, 23' Woodridge Super Sport Drifter Boat and transported to the lodge, a short 15-minute boat ride across the lake.
The lodge itself sits on the banks of a small island on the west side of the lake and offers a picture-perfect view in every direction! And, with only 10 guests taken at the lodge at any time, you will always feel plenty of attention is being given to you at every turn. Every two guests will be paired up with their guide for the week and if you need waders and wading shoes, a full line of Simms gear is at your service in the drying room before you head out on your first adventure.
Your day starts at about 7am, as your guides first take down a little nourishment at the breakfast table and then head down to the docks to get their boats and gear ready for the days' events. Then it's your turn to test the chef's creations and then grab your gear and head down to meet up with your guide. Will it be sockeye salmon first today? How about a little dry fly action for rainbows or Arctic grayling? Or maybe you have chosen a fly-out to the Nushagak River for king salmon. Yes, your choices are almost endless and believe me, you really can't make a bad one looking back on my past visits to the lodge. In fact, most days are filled with a variety of catches, depending on the time of year you are visiting.
Everything starts to get underway around the second week in June as the kings start to enter the Nushagak and the sockeye start flooding into the Wood and others. Our visit in 2017 started with a stop first at their operation on the Nushagak River at their Alaska Kingfisher's Camp and what a start to our trip it was.
We hit the water on our first morning by 8:30am and by noon, our boat had landed over 20 kings. We used both bobber-doggin' and back-trolling techniques throughout the day, with all of us hooking into and landing double-digit numbers of fish a piece. Four beautiful king salmon filled our fish box at the end of the day, as well as a couple of sockeye and chrome chums as bonus fish. We decided to stay at camp for the night and fish again the next morning as well, with the results, just as good or better than our first day. After a great morning on the river, we met our floatplane back at camp and flew back over to Bearclaw Lodge for a little afternoon sockeye fishing, ending with some unbelievable grayling on dry flies to finish off our perfect day.
Our next morning found us heading back up the lake and then up the river in search of Arctic char. It didn't take long to spot a group of gulls circling and diving into the water on a secluded point on the lake, so we headed over to join in on the fun. Our guide, Will, set fellow Sportsman's News Pro-Staffer, Rick Rosenberg and I up with spin cast outfits, complete with jigs to cast and retrieve in the direction of the bait balls. As balls of bait made their way throughout the area, the birds and char chased then with a vengeance and we found ourselves doing the same.
As soon as one of us hooked into a fish, 10, 20 or 30 more would appear out of nowhere, thinking that the fish we had on was chasing the bait ball. As soon as you saw this happening, if you didn't have the fish on, you would throw your jig in the area and it was game on for you as well. Soon we were doing the same with fly rods and minnow patterns. To say we were having the time of our lives would be an understatement!
About noon, we headed back to the Agulowak River and switched over to dry flies for a little more grayling and rainbow action. When you hear this area may be the best dry fly fishing experience in all of Alaska, you are hearing the truth! I have never experienced anything like it. There is nothing quite like a 20-inch grayling arching out of the water in a perfect half-moon and literally landing on your dry fly as you lift your fly rod for a perfect hook set. Ah, the memories!
Then it was back to one of Will's favorite stretches for some non-stop sockeye action on both spin cast setups and fly rods. And as a bonus, the run was so strong, we were able to retain 10 fish each, filling our box with 20 silver balls of muscle that produced the most beautiful red fillets that you have ever seen.
Now, if you are a fisher man or woman and aren't exited enough from reading this article to get on the phone to book your trip right now if there is any room left, I just don't know what else I can do to get you any more in the mood! Alaska's Bearclaw Lodge offers, bar-none, one of the best experiences Alaska has to offer. We are proud to have them as one of our prestigious Platinum Approved Endorsed Outfitters. They fill up fast, as their return clientele rates seem to tell you they like what they see! The setting is spectacular, the accommodations superb, the food scrumptious and the staff, first class. Alaska's Bearclaw Lodge, 907-843-1605 and visit them on the web at
www.bearclawlodge.com
.