When you have the opportunity to travel throughout North America to fishing destinations as much as I do, you come across all kinds of operations. From the top of the line to the bottom, I've just about seen it all. Most offer great fishing, but many lack in other areas. Some have great accommodations and food, while others just get by in these areas. Many have knowledgeable guides, but their boats and equipment could use an upgrade. The list goes on and on.
But, every once in a while, you come across a place that truly has it all – great accommodations, superb food, top of the line boats and equipment, knowledgeable guides and unbelievable fishing. One such place is found a little north of the border in Manitoba, Canada and the name of the place is North Haven Resort located on Utik Lake about 350 miles north of Winnipeg.
North Haven Resort is truly an exquisite five-star fishing resort surrounded by Canadian wilderness in every direction. Only accessible by air and the only property located on 35-mile-long Utik Lake, the resort was built to offer guests the best world-class fishing, luxurious accommodations, five-star service, and tranquil seclusion imaginable.
It all began back in the early 2000's when businessman Dennis Punches acquired the property and decided to build a high-end fishing lodge on Utik Lake. You see, Mr. Punches was the owner of North Star Resort and they had been offering flyouts to their guests on Utik Lake because of its abundance of large northern pike.
The process was not an easy one, as all of the equipment and materials had to be either flown in or brought in via an ice road during the frigid winter months. Finally, the resort was ready to open its doors in the summer of 2008 and as they say – the rest is history. Sadly, Mr. Punches passed away in December of 2017, but his legacy and love of the outdoors lives on at North Haven Resort.
Today, North Haven Resort is considered by many to be the premier fly-in fishing lodge in Canada. I had the chance to meet David Brahm, the director of marketing for the resort at the SCI convention in Las Vegas in 2017. Plans were soon made for a visit to their operation in hopes of them becoming one of our newest Platinum Approved Outfitters and Lodges. And as you can guess, our first trip to the resort was nothing short of amazing.
Soon, talks began to include North Haven as part of our ever-growing Pro Membership Sweepstakes and final plans were made for our return visit, June 24-29, 2019, with the eventual winner of the drawing, Renee Wagler of Indiana and her invited guest, her husband, Travis.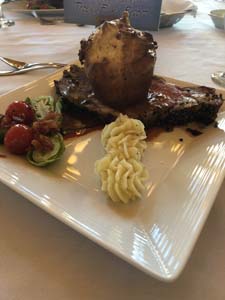 I would be joined on the trip by fellow Pro-Staffer, Steve McGrath and the four of us would first overnight in Winnipeg before heading to the alternate airport in the morning for our chartered flight to the resort. By 8 a.m., we were landing on the runway on the island adjacent to the island that is home to North Haven Resort. As we exited the plane, a group of guests took our place as they were finishing their trip and we then loaded onto the awaiting pontoon boat for the short boat ride between the islands to the dock. With the beautiful main lodge hovering above us, we made our way to its entrance, with the staff lined up to welcome us and a full breakfast, made to order awaiting. Eight others would be sharing the lodge with us during our stay and after a great first meal and a few more introductions, we were off to our cabins to get ready for our first day on the water.
Our guide for our stay would be Matt Sobiera, a veteran Canadian guide and experienced fisherman of the area. Renee and Travis would be with guide Jordan Harder, another multi-year veteran of the lodge and Utik Lake. We would go our separate ways on this first morning, but again hook-up for shore lunch at about 1 p.m.
Matt wasted no time in putting us on fish. Rapala's and spoons splashed their way along the many weed bed lines and explosive takes were the norm all morning as northern after northern came to the side of the boat (and of course a few walleye mixed in for lunch). Steve hauled in the biggest of the morning, a heavy, 39-inch beast that literally inhaled his lure. By lunchtime, we had boated over fifty fish between us, so the break for lunch gave us both a chance to catch our breath and get to know our Pro Member guests a little better.
Travis Wagler was actually the first to sign up for the sweepstakes, but soon after, Renee joined as well. And of course, within two months, she became a grand prize winner (how come the ladies always seem to be the luckiest?). She told Travis she was going to take her best friend along on the trip, so when she started making plans, to Travis' joy, he finally realized that he was that best friend she was taking about!
Matt and Jordan then commenced to go through the motions on a wonderful shore lunch. If you haven't had the chance to partake, well let's just say you are really missing out. And the shore lunches at North Haven Resort are even more spectacular than you can imagine. Fresh walleye is prepared in three different offerings before your eyes, vegetables, salads, fries, even Jordan's homemade cookies (well, that's what he told us!), and ice-cold beverages all laid out on linen-covered picnic tables in the middle of the wilderness. Wow!
That afternoon the winds picked up a little and the skies darkened a bit, but the bite continued. By the time we made it back to the lodge at 5 p.m., all of us had Master Angler pike under our belts (northern pike over 41 inches in length), with Renee and Travis each landing multiple big ones, with the biggest, a beautiful 43.5-incher by Renee, of course.
After a great meal, we talked our day over with the other guests and found that they had all experienced a great time on the water as well, with the biggest caught a monster, 49.5" northern that would tie for the largest caught at that point in the season. After a couple of quick games of shuffleboard and dessert, it was off to our rooms for a great night's sleep.
Our second day found the skies clear and the temps warming up quickly. By mid-morning, we were starting to find the big boys suspended in the middle of the bays in the cabbage patches. As Steve fought a nice fish to the net, another even bigger pike made a swirl just as Matt lifted the net over the side of the boat. I quickly grabbed my 9wt Redington fly rod and landed a red/white Rainy's CF Whistler on the water. Seconds later, the big boy engulfed it and I was off to the races. Northern pike on the fly is a real treat and has become one of my favorite pastimes over the years, for sure.
After another great shore lunch, we tried our luck at lake trout, but unlike our first visit to the resort, we weren't able set the hook on any. We would be jigging in about 90 ft. of water, with large tube jigs. We did have a couple of takes, but none resulted in hookups. Oh, well, it was then back to catching plenty of pike and walleye all afternoon.
Days three and four didn't slow down any, as all of us were starting to show a few signs of tired arms, sore shoulders, and sunburned faces. Our last afternoon found both of our boats fishing the waters of the same large bay. Steve would spend part of the time on Renee's and Travis' boat, filming their successes, as Matt and I searched for a few more big ones for the camera. Matt had me tie on a large, dark colored spinnerbait with a lot of flash and on about my fourth cast, "BAM", that fish we were looking for annihilated my lure. Jordan quickly moved their boat over in order for Steve to get some footage and soon Matt eased the net under my biggest fish of the trip. Four more Master Angler pike would come to our boats that, our last afternoon as we brought our latest trip to the North Haven Resort in Manitoba, Canada to an end.
North Haven Resort, located on legendary Utik Lake is truly a one-of-a-kind experience. It is no wonder they have so many returning clients each year. Their amenities are almost endless, as not only do they offer great accommodations, dining, and everything to do with the fishing experience, but they also have a great exercise room, sauna, hot tub, game room, and full massage therapy available as well as a board room for corporate groups. Why not give them a call today to talk about all of the possibilities at 866-531-3848. www.northhavenresort.ca