By David Heath
Hunting has been in my blood for as long as I can remember. Growing up in southern Utah, mule deer and elk have always been at the top of my list when the fall hunting season comes around. Fast forward to present day - I now put in every year for at least six different states to hunt deer and elk, as well as other big game species.
When the draws came out in 2017, I found that I hadn't drawn a deer tag or elk tag anywhere, so I started looking around for a good place to hunt that could secure a landowner tag for me. I got right on the phone and called Michael Deming and asked him if he knew of a place that could present an opportunity for me to harvest a decent muley. Michael said that he knew just the guy in New Mexico and that he would get right on the phone to see if he could get it done. An hour later, I was on the phone with Ty Goar, owner and operator of TG's Trophy Hunts. Ty and I hit it off right away and I was able to get a landowner voucher for a desert mule deer in southeast New Mexico.
Michael and Ty talked after that and decided that we should film the hunt for an upcoming episode of SNTV, so Michael bought another tag for himself. Our sights were set for the first week of November. A few weeks later, Micheal called me and said he would not be able to make it on the hunt and asked if I knew anyone that might want to purchase the tag from him. I called my dad, Mike and it didn't take long for our father/son combo to get the wheels turning. We were both a little more than excited to hunt big bucks in the sand dunes of New Mexico with Ty.
Although Ty's operation has only been in business for a couple of years, he has been guiding in New Mexico for nearly ten. We would soon find that he offers great equipment and different lodging opportunities, depending on the hunt you will be doing and the area you will be in.
November finally arrived and we found ourselves making the drive to Roswell, New Mexico, taking in the unique landscapes of the southwest. We met up with Ty at the local grocery store where we picked up food and provisions for our trip. After loading up a couple of large grocery carts, we were set for our five-day hunt (from the amount of food in our grocery carts, I knew we were not going to go hungry!). After Ty bought us a nice steak dinner in town, we headed to camp.
Because of our location close to our hunting area, our accommodations for the week was a 40-foot, fifth-wheel toy hauler. Ty had the back set up with two large queen beds for me and my dad. It was private and nice. Sleep was hard that first night - anticipating our special hunt the next morning.
The next morning Ty and I loaded into our awaiting ATV along with Sam Staudt, our cameraman. My father, Mike and Ty's #1 guide, Seth Holcomb, followed in the Jeep. We soon pulled up to a high spot on the ranch and began to glass. Before us laid some really beautiful country, with rolling hills covered with mesquite brush and sand dunes.
After glassing most of the morning without turning up any deer, Ty suggested that we try another spot. As we were traveling, I spotted a buck running over the hill to our west. We got out to take chase, but we couldn't find him again, so we decided to ride to one last spot to glass before the noon sun was high in the air.
The one thing that I found out on this hunt is that Ty and Seth never give up. As we were sitting on the tallest sand dune on the ranch, Seth whispered, "I think I have a buck spotted". It was a long way away, but he definitely had the look of a big buck. The chase was on!
Seth stayed on the dune to glass while Ty, Mike and I went to make a move on the buck. We parked the Razr and Mike decided to stay back and wait, as Seth reported from his perch that the buck was on the move. We hustled after the buck, navigating the thick thorns and brush of the desert terrain. When we got to the area we though the buck would be, we came up empty handed. Each of us started circling and looking for tracks. Soon we found where he had been bedded and we decided to make an even bigger circle of the area.
As we were just ending our search, Ty stopped and said he could see antlers in the mesquite brush. We quickly got down into the cover and sure enough, there was our buck bedded down. We looked him over for about 15 minutes and decided he would be a good buck for me to take.
Our ensuing stalk got us into about 170 yards and put us in perfect position for a shot when he stood up. Just as we got into position, another buck suddenly stood up behind him. The second buck had even more points, with lots of mass! Ty whispered, "shoot him". Boom! He dropped instantly, but then got back up and a second shot knocked him down again. Then to our amazement, he got up again! I had never seen a buck that tough. I shot him once again and he fell for the last time. My big sand dune buck was down for the count and the real amazing thing about it was the fact that it was two-o'clock in the afternoon! Like I said earlier, the guys at TG's Trophy hunts don't give up.
Mike and Seth came over to help us set up for some pictures before we took the buck back to camp to process him. Ty and Seth did a great job taking care of the cape and meat for me.Then it was off to find my dad a big buck.
We were able to spot a few bucks that evening, but nothing quite worth chasing after, as Mike had his sights set on a really nice buck.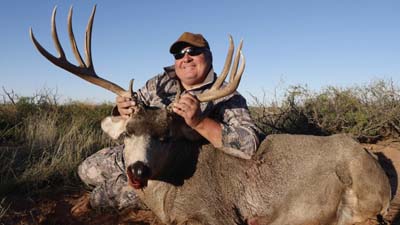 The next couple of days offered plenty of opportunities, but we just couldn't seem to find the "One". But, on the fourth day, we finally found a really big bodied deer with a wide spread. As evening approached, we made our move. Suddenly, we lost sight of him, so we decided to sneak up to a loftier vantage point. That is when we spotted the buck. Mike and Ty made a move, but they just couldn't get into position to take the shot before the light ran out for Sam on the camera.
The next morning, we headed out to the same spot, but we could only turn up a couple of smaller bucks. We headed back to camp and had another delicious meal and rested our feet a little, before heading back out around 2pm to look for a last night buck.
Ty was on a mission. He tried looking everywhere. He was really working hard to find Mike a good buck. Just as we were headed to farthest reaches on the ranch, there he was - a big desert muley! Mike quickly got into position, took aim and shot him right behind the shoulder. We were all so excited! Five hard days of hunting had produced two nice New Mexico bucks for the Heath Boys.
Our hunting adventure with Ty Goar and his TG's Trophy Hunts (575-937-8016) was a rousing success. Ty and his staff work hard to get you your trophy. Sportsman's News is happy to welcome them as one of their newest Platinum Approved Outfitters. Give Ty a call to book your next great hunting adventure - mule deer, elk, antelope, oryx and aoudad are just a few of the great species they go after in New Mexico.