Hunting black bear from tree st
ands in the Upper Peninsula.
By Gary Lewis
Shifting shafts of sunlight sifted through timber. Squirrels chattered in the trees, chipmunks flitted through leafy groundcover. Then the camp robbers and jays appeared in the treetops.
Brian Bachman, the owner of Arrowhead Wilderness Outfitters, had walked in with me. In a low voice, he whispered my instructions.
"Sit still and watch." He pointed to two paw-worn paths. "Bears come on that trail and they come on that one. They might also walk in on the trail we came in on." With that, he walked away.
I checked the wind and my watch. The hours passed and the sun went behind the trees. I sensed the bear was close. Two hours before Minnesota dark, I heard him to my left, a short grunt. Seven minutes later, I heard him again.
Two hours later, when flying squirrels, like windborne rectangles, streaked through the moonlight, I heard the bear again, close, maybe 20 yards, but black, in blackness.
The next morning I woke to thunder and lightning and two inches of rain. A change in the wind meant a move to a different stand.
Paige Bachman, Brian's 22-year-old niece, was my guide on the second afternoon. She walked me to a stand in a white fir, the bait located 10 yards away. The cover was so dense I couldn't see more than 15 yards.
After an hour, two cubs and a sow came in and began to feed. They ate in a businesslike manner and raised their heads and looked back into the timber like they expected company.
One of the cubs froze and looked up. The sow swiveled her head and then they bolted out the way they came in. There was something else out there.
Forty minutes passed. I closed my eyes for a moment and opened them.
Back behind a screen of limbs, I saw the legs of a bear. He stalked the bait and, screened by branches, I could see parts of him, but I knew it was a boar.
Bachman had told me, "I want you to take him at the first good opportunity."
My thumb was on the safety. I saw nose and head, then foreleg, then lower half of the body. In an instant, the rifle was at my shoulder and I had the vitals in the crosshair.
The trigger broke, the rifle crashed and the 165-grain AccuBond took the bear behind the shoulder where it struck and followed a rib, expanding rapidly through the lower region of the lungs.
Spinning, the bear smashed into an alder that shivered all the way to the top of the tree. When there was a chance, I put a second bullet into him. I call that insurance.
When the magazine was topped up, when the sounds of the forest returned, when the birds lit, cautious, in the treetops again, I climbed down and counted steps, pushing the muzzle in front of me. Eleven paces to the bait. Fifteen paces to the edge of the clearing. Twenty-three steps to the bear.
Failed Berry Crop = Bears on the Move
Rod Martino, of Bend, Ore., and Tony Collins, from South Carolina, and I had planned our hunt with Arrowhead Wilderness Outfitters for three years.
Outfitter Brian Bachman had faithfully applied for our tags each year. When we arrived in camp, Bachman was positively giddy. For a Minnesotan.
You see, the natural tendency of the Minnesotan is to keep a neutral point of view and a face to go with it.
According to Bachman, the berry crops had failed. "Last year's crop was so big, the plants couldn't physically do it two years in a row." That meant bears would be hungry and on the move. "This could be the best season we've ever had."
Martino tagged his bear the first evening. Dropping the hammer on his lever-action Marlin.
It was the second afternoon when my chance came.
Collins tagged his bear the second evening as well, a big brute that was the heaviest of the bears taken in our camp that week.
We spent the last three days of our trip trying to get Minnesotans to say how they really felt. Bachman was one of our favorite targets.
He said a few of his clients come from Europe, but most come from the Midwest and East Coast.
Everyone brings their own cultural tendencies and worldviews.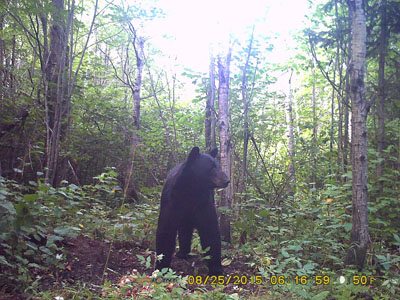 Cultural Perspectives in the Northwoods
Europeans are very appreciative of the bear hunt experience, Bachman said. They listen to their guides and follow directions. They are regulated, strict, and often more astute than the average hunter.
"Hunting is part of their history," Bachman said. "It's a big deal because they just don't have the kind of hunting we do and when they hunt a bear, it's like they're the king."
Europeans, however, are "move-around kinds of guys," Bachman said, and that doesn't work for bear hunting.
"Eastern tree-stand hunters are the best," Bachman said. "They excel at sitting in one place and they're used to the dense forest."
In a typical year, Bachman might have 40 hunters in camp, but bear hunters, it turns out, are a more complicated lot than the average person might think.
Some people buy bear tags, they bring their rifles and gear to Minnesota, and they don't really want to shoot a bear. They may not even know that about themselves.
There is something elemental about the bear hunt that gets to a part of us that a lot of people never explore. Like a human, a bear has eyes in the front of its head, ears that are oriented to the front, eye teeth for eating meat. Like a human, it will eat just about anything. And it is a beast of the forest, a beast out of our ancient history.
It turns out that westerners, who are used to wide open spaces, are the hardest hunters to work with in a Northwoods bear camp.
"I think you are claustrophobic," Bachman said. "Westerners are used to seeing long distances and they get here and they can't see more than 15 yards." Yes, and then there are the elemental fears: bears, wolves and the dark.
Bachman tells his hunters to stay in the stand until dark. Guides will walk in and get the clients at the end of shooting light, but a lot of people disobey. Especially westerners.
"Western people can't sit in a tree stand. They're going for a walk."
Westerners
My father's parents came from Minnesota. They settled in the Northwest amongst fir trees and cedars, in a habitat not unlike their native state. Their children and grandchildren were born Westerners.
Sitting in a lodge on the edge of the Superior National Forest, surrounded by bears and wolves and Minnesotans, I understood grandma and grandpa a bit better. Supper, hot dishes, dessert negotiations and neutral conversations that ended with "'Pose so," or "Yinyet?"
Yinyet, meant "Are you in the car and ready to go, yet?" Grandpa would say that without looking at us.
And I guess, that's what I really love about hunting. It puts us in touch with the land and the people in ways we don't expect. Here I am in a tree stand, not far from where my grandparents grew up, and I understand them a little better. You get a lot of time to think in a tree stand.
Next time, I think, I'll try the lutefisk. Youbetcha.
To contact Gary Lewis, visit www.GaryLewisOutdoors.com
Brian Bachman
Arrowhead Wildnerness Outfitters
10241 St. Mathias Road
Brainerd, MN 56401
(218) 330-1353
www.ahwoutfitters.com
brian@ahwoutfitters.com