The Sportsman's News team hit the shows this winter and found some cool new products that are coming to market in 2017. These products may or may not be coming to a Sportsman's Warehouse store in the near future, but we thought they were pretty cool.
Midland MXT 400 MicroMobile 2-Way Radio
Featuring 40 watts of transmitting power, the MicroMobile MXT 400 from Midland lets you communicate with all GMRS handheld and base station radios on the market. It features 15 high-power GMRS channels and eight repeater channels for enhanced versatility and greater range.
Zeiss Terra ED Color Binoculars
Featuring SCHOTT Glass, Enhanced MC Coated lenses and a rugged and waterproof yet lightweight frame, the Zeiss ED binoculars provide excellent viewing that is known the world over. Now they are available in green and brown to accompany the original black or gray housings.
Bergara Long Range Rifle
Built around Bergara's award-winning barrel, the Long Range Rifle is a precision weapon for those interested in reaching out and accurately hitting the target beyond 1,000 yards. With a Timney 617 flat trigger, adjustable LOP spacers and a fully adjustable cheek rest, the carbon fiber reinforced stock also includes a full length mini-chassis for repeatable bedding. The Long Range Rifle is available in six calibers from .308 to .300 Win Mag.
Benelli Super Black Eagle 3
Featuring the super reliable Inertia Driven System that is the hallmark of Benelli semi-autos, the Super Black Eagle 3 also incorporates a recoil reducing stock for 48 percent less recoil. Additional modifications make it easier to load, allow the comb height and length of pull to be adjusted to the shooter and integrates a Combtech pad for less vibration in the cheek rest. A cryogenically treated barrel and chokes provide tighter patterns. A larger bolt and magazine tube cap make it easier to use with bulky gloves.
Nikon LaserForce Rangefinding Binoculars
Combining  Nikon binocular performance with the extreme speed and ranging technology of a 1,900-yard laser rangefinder, Nikon's new 10x42 Rangefinder Binocular is the single optic solution for serious hunters who depend on both their binocular for picking out distant animals and their rangefinder for getting the exact distance before taking the shot. Featuring ED (Extra-low Dispersion) glass and Nikon's ID Technology to compensate for incline or decline angles, as well as a weatherproof housing and rubber armoring.
Leupold LTO-Tracker
The all new Leupold LTO-Tracker allows hunters to better understand their surroundings, easily recover game and have more success in the field. The compact thermal imager is only 5.6 inches long and weighs less than 10 ounces, allowing it to be carried comfortably in any pocket. It features a 21-degree field of view, 6x digital zoom and has a thermal detection distance of up to 600 yards. The LTO-Tracker has six optional thermal palettes and a user controlled reticle for quick acquisition of the target. Above all, the LTO-Tracker sports a Leupold Gold Ring and is designed, machined, and assembled in the United States. Add the LTO-Tracker to your pack and change the way you hunt forever.
Sig Optics Kilo2400ABS Rangefinder
With a range of up to two miles, an included wind meter for your smartphone and wireless sync and ballistic calculator capability, the Kilo2400ABS is one of the fastest rangefinders on the market. Using LightWave DSPTM Technology combined with HyperScan, the Kilo2400ABS provides four updates per second. Built-in temperature, pressure and humidity sensors, as well as a digital compass and magnetometer, make it a true ballistic computer. It comes with a tripod adapter, Sig Sauer tactical pen/Stylus and a download of the SIG Ballistic App for either Android or iOS.
Camp Chef SmokePro XXL
Combining the ease of use of a pellet grill and the spaciousness of a Smoke Vault, the Camp Chef SmokePro XXL provides 1,950 inches of smoking space in the cabinet. It comes with four meat racks, two jerky racks and twelve hooks for hanging sausage. Digital temperature control, automatic pellet auger and easy ash cleanout round out the features. With temperatures between 150-350 degrees, it can be used as a grill or in hi or low smoke modes to slowly prepare your favorite meats.
22 Nosler Cartridge
Nosler has been wowing the firearms world the last few years by introducing amazing new cartridges. This year is no different, with the introduction of the .33 Nosler and the .22 Nosler. The amazing little .22 bullet tips a SAAMI standardized cartridge with greater capacity than standard .223 Remington, allowing a 55 grain Trophy Grade bullet to be propelled up to 3,350 feet per second and their 77 grain Match Grade bullet to achieve 3,100 FPS. A simple upper change and swapping out the magazine with a 6.8 Remington SPC magazine will let shooters use their existing AR rifles with minimum retrofitting.
Nightforce Tripod
It's just a tripod? Not so fast. It is a feature-packed spotting and photo taking apparatus that will provide a rock-solid stabilizer as low as 9-inches off the ground. Remove two of the legs and they become trekking poles. Attach the head to one of the poles and it converts into a monopod. Rubber feet grip hard terrain, but screw down to reveal metal spikes for ice. A professional quality ball head with a universal mounting plate lets you quickly get level. It even features a hook on the center pylon for attaching stabilizing weights. The sturdy carbon fiber construction is lightweight and durable. All told, it is one of the most versatile tripods we have seen in a long time.
Browning Footwear
Browning will hit the market this year with a new line of footwear, designed and crafted by Signature Products Group. Featuring subtle Buckmark branding, the shoes and boots will be more than just a way to show your Browning pride. The full line will include lifestyle and trail hiking shoes with waterproof options, big game hunting and rubber boots with varied insulation and upland boots in various styles. Features in the 2017 Browning Footwear line include OutDry waterproof technology, Thinsulate Insulation, Silent Cell single injected midsole and SymmPlate, an integrated external shank, all adding to the comfort and stability of the boot and ultimately to the enjoyment of the hunt.
Sitka Gear Optifade Subalpine
New for 2017 from Sitka Gear is the Ascent series, offered in their new Optifade Subalpine pattern. These purpose driven designs provide extremely specialized clothing and equipment for hunters. The Optifade Subalpine pattern is designed with the elk and deer hunter in mind. The scientifically vetted pattern is intended for hunters who are stalking or ambushing animals from the ground in tree covered and vegetated terrain. The high contrast of the pattern is optimized for close engagement distances of fifty yards or less. Their Open Country pattern is optimized for engagements of 50 yards and beyond in open and rocky terrain. The high contrast of Subalpine allows the pattern to keep its depth at these close ranges, providing the hunter an edge to stalk in and hopefully get a shot.
Thermacell MR450 Portable Repeller
Thermacell has built its reputation with a cult-like following among outdoorsmen based on its ability to clear an area of mosquitoes and blackflies creating a 15' x 15' zone of protection. The Thermacell no-spray repellent technology creates a zone of protection by dispersing repellent in the air. The repellent is virtually odorless and silent, making protection from insects undetectable and unobtrusive. The new MR450 include a zone of protection indicator that allows users to visually confirm the repeller is up to temperature and establishing the mosquito zone of protection. Additionally, the indicator light will turn off, alerting the user that the repeller needs attention, such as running out of fuel. The new accessory mounting system located on the back of the MR450 allows the seamless attachment of a variety of mounting accessories, including belt clips and the new multipurpose clamp.
Magpul PMAG D-60
The reliability and strength of a polymer PMAG with the extended capacity of a drum is what you get with the Magpul D-60. Providing 60 rounds of .223 or .300 AAC in a rotary drum magazine, the D-60 from Magpul provides superb feeding reliability. With a ratcheting loading lever, a retention cam and a true no-tilt follower, encased in Magpul's tough-as-nails space age polymer, the D-60 will take far longer to load than it does to empty. But, when unloading a lot of rounds quickly, either for fun or Z.O.M.B.I.E.s, it will turn your favorite AR into a bullet-hose and withstand tons of abuse while it does it.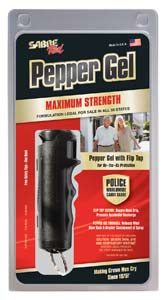 SABRE Red Pepper Gel
Providing a thicker concentration of pepper with the highest concentration of major capsaicinoids as verified through their in-house high performance liquid chromatography lab, the pepper gel from Sabre Red provides a 20 percent farther effective range than regular pepper spray and contains 4-times the quantity of product than the average pepper spray on the market. The OC pepper gel from Sabre Red has less blowback and aerosolization than regular pepper spray. This causes the gel to stick to an attacker, creating greater incapacitation and less risk to the user or innocent bystanders.
Gear Aid ARC Light and Power Station
Lights that will also power portable electronics are nothing new, but a completely weatherproof IPV65 rated light with three color temperatures and full adjustable brightness containing a 10,400 mAh battery and with a large variety of mounts that let it be attached to anything you can imagine, takes the light and battery category to a new level. The ARC Light and Power Station from Gear Aid provides all of those features and much more in a small and compact package that weighs just 1-pound. It provides up to 320 lumens of light and will run from eight hours, on its brightest setting, to 96 hours on its lowest. A series of mounts let you clip it or stick it to anything imaginable from a tree branch with a clamp type mount, to the side of a van with a magnet.
Taser Pulse
Having a less than lethal option for self-defense just got easier to carry with the introduction of the Taser Pulse. With a form factor of a sub-compact pistol, but all the functionality of a full sized Taser, like those carried by police, the Taser Pulse packs a punch. Featuring a 15-foot range, a 30-second cycle time, the ability to dry stun without a cartridge, an aiming laser and a bright LED light for target identification, the Pulse allows the defender to fire, drop it and run away while their attacker suffers Neuro-Muscular Immobilization. The Taser Safe Escape Replacement guarantee means that if you have to use it and leave it behind on a flopping bad guy, Taser will replace your unit.
Tetra Gun Dry Finish Lubricant
Traditional gun lubricants leave an oily residue that can attract dust, dirt, sand and lint. Tetra Gun has released a new Fluoropolymer penetrating lubricant that fill fine scratches and creates a slippery surface after drying to a dry finish. This prevents oil stains on clothing and the attraction of particles that can cause fouling and hold dirt and moisture. The extremely low friction coefficient protects guns from wear and improves reliability. The protective quality prevents rust, repels moisture and also helps prevent carbon build-up. After it sets up, it leaves a dry satin finish on the metal parts of your gun.
5.11 Tactical Women's Wyldcat Pant
For an active day of shooting at the range to a night out on the town with your favorite concealed pistol, the Wyldcat Pant brings an innovative and tactical perspective to both the boot cut and the straight leg pant in one.  Zipped leg gussets let you instantly flex between the two styles and the Microsand finish is soft and comfortable.  Additionally, the Wyldcat Pant is concealed carry weapon (CCW) ready with back yoke pockets sized for magazines, thigh utility pockets ideal for your phone and double knee construction for enhanced durability. The Wyldcat Pant is available in Black, Khaki, Blush and Grenade.
Vortex Optics Razor AMG UH-1 Holographic Red Dot Sight
Using Vortex's proprietary Fusion Hologram coupled with their Quantum Well Light Control, Vortex has achieved the energy efficiency of a traditional red dot with the clarity and zero distortion of a holographic sight. The purpose-built dynamic-targeting EBR-CQB reticle is clean, yet highly versatile, for optimal target engagement in a wide range of scenarios. All sensitive components are protected in the base of the sight, substantially increasing durability, while eliminating the need for an obstructive secondary shroud. The UH-1 boasts premium, hard-anodized aerospace aluminum and stainless steel construction for lasting durability in the harshest environments. Integrated weaver/picatinny-style quick release mount attaches and detaches with ease. Utilitarian, snag-free ultra-sleek design promotes fluid movement through interior structures and exterior environments.
Carbon Express Maxima Red Zone SD's
Carbon Express has been making quality arrows for the better part of 20 years and they are launching a new line up this year that will suit anyone's needs. The Red Zone technology has been out with them a few years now and they are bringing that to their all new small diameter Maxima Red Zone SD's for 2017. The Red Zone technology manages arrow oscillation so well during flight there are only two spine ranges to cover you from 40-92 pounds of draw weight. The Red Zone technology reacts dynamically better than any other arrows on the market and definitely worth checking out this year.
ALPS OutdoorZ Crusader X
The ALPS OutdoorZ dry duffle bags come in two different sizes, a 2,800 cu in 20"x 13" and a 5,000 cu in 27"x 15".  Made of a sturdy material, they are more rugged than standard dry bags, and have a much more fashionable look, reminiscent of high-end luggage. Whether for carrying decoys to keep the wetness in, or dry clothing to keep moisture out, these bags will be a faithful companion for transporting your gear without fear of damage from the elements. Both bags feature shoulder straps for messenger bag-style carry, as well as backpack straps.
2017 Irish Setter Ravine
Red Wing Irish Setter shoes started back in the 1950's and have been making quality boots ever since. They are going after a lightweight hunting and trail boot this year with the Irish Setter Ravine. They have what they are calling the EnerG technology core sandwiched in between the midsole and outsole. This material provides a combination of comfort and support. The Anti-Torsion Chassis offers great support on uneven and rocky terrain, all while giving you great flexibility. This boot is packed with features like Ultra Dry, Cushion Comfort Tongue, ScentBan and Armatec technologies that are worth checking out for 2017.
Swarovski Z8i 2.3-18x56 Riflescope
Only a high-luminosity rifle scope like the Z8i 2.3-18x56 P can deliver the crucial details even in poor light conditions and at twilight. This rifle scope has excellent optics that deliver razor-sharp images even in challenging situations. The high magnification and detail accuracy also delivers impressive precision over long distances.
Swagger Bipods
It's probably been 100 plus years and we haven't seen many changes in bipod systems. That is, until now! Swagger looks to revolutionize the bipod industry with its patented Crazy Legs flexible leg system. They have developed a bipod system that gives you all the stability that your standard bipods are known for with an added twist that looks to make them shine above the rest of the pack. With Swagger Bipod you get infinite maneuverability on its flexible joints, not putting limitations like the other stiff-legged bipods on the market today. Look for this to be a big hit in 2017; they are definitely worth checking out.
Under Armour Threadborne Wool
Under Armour is introducing a new line of hunting clothing for 2017 and putting their touches to a synthetic wool blend. Where synthetic wools left off, Threadborne wool looks to start gaining ground; keeping your body regulated and comfortable during pre season scouting through hunting season. They have engineered it down to the thread level to give you more comfort and stretch for great mobility. Look for the new UA Mid-Season Wool Jacket and the UA Mid-Season Wool Pants late spring to early summer. They will also be launching a lightweight UA Alpine Ops boot. It's nearly 2 pounds lighter than other boots in its class.
Browning Semi-Custom X-Bolt Pro
What classifies the X-Bolt Pro as a "semi-custom rifle" is the level of specialized finishing touches and higher end construction above the already top-tier X-Bolt family of hunting rifles. First, the X-Bolt Pro features a true carbon fiber stock, making is extremely lightweight and rigid. The stock is filled with a noise-dampening foam. Additionally, the Cerakote finish on the action and barrel is also on the exterior of the stock for added protection and a burnt bronze hue to mute the color of the stock for better concealability. The barrel features a new proprietary lapping process to provide consistent accuracy and easier bore cleaning - avoiding the need for a time-consuming break-in process. Other features include a spiral fluted bolt, enlarged bolt handle, and a threaded muzzle with a muzzle break or thread protector cap, which also means it is suppressor ready.  Comes in 4 different calibers and the 6.5 Creedmor is only 6.1 pounds.
American Eagle C.O.P.S. Training Ammo
Get the most from every training session at the range and honor those who've laid down their lives in the line of duty with this special edition line of American Eagle ammunition. A portion of the proceeds from every box sold goes to Concerns Of Police Survivors (C.O.P.S.) and its mission to support the families of fallen officers. Like all American Eagle handgun ammunition, these loads' high-quality brass, consistent primers and accurate FMJ bullets make them ideal for the range, and they provide ballistics and recoil similar to equivalent duty rounds for the most realistic training possible.
Outdoor Edge Para-Claw Survival Bracelet Knife
The Para-Claw features a 1.5-inch hawkbill blade ground from 8Cr13MoV stainless steel with a stealthy BlackStone finish. The blade is integrally molded to a glass/nylon guard that ties into the bracelet. Handle grooves and jimping (a series of notches) on the thumb ramp ensure a positive grip at all times. The patent-pending sheath system locks the knife securely for immediate deployment in any situation. Once deployed, the paracord bracelet forms the knife handle. Each bracelet is hand-tied from 550 paracord and is available in three sizes and colors. The bracelet has an adjustable loop to fine-tune the fit and a steel T-post for easy attachment. The medium and large Para-Claw are offered in both black and woodland camo, and the small is available in a purple-black two-tone.
Decibullz's Custom Molded Earplugs
Decibullz's Custom Molded Earplugs are now combined with new cutting edge percussive filter technology. Decibullz's Percussive Filters protect users from the peak sound pressure of gun shots, artillery fire and explosions, suppressing them to safe levels and protecting users from hearing damage. Custom molding is easy: simply warm the earpieces in water and shape to your ears. The earpieces can even be re-heated and re-shaped if needed. Unlike electronic hearing protection Decibullz Filters never need batteries.
G5 Dead Meat Broadhead
As the leading manufacturer of archery equipment and design, G5 introduces the Dead Meat broadhead, a three-bladed design with the fineness to fly like a field point at long distances and the durability to put big game animals down, hard and fast. The Dead Meat mechanical broadhead is constructed from super-tough machined 100 percent stainless-steel to make contact and keep driving deep. Three heavy-duty blades produce unrelenting results by creating a gaping 1.5-inch cutting diameter for short and heavy blood trails. The design of the Dead Meat is highlighted by the all new SnapLock retaining collar that creates an audible snap when each of the three blades is locked securely in place for flawless flight. The SnapLock collar features an integrated clip that marries with a tiny knob on the back side of each blade for quick and secure blade retention. Never again worry about poorly-seated blades or in-flight deployment. The Dead Meat mechanical broadhead is available in 100- and 125-grain configurations.
First Lite Camo
The passion for First Lite was started by Kenton Curruth and Scott Robinson in the Central Idaho area in 2007. As merino wool was gaining popularity in skiing, biking and climbing, they found testing the bright colored fabrics out worked great from August through January. However, they figured the bright colors would not cut it for their passion of hunting and this is where it all began. They have a solid line up and looking to make a strong push as one of the top leaders in hunting clothing industry. In 2017, look for the new Sawtooth Jacket and Obsidian Pants hitting the stores this spring, along with their full line of Fusion camo.