Carhartt Brisco Vest
Carrying all of your essential camping gear just got easier, thanks to the Carhartt Brisco Vest. Featuring a Rain Defender treated Nylon outer shell for rapid drying and excellent water resistance, the Brisco will not only keep your core dry, but also protects all of your valuable gear that you have stuffed into the ample 15 pockets distributed all over the vest. The fast dry, 37.5 Technology mesh lining, also works to fight odors from perspiration. A specially designed back-vent allows air circulation, to prevent overheating and promote drying. The lightweight material is perfect for warmer weather and mild evenings into the mid-40s.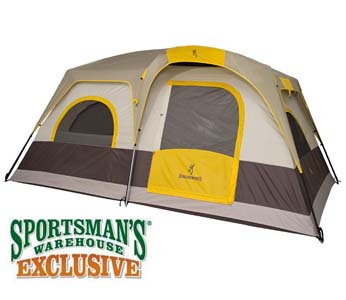 Browning Buckmark 6 Tent
With the ability to sleep six real-sized people and their gear, the Browning Buckmark 6 provides a zippered privacy divider wall in the center to create two separate rooms. Exterior doors on both sides of the tent allow access to either room from the outside. Straight wall construction means less wasted space and room for cots and gear. The center hub design makes pole placement and setup a breeze, even for one person. The material and coatings are weather and UV resistant for long use and maximum protection from the elements. The Browning Buckmark 6 tent is available exclusively at Sportsman's Warehouse.
Ben's Complete Clothing and Gear Permethrin Spray
Another way to keep the critters away, especially if you will be hiking in tick infested tall grass, is to liberally apply permethrin to your clothing. This substance is much safer than DEET, absorbs into the skin less and also kills ticks on contact. The spray only needs to be applied to your clothing every six weeks and can withstand multiple washings. On tents, chairs, sleeping bags and other soft gear, the spray acts to repel pesky insects.
Thermacell Backpacker
When you are packing all of your gear on your back, each ounce adds up to make pounds, so saving a few ounces here and there is relief. But saving weight and space doesn't have to mean dealing with pesky insects, thanks to Thermacell. The Backpacker from Thermacell is smaller and lighter than standard insect repelling units. Instead of butane cartridges for fuel, the Thermacell Backpacker uses the isobutene canister for your backpacking cooking stove. This provides you with dual use out of a single canister and its highly efficient head means that it minimizes fuel consumption, so you have plenty on hand for cooking and keeping the bugs away. The Backpacker creates a 15'x15' dome of insect protection so you can enjoy your campout without the pests.
Mr. Heater Cooker and Heater
The Heater and Cooker from Mr. Heater not only keeps you toasty and warm at night, but can be flipped over and used to percolate your coffee the next morning. Using a single, one-pound propane tank or a bulk tank, the heater blasts out up to 15,000 BTUs of radiant heat. Slide the stand around and the heater converts into a camping stove to cook your food or boil water. A safety shutoff will turn off the flame if the oxygen level gets too low, so you can sleep through the night in peace. Safe for use in a tent, but not for indoor use.
Camco Tipsy Stix
Finding a place to set your cup or bottle in a camp chair can be a real pain. Either the cup holder on your chair is just a bit too small for your drink container or you are trying to balance it on your knees while eating. No matter how you look at it, a solid place to set your drink is always needed in camp. Camco has created a rod with multiple attachment points to hold various cups, glasses, bottles and stemware at just the right height. Push the rod into the dirt in camp wherever you want it and have two drink holders, as well as a bowl or plate holder for snacks. The solid zinc plated steel construction will allow it to be pushed into even hard ground.
GoTenna Mesh
If you are far off the grid, it doesn't mean you have to be out of touch with the rest of your crew. With the GoTenna Mesh, anyone on your GoTenna network can text anyone else on the network. Sold as a pair and available in sets of four, the GoTenna Mesh units connect to your mobile device via Bluetooth and then communicate with each other on a peer to peer network with a direct range of up to four miles. To extend your range even further, the signal can be forwarded by any other Mesh users in the area on the Mesh network. Users outside your group can't access your messages, but just act as a relay to extend the range of your own network. Users can also send map pins with GPS coordinates to other users to guide them to their location. All of this is done with no subscription and no annual fees.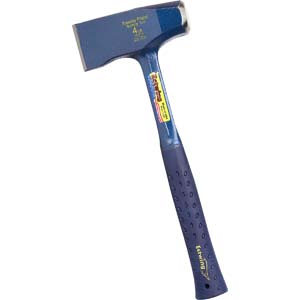 Estwing Fireside Friend Splitting Tool
The secret to a great campout is the fire. The center of your camp, the gathering place for meals and comradery and the means of warmth and cooking, the fire is the centerpiece of every great camp. To help keep the fire burning, take along the Fireside Friend from Estwing. Featuring the solid, single piece forging for which Estwing is known, the Fireside Friend features a 4-pound splitting maul head on a sturdy steel handle wrapped in soft rubber for a better grip and less felt impact. The two-inch wide splitting edge is hand sharpened and cleaves through even the knottiest pine. Process your wood with ease and spend your evening sitting back and tossing logs on the fire rather than splitting them.
Wolf'em Stick Two-In-One
For extra fun around the campfire, pass out the Wolf'em Stick Two-In-One campfire cooking stick. With interchangeable heads, the standard hot dog cooker works with the rotary handle to create a perfectly grilled frankfurter or brat every time. Swap out the Wolf'em cooker and add your favorite canned biscuit dough to make a cup that you can fill with your favorite goodies. The kids will wolf'em down as fast as you can bake them. The Wolf'em Stick Two-In-One Cooker is a great activity as well as a way to get the whole family involved in meal prep.
Grizzly 100 Quart Cooler
For those trips where the food and the drinks need to stay cold for prolonged periods, nothing gets it done like a Grizzly. Keeping ice for up to 19 days, Grizzly outperforms almost every other extreme cooler on the market. Composed of a serious RotoTough outer shell and conscientiously sourced pressure insulation foam, the Grizzly Cooler is every bit as rugged as its name implies. But not only is this cooler as tough as its namesake, it is tough enough to keep out a grizzly bear. It is certified by the IGBC as bear proof. With its internally molded hinge and stainless-steel pin, three heavy-duty T-handle rubber closures and locking holes, the grizzly cooler can take just about any level of abuse. Integrated features like molded handles and additional rope handles with Nylon tube grips, non-sliding and non-marring feet, an embossed ruler on the lid and two-inch tie down channels, the Grizzly is feature packed and ready to perform. When the trip is over, the Grizzly is easy to wash out with dual heavy flow drain plugs that can also fit a standard garden hose to extend the reach of your drains. A channel across the entire bottom of the cooler completely empties your cooler. We all know grizzly bears are real and they are tough, so choose a cooler designed for real world use.
Carhartt Dog Chore Coat
Camping is an affair for the whole family and your canine family probably enjoys the experience more than anyone else. Make them a part of the adventure with their very own cotton duck coat from Carhartt. Featuring the same quilted interior as the human version, the dog coat also has a corduroy trimmed collar that can be flipped inside, out of the way. Hook and loop closures on the chest allow for easy adjustment. Not only will this coat keep your friend warm and cozy, but it promotes calmness and just keeps him looking cool. There is even a pocket to stash his favorite treats.
Grand Trunk Double Hammock
Hammock camping is fun, comfortable, and one of the easiest methods of setting up camp. Now, you don't have to give up your cuddle buddy, with the Grand Trunk Double Hammock. Large enough for two or for one extra large person, the double hammock provides plenty of real estate for a comfortable night's sleep. It will hold up to 400 pounds and packs away into a tiny pouch for easily slipping into your pack. It measures 10 and a half feet long by 6 and a half feet wide. The ultra light weight parachute nylon double hammock weighs a mere 28 ounces.
If you are headed to someplace without trees, take along the Hangout Hammock Stand. Ideal for extending your hammock use to your back patio or on the beach, the Hangout Hammock Stand comes with a carrying case for easy transport. It is made of heavy-duty steel tubing and will comfortably handle two people relaxing in their hammock.
Tilley Adventure Hats
If you could only ever have a single hat to last a lifetime, that hat would undoubtedly be a Tilley. Designed for years of rugged use, with a lifetime replacement guarantee against damage or even loss, Tilley hats will age with you and develop their own unique character over the years.
The Outback Waxed Cotton Hat is waterproof, SPF50+ sun protection rated, and features a heavy waxed canvas material. Two large grommet holes on each side allow cool air in and warm air out, for excellent breathability. A front & back wind cords system secures your hat in gusty conditions and a Hydrofil sweatband wicks away moisture. A secret pocket keeps valuables safe and the hat will float in water.
The LTW3 Airflo has a side snap brim on both sides for a true Aussie Outback look. The ¾-inch mesh around the crown gives plenty of air movement to keep you cool and the 2 ¾-inch wide brim will keep the sun off your neck. The waterproof supplex Nylon provides 50+ SPF sun protection and features the secret pocket, front and back wind cords, and the lifetime guarantee that tells you it is a Tilley.