Butthead Decoys from Native by Carlton
Wayne Carlton was one of my ultimate outdoor idols as a youngster. Everything he wrote, I read and tried to become a student of his elk killing habits. He has probably called in more elk than anyone I know and is one of the most knowledgeable men and elk hunters I've ever met. Now that I'm in the industry, I can now call him my friend. When he develops a product for elk hunting, it is all about fact and not about the hype.
The Butthead decoy is truly one of those items. Its' three dimensional face does something to elk that you can't even imagine. Decoys have been around for a long time, but this one takes things to a totally different level. We used it during the fall of 2016 during the archery and muzzleloader hunts and I saw bulls go out of their mind when we put the Butthead decoy in play. It takes a warry bull and puts him at ease. Better yet, it makes a lead cow totally relax when they see the profile of this decoy. Regardless of whether you are hunting with a bow, muzzleloader, or rifle, this decoy will help you to get that extra few seconds to get off that fatal shot. The elk hunter in your life will be happy to see this gift under the tree.
Sitka Gear
For the past ten years, we have been wearing Sitka Gear for all of our hunting and outdoor adventures here at Sportsman's News. We spend well over 1000 man days in the field and in many cases, our life depends on the clothing we wear and that is why we choose Sitka Gear. Regardless of whether you are talking about a base layer, insulation, or weather protecting outer layer, we know that we can always count on the dependability of Sitka Gear. It is some of the most expensive products on the market, but when you realize the testing and development that goes into these high quality garments, you won't ever question the price. When your life depends on staying dry and warm, you won't ever worry about the amount of money spent on any one of these items. Whenever we test outdoor clothing, we always compare it to Sitka Gear and how it performs. Building a complete system of Sitka Gear begins with one item and the person who receives a piece of Sitka Gear will know that you care about them and their life.
FoodSaver GameSaver Big Game Vacuum Sealer System
Designed for outdoorsmen, the FoodSave GameSaver Big Game Plus Vacuum Sealer System delivers big capability and easy operation. Made to work wherever you are, this highly capable vacuum sealer comes packed with features sportsmen want and need. Rugged and strong for big jobs, this baby gives you the versatility of dual power use, allowing you to use 110V AC or 12V DC, so you can use it anywhere you have power. Giving hunters the ability to seal and preserve everything from dried fruit to elk steaks, the Gamesaver Big Game Plus helps you keep fish or game fresh longer without freezer burn and helps you store convenient, easy-to-use single serving portions to reduce waste. Easy-to-use design combines a simple Easy Touch button operation with oversized rubber buttons and an Easy Lock Latch closure. The double-wide sealing strip delivers an incredibly strong seal you can count on. Sealer also comes with a removable, easy-clean drip tray, accessory port for use with canisters (not included) and a built-in carry handle for easy transport. Includes integrated roll storage and bag cutter, 6' AC power cord and 15' DC adapter cord. Unit comes with one 10' roll each of 8" and 11" FoodSaver GameSaver bag material, five 1-quart bags and five 1-gallon bags. 80 consecutive seals. Manufacturer's lifetime limited warranty.
SJK Hone Backpack
New for Fall 2016: SJK has combined their best-selling features into one versatile hunting daypack. The new Hone combines an expandable game bag shelf-pocket for easy harvest hauling with self-canting shoulder straps that automatically contour to your shoulders to enhance comfort and movement. With 2088 cubic inches of storage space and weighing 3lbs, 4oz, the Hone features a single aluminum stay and HDPE frame sheet suspension to comfortably carry heavier loads. This pack boasts multiple external storage compartments including two zippered help belt pockets, twin low profile side pockets and an external compression panel that doubles as a trophy carry system. This pack also features a versatile weapon carry system that securely holds your bow or rifle. Also, if your better half is looking for a great pack for herself, check out the Wild-Her backpack as well that offers most of the same features as the Hone, but with just the right amount of feminine style. The Hone and the Wild-Her packs are available in the Kryptek Highlander pattern.
Bushnell's Elite 1 Mile CONX Combo Laser Rangefinder
The Elite 1 Mile CONX Combo includes a Kestrel Sportsman Ballistics Weather Meter. The Sportsman takes the guesswork out of long-range shooting and is the perfect companion for your Elite 1 Mile CONX, the first Laser Rangefinder that interfaces with your smart phone, the Elite 1 Mile CONX is a technological advantage for long-range shooters.
Once your smart phone is connected via CONX you can set up the rangefinder from your phone and set up to three different custom ballistic curves. Get hold over values from the Laser Rangefinder in inches, MOA or MILs on your smart phone or the Rangefinder's display. The Kestrel Sportsman runs on a single lithium AA battery and weighs only 4.7 oz. Both the weather meter and the rangefinder wear the same Coyote Brown finish, each can be mounted to the top of a tripod and a wind vane mount comes with the combo.
Features: 7x magnification, Blue Tooth Wireless connectivity via CONX Technology (Requires Android operating system 4.3, or iOS 8.1 or newer for Apple devices), VDT (Vivid Display Technology), range from 5 – 1760 yards, Diopter adjustment, is compatible with magnetic attachment system and offers a built-in tripod mount.
CRKT Chogan T-Hawk
Designed by Ryan Johnson of RMJ Tactical, the Chogan is a serious tool for the outdoorsmen. Modeled on tomahawks carried by early mountain men and early indigenous people, the Chogan features a 19-inch Tennessee Hickory wood handle for easy, two-handed operation. A hefty hot-forged steel head provides a 3.5 inch cutting blade with a tapered beard and a sturdy hammer head. While Johnson has been one of the leaders in developing tomahawk techniques for the military, this tool is a great addition to your outdoor kit, as it will make fast work of shelter construction and even pull duty as a camp axe.  Small and lightweight enough at just over two pounds, it won't weigh down your pack and it will give you a multi-use tool that will prove to be an invaluable addition to your gear.
Sprongs
In my mind, the most innovative product of the year is hands down the Sprongs from MerkWares. A long handled fork and spoon nest together for easy storage and transport, then flip over and reconnect to make handy tongs. The hook on the fork also doubles as a heat resistant bail for lifting a pot handle. They are made of a tough, BPS-free food grade nylon, so they are resistant to heat, are shatterproof and rugged. Their dimensions are based on the silverware you use at home, so they are comfortable in the hand and in the mouth. Their long length let you get to the bottom of MRE entrees and freeze dried camping food pouches and the spoon holds one tablespoon for easy measuring. Get one for every member of your camping group or they will steal yours once they try them.
ALPS Lynx Tent
The Lynx Series tents from ALPS Mountaineering are designed for the back packer. They are available in one, two, or four man options and will even have a six-man option next year. Their two pole dome style design makes them quick and easy to setup and have mesh sides offering a lot of ventilation which is perfect for those summer trips when temperatures are high. Alps haven't cut any corners with these tents and the high quality zippers and sealed seams will make sure that this tent lasts for many years.
Helly Hansen Impertech Rain Gear
The human body sheds body heat 25 times faster when it is wet than when it is dry. The rain gear from Helly Hansen has no equal and is worn by those who must function in harsh weather all over the world, from deep sea commercial fishermen, to construction workers, to emergency personnel.
Using their patented Impertech technology, Helle Hansen has created a warm, waterproof and breathable jacket and pant for those who will spend time in heavy rains.
The Deluxe Jacket has two roll top, Velcro closure waterproof pockets, with hand warming slit pockets on the sides. An attached hood rolls up out of your way into the collar when not needed and gives plenty of roomy coverage when you do need it. A cape on the back allows ventilation to keep you dry and a wicking interior pulls sweat away from your body.
The Impertech Bib provides an ample cut for freedom of movement, knee length zippers to allow it be put on over heavy boots and snap gussets in the waist to allow rapid adjustment for fit, depending on how heavy the clothing you wear under it. Double Impertech panels on the seat and knees make these bibs durable and long-lasting.
Both the jacket and bib feature Microweld seam construction for improved waterproofing and durability.
Yeti Hopper Flip 12
For carrying a lunch or a twelve pack of cold frosty beverages, the Yeti Hopper Flip 12 is a leakproof, cold-keeping companion that won't take up a lot of room. It is square shaped and the flat top gives you easier storage than the regular Hopper, allowing it to be stacked with your other gear. Ideal for a day's worth of food and drink for a single person or for enough brews for two for the afternoon, the Yeti Hopper Flip 12 has the same zippers you would find on a dry bag and a zipper dock to lock the zipper in and prevent it from leaking at the corner. Made of a thermomolded foam and tough nylon and rubber, the Flip 12 also features nylon webbing attachments for the inclusion of the optional Sidekick Gear Case for space to store your valuables or other items. The Flip 12 is the perfect size for a Yeti Cooler Ice Pack. These tough plastic, liquid-filled ice packs are designed with a center cutout to reduce freezing time and engineered to keep your beverages just above the freezing point. The Yeti Hopper Flip 12 has enough room for a 12-pack of 12-ounce cans and room on the top and bottom for these ice packs, so you can keep everything ice-cold for days.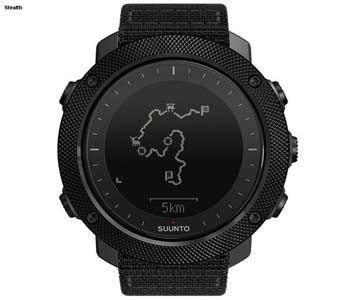 Suunto Traverse Alpha
For that special someone who has been very nice this year, the Suunto Traverse Alpha watch has all of the features they could ever use. Built in navigation, GPS, altimeter, step counter and much more give this watch more functionality than a Swiss Army Knife. Additionally, the watch connects to your smartphone to display incoming calls, text messages, the ability to download maps and waypoints via the Suunto Movescount app. You can even set up your watch setting via your phone. The watch itself is an attractive and rugged digital timepiece enclosed in a composite case with a stainless steel bezel and a sapphire glass crystal. It is waterproof down to 330 feet. It has a flashlight mode and red backlighting. The coolest feature is a shot detection mode that marks a POI at your location when a shot is detected so you can find your way back to where you fired from. The tough nylon band is stylish in that 'tacticool' kind of way, but also stands up to rigorous abuse. The watch has a rechargeable battery that you connect to any USB power source or you can sync it with your computer while charging. The battery will last for about a week between charges with standard use and much less if you are using the navigation features. Multiple modes for hunting, hiking and fishing let you easily access the features that matter most to you.  For an all around outdoor powerhouse of functionality, nothing compares to the Suunto Traverse Alpha.
One Series Sunglasses by Optic Nerve
Nothing ruins an outdoors adventure faster than forgetting your sunglasses, especially in the summer time. It doesn't matter if its hunting, fishing, or just hiking not being able to shade your eyes is always an annoyance. I have always been one to buy the more expensive polarized glasses with the mind set being if they cost that much they must be good. The only problem is if I damage them then it takes a while of saving moneyto buy a replacement pair. This season I've been wearing a pair of polarized sunglasses from the One series by Optic Nerve and for only being thirty dollars they're honestly one of the best sunglasses I've ever worn. I've worn them for hours and they've stayed comfortable on my head and the lenses are as good as some brands that are a lot more money. The best part of finding a reliable pair of sunglasses in the lower price range is that if I damage them on a hunt or lose them fishing, I can easily afford to replace them.
Vital Knife from Gerber
This little knife is a must have for any hunter when it comes to skinning and caping out an animal. The economical grip is extremely comfortable and fits very well in your hands. They make them in a fixed design and a pocket folder, which I prefer. On this year's archery elk hunt it performed flawlessly and I never even had to change a blade while caping an elk out. The blades were the perfect balance, not too thin or not too thick for that tedious work. I did notice the sharpness stayed pretty true throughout the caping process and never broke any blades on the two elk I caped out. One of the nicest features is the ease of blade changes. There is absolutely no need for a set of pliers to change blades. With one simple push of a button you have a very easy blade change all while keeping the blade secure with no unwanted movement while in the locked position. At the end of the caping process, even with the knife a little dirty, I had zero issues with changing the blade at the end to get it ready for its next animal.
ThermaCell Mosquito Repellent Lantern
The Mosquito Lantern by Thermacell was a new item I took with me this year on a 6 day backcountry trip. This lantern is light-weight and equipped with a little drop down hook at the bottom. This is great when hanging it. It is light and offers ample lighting. The coolest feature was how Thermacell incorporated one of their Max Light Repeller Mats into this unit, all powered by 4 AA batteries. This is a great feature to keep insects away within a 15x15 area, making your outings more enjoyable. The 220-lumen light will run up to 10 hours on the highest settings and also has 4 different light setting options. The Thermacell Scout Camp Lantern has been evaluated by the EPA for its safety and effectiveness.
Black Diamond Storm
The Black Diamond Storm features variable brightness levels, green and red light options, as well as the PowerTap Technology feature. This PowerTap feature lets you tap the side of the unit to go in and out of dim to bright mode. It provides more than adequate light with the OneQuad Power LED and one white DoublePower LED that puts out 250 lumens on max. I liked this unit enough that I will be retiring my other headlamps and I picked up a second Storm for a backup. The red and green single power LED's for night vision have dimming and strobe settings that activate without cycling through the white mode. The colored LED's even come with brightness memory. The new and improved Storm is powered by 4 AAA batteries and they still managed to keep it light weight, with an overall sleek design.
Goal Zero Nomad 7 and Venture 30
The two units together are fairly lightweight and the slim design makes it easy to fit in any backpack out there. They have become a staple in my packs when heading into the backcountry. On short outings the Venture 30 alone will get you 2-3 charges on your phone and wouldn't have a problem keeping you powered up on those 2-3 day trips. Anything longer than that, the Nomad 7 solar panel then becomes a necessity for keeping those extended stay charges going. It will also keep some AA rechargeable batteries charged for any accessories you might need. When you are looking to keep all those things we consider "basic necessities" going and keep communication right at your fingertips in the backcountry, it is worth looking at Goal Zero's Nomad 7 and Venture 30 combo.
Wayne Carlton's Elk Calls
These closed and open reed calls take very little effort to create realistic elk sounds. More effort means more blowing, that results in a wet reed that does not perform at its best. The calls come in three varities, the Boss Cow Call, The Li'l Heifer Cow Call, and the Whispering Cow Call. Their diaphragm calls can be used in two ways; a cow call and a bugle can both be used with exceptional sound quality through the Mega Grunt Tube. Whether you're a seasoned caller or one just starting out, Hunter Specialties series of Wayne Carlton's Calls will get the job done, not to mention how the reed calls just look awesome as well.
Cobra Jump Pack XL
Anytime you can jump start your vehicles and power your phone off the same device, it is worth a look. It won't be the lightest thing to pack around in your backpack but I do consider it on the moderate side, coming in at just over 1 pound. This compact, portable power pack contains a UL-registered 41.1Wh (11,100mAh) battery with a 3 Amp USB output to rapidly charge any 5 Volt portable devices. These range from smart phones, tablets, to digital cameras, and many other devices, making it the ideal emergency battery pack for home, office, vehicle or the outdoors. Depending on how much you use your phone in the backcountry, you could go all week and still stay fully charged with the Cobra Jump Pack XL. It also features a built in LED light that can be used as a flashlight or can be switched over to a strobe light for emergency situations. The Cobra comes with a handy small carrying pouch that fits all your attachments for charging, and includes the jumper cables for jump starting your vehicle. There is lots of power packed into this little device and definitely worth a ride in your backpack or to keep in the glove compartment in your vehicle for those emergency situations. This is something to consider if you're not sure what to get someone this Christmas season. It has become a mainstay in our family vehicle and I'm sure it would make its way in yours.
Grand Trunk Nano 7 Hammock
This tough little packable hammock can fit in your cup holder of your car, inside probably the smallest compartment in your backpack and darn near about stuff it in your pocket, but don't let the small size fool you. This little thing has a weight rating of 300 lbs, comes with aluminum carabineers, and it is built out of ripstop nylon construction. With the triple stitch construction it realistically can hold up to just about anyone with that weight rating, all while staying extremely packable. I liked using an egg carton style floor mat in conjunction with it and this makes for some comfy afternoons. During the warmer months I wouldn't hesitate to just use it with a sleeping bag for an ultra light weight weekend trip in the backcountry. I was creative and used the carrying case or sack that it comes in (which is secured to the hammock) as a drink holder while in use. The Nano 7 Hammock made taking a few naps in the high country very easy and comfortable while the cool breezes and birds sort of lull you to sleep.
Fox River Socks
Fox River socks have got to be one of the nicer fitting socks out on the market. I put the Peak Series Atlas to the test this year in the high country and they performed exceptionally well. When in my hiking boots they stayed put without sagging even after a long hard day with a couple thousand feet of ascents and traversing down rocky slopes. They hug your foot very well and since they pay attention to the wear areas in their build process you have extra support where needed. They are made with Primaloft that definitely stands up to any adventure you can throw at them. Their Helix fit system, really hugs in the areas where it's needed most, all while still having superb breathability. The comfort mesh ventilation zones maximize air flow, keeping moisture away and really help at keeping your feet dry. I really like the smooth flat comfort toe seam that they have; you don't even feel it after a long hard day in the field. These are an all weather medium weight sock that is built specifically for your right and left foot to maintain the exact comfort and extra support you need for each side.
5.11 Tactical Rush 12 Pack
With16 total compartments, the Rush 12 Pack provides a wide range of storage options, each one sized for a specific use. Additional features on the Rush 12 backpack include an internal admin panel for organizing small accessories, a 60 oz. hydration pocket that keeps you on the move, and a fleece-lined sunglass pocket that protects your eyewear. An extensive wrap-around web platform is MOLLE and SlickStick System compatible, allowing you to customize your storage to suit your needs. The Rush backpack offers external compression straps, adjustable shoulder straps, and a centered sternum strap to ensure stability, and water resistant construction to keep your gear dry and secure in any climate. The Rush 12 makes a great all purpose backpack for day hikes, kicking around town with attitude, and even a rugged book bag for ths edgy student.