By Kent Danjanovich
Senior Editor
The turkey hunting industry has undergone the same renaissance that modern culture has had relative to gear. New products come into the market that are hot items among hunters who simply cannot help themselves when they go to a sporting goods store, aka, Sportsman's Warehouse. Most of us just have to give some of these new products a whirl to see if they up our odds – even if it's just a little! The following is a list of items that may just need to be part of your turkey hunting gear this spring.

Vests
The name of the game when it comes to turkey hunting vests is storage and ease of access. A good vest gives you a slew of compartments, pockets and pouches that are perfect for keeping all of your important 'stuff' safe and silent while you wind your way through the woods. Here are a couple of our favorites:
HS Strut Turkey Vest
Features multiple pockets for calls, shells & other accessories as well as a large rear pocket for decoys or a harvested turkey. Adjustable padded shoulder straps as well as sternum and waist straps. The Big Cheeks Foam Seat is attached in the rear for comfort. 300D fabric stands up to the wear and tear of the turkey woods. Comes in REALTREE Xtra Green camo.
Primos "The Gobbler" Vest
The Gobbler Vest is by no means another vest with lots of pockets and a cushion to sit on. It's a custom designed call holster. Primos designed the Gobbler Vest around all that turkey hunters want with them in the field, calls, gloves, mask, clippers, water bottle, shells and a deep back pocket to carry out that gobbler. The Gobbler Vest organizes your calls by having specific places designed to hold certain styles of calls, so you will always know where they are when you need them. There is no fumbling through random pockets searching frantically for your calls when it's crunch time. It utilizes a combination of mesh and TreeHide to bring you the most comfortable and functional turkey vest available. TreeHide is molded waterproof foam that takes on the appearance of a tree's bark. TreeHide is waterproof and durable, providing excellent protection for your gear. The TreeHide shoulder pads also reduce the felt recoil produced by heavy turkey loads. And the mesh pockets on the inside of the vest allow you to see what is stored in them at a glance.

Ammo
Modern advances in shotshells extend the range in which you can bag a big tom. There are plenty of ammo choices to decipher through and not all are made the same. While you will have to make the ultimate decision, here are a few options, depending on your style, range and skill.
Browning BXD TURKEY
BXD Turkey Extra Distance improves downrange patterns, putting more pellets on target. The buffered/nickel plated shot creates the ideal combination for reducing deformation of shot pellets – leading to tighter patterns, higher velocity retention and deeper penetration. Available in 12ga. 3- and 3 1/2-inch loads as well as 20ga. 3-inch.
Hevi-Metal Triple Beard
The first all-lead turkey load from ENVIRON-Metal Inc., Triple Beard is a balanced, effective shell that gives you the best overall performance for your money. The Magnum Blend technology combines shot sizes for a cone of lethality at any range and Speed Ball technology gives you high velocity and tight patterns because it prevents pellet deformation during ignition, which happens with most lead pellets in regular shotshells. A great choice for beginners and recreational hunters alike! Available in 3- and 3 1/2 -inch 12ga. and 3-inch 20ga.
Winchester Long Beard XR
Winchester Long Beard XR Turkey shotshells drop old tom at distances beyond 40 yds. Thanks to Shot-Lok Technology, your shot is protected during in-bore acceleration, launching the round in a near-perfect circle for hard-hitting and extremely tight long-range patterns. The results – 10% greater penetration over standard lead loads beyond 50 yds and twice the number of pellets in a 10" circle out to 60 yds. Available in 2 2/4-, 3- and 3 1/2-inch 12ga. loads and 3-inch 20's.
Federal Premium 3rd Degree
As turkey loads have been engineered to pattern more tightly and reach farther, they have also become less forgiving at close range, leading to missed birds. 3rd Degree uses a multi-shot, three-stage payload and the exclusive FLITECONTROL wad to deliver forgiving, lethal patterns whether a gobbler is standing 10 yards out—or 50-plus. It's not just a tight-pattern that looks good on paper – it's a deadlier, more forgiving load for real hunters who need to kill gobblers at any range. Available in 3 ½- and 3-inch 12ga. and 3-inch 20ga. loads.

Blinds
Blinds can be an important part of a successful hunt, with the main idea being, find where turkeys hang out and go hunt there. Once you've chosen the general area, it's time to pick the optimal spot for a blind. With perhaps the most incredible eyesight of any game bird, turkeys require that hunters take extra steps to create total concealment. Like deer, turkeys will get used to hunting blinds over time, even when placed in the middle of a field. However, if they see any movement inside or around that blind - off they go. Another important tip is - you always want the sun to be at your back when setting up your turkey hunting blind. If that means distinguishing morning and afternoon spots and setting up multiple blinds, then so be it. Sunlight will highlight movement that a gobbler can see from several hundred yards away. There are some great blinds out on the market and if taken care of, will last you a lifetime.
Primos Double Bull Bullpen
The Primos Double Bull Bullpen ground blind is built rock solid. It features their newly designed hub system that makes setting up and taking down the blind easy and prevents rods from breaking. It has plenty of room for multiple people to sit comfortably while remaining concealed. The patented Double Bull silent slide window adjustment system allows hunters to perfectly set up the blind for bow or gun hunting. It offers 180-degree Full Front View with Silent Slide window closures and weighs in at only 23 lbs.


And new for 2018, the revolutionary Primos Double Bull SurroundView 360° Blind is the Blind Without A Blind Spot. It's constructed with exclusive one-way see-through walls that let you see all of your surroundings without being seen. Now you can spot all the movement you miss with traditional blinds yet remain just as concealed. The SurroundView 360° comes with four, one-way see through walls, with one movable black out wall to place on any wall you choose.
Ameristep Doghouse Ground Blind
Since turkey hunting is additive, you just might find yourself in "The Doghouse" every once- in-a-while at home, so the name's kind of fitting in this case. The Doghouse spring steel blind travels easily and sets up quickly to conceal two hunters inside. The exterior features a large, open window perfect for firearm hunting, with the option to add provided shoot-through mesh covers to each porthole. The matte finish of the Durashell Plus fabric and 3D Edge ReLeaf trim blend well with the natural environment and an interior ShadowGuard coating helps eliminate shadows and silhouettes. A great option that won't break the bank.

Decoys
Most hunters rarely hunt without decoys. One of the leading causes of gobbler hang-ups is birds that come to the call expecting to see a hen or tom, but don't. If nothing else, a hen decoy adds confidence to your calling. Furthermore, it gives the tom something else to focus his attention on besides you when he's in the "red zone." Decoy manufacturers have addressed the issue of portability by making decoys light, collapsible and easier to transport in your vest. Three decoys and their stakes weigh only a few ounces and will fit neatly into the game pouch on most vests. Decoys have become so lifelike, that sometimes you have to be careful that you don't find yourself sneaking up on a fellow hunters' setup!
Avian X LCD
Kick aside the old decoys and get ready to put the Lifelike Collapsible Decoy (LCD) Strutter in your turkey hunting gear this year. If your heart starts racing just thinking about in-your-face action of gobblers challenging your decoys, you'll love the Avian-X Strutter. Incredible detail and superior lifelike realism is sure to bring in that dominant gobbler. The Avian-X Strutter is 15% smaller than a real turkey, so it's light and easy to pack in the field for any turkey hunting scenario. Comes with a carry bag and collapsible stake.
Flextone Thunder Jake
When realism meets affordability - that's where the rubber meets the road with the new line of Thunder Series Turkey Decoys from Flextone. The easy-to-pack Thunder decoys feature true-to-life body postures, realistic paint and feather schemes and a fold away, carbon fiber stake system. With his highly visible upright posture, the Thunder Jake is designed to challenge the pecking order, triggering gobblers to assert their dominance. A smart choice for run 'n' gun hunting fans, this 1-piece, blow molded decoy packs and sets up easily.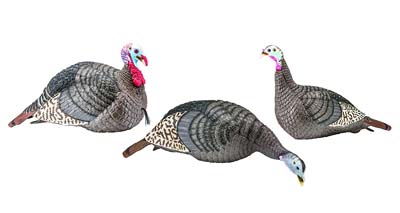 HS Strut "The Flock" Strut-Lite Decoys
Strut-Lite Decoys from H.S. Strut offer a lightweight, foldable hollow body construction for easy transportation and storage. Best-in-class detail in the decoys' flake-resistant paint job makes for extremely realistic decoys that fool even the wisest old toms. Use individually, as pairs or use all three Strut-Lite Decoys together for the "flock" effect. The included 2-piece ground stakes allow for quick setup and removal when things are happening fast in the woods.
Primos Gobbstopper Combo
The new Gobbstopper Decoy Combo features a high definition paint scheme and a lightweight and easy-to-carry design of the Gobbstopper Jake and the Gobbstopper Hen! The Gobbstopper Decoy Combo offers incredible realism at an affordable price. These decoys in the Primos Gobbstopper Series, are custom designed with lifelike color and detail to fool even the leeriest of toms. These soft-sided decoys are lightweight and packable, designed to allow hunters to fold it and carry it in a turkey vest.

Calls
There are a lot of turkey calls on the market – a plethora of brands, call varieties, price ranges and overall call functions – and that fact can make it difficult for a turkey hunter to pick the "right" calling device. While the tried and true box and slate calls still exist, new technologies have enhanced their effectiveness, which is definitely a benefit for the hunter. Mouth calls and locators are now made to be more consistent and user-friendly, which is always a plus as well. Here are a few of our favorites that you might want to take a look at:
Primos Gobbler "Shaker Call"
This call is so easy, anyone can pick it up and gobble just like a real turkey! The Gobbler is a super loud shaker style call, with one-handed operation for Jake calling and two-handed adult gobbling. The patented silencer cap adds a great safety feature by eliminating untimely sounds while moving through the woods. You'll be glad you've got The Gobbler in your bag of tricks. It's perfect for challenging or locating the big boys.
Primos Drag Strip
The Primos Drag Strip is a modern version of an old school traditional call. The Drag Strip is made of CNC milled exotic hardwood and Pennsylvania slate. The design, with a built-in sound board and sound ports, fits perfectly in your hand to produce smooth yelps, purrs, clucks and cuts. It's all topped off with laser engraving and a one-piece CNC turned striker. With the Drag Strip in your hands, you're ready to head to the woods.
Knight & Hale Strangle Hold
The Knight & Hale Stranglehold Pot Call was designed off the Knight & Hale Long spur pot call. However, Knight & Hale thickened the post base to add depth and rasp to the call. The Stranglehold call is topped with a pure crystal surface and matched with a power tip, all-weather striker. The crystal adds rasp and depth to a call like no other surface can.
Primos Hook Up Box Call
The Hook Up Box from Primos is designed to take all the guess work out of getting that perfect box call sound every time you play it. The ultra-strong magnet holds the paddle at the perfect angle for crisp cuts, smooth purrs and soft to loud yelps. When used with the included Gobble Band, the Hook Up produces some of the most realistic gobbles you can imagine! The detachable paddle can also be removed for silent carry. This is one of the most user-friendly calls on the market.
Zink Signature Series Pro Pak
This trio of mouth calls includes the Hunter Wallis Signature Series, the Josh Grossenbacher Signature Series and the Matt Morrett Signature Series styles of diaphragm calls. The Hunter Wallis Signature Series triple-reed, W-cut style call was designed by Turkey Calling Champion, Hunter Wallis. This call features a heavy top reed over two thinner reeds. It has a notch in the middle reed, making for easier transitions from clear to raspy notes. A great call for woods and calling stages. The Josh Grossenbacher Signature Series call is a triple-reed, V-Series style call framed in thin red tape, with all reeds stretched to a tighter tension. The unique V-notched top reed and short-notched under-reed allow for tones ranging from raspy to clear, while the heavier latex gives the option of incredible volume and distance. The Matt Morrett Signature Series call provides a mix of two reeds of prophylactic and one light latex top reed with a special "snake tongue" cut. With this combo, the call is very easy to achieve great rasp and high-end calling. The Pak includes the Turkey Time University instructional DVD.
Primos Turkey Starter Pak
This pack has everything you need to get started on your next turkey adventure. The Turkey Starter Pak includes a Sonic Dome Mouth Call, Sonic Dome Slate Call, Slim Striker and a double-sided box call. This pack is excellent for beginners and advanced hunters. The included carry case makes it easy to keep your calls organized when transporting them to the field and when storing in the off-season.