Get ready for fall hunts with this look at upland bird hunting tools for our favorite time of year.
By Gary Lewis
A shotgun, a pointing dog, a good pair of boots and all that land all the way to the horizon. If there is one great wing-shooting opportunity for the rugged individual in the West, it's the chukar hunt. And much of the best chukar habitat is on land owned in common by all Americans. If there is anything else to bring along, it fits behind the seat of the truck and in the game vest.
For the Hunter
Savage Stevens 555E Over/Under
A lot of hunters still rely on Stevens shotguns, known for their rugged durability. It's not uncommon to climb out of the truck on a chukar hunt and see a partner uncase an old Stevens side-by-side or over/under passed down to them from a father or grandfather. This new one is worthy to pass down to a grandchild after a lifetime of chukar hunting. The E stands for Enhanced, which refers to the high-end walnut stock and polished/engraved action. At 6-1/2 pounds, it's a great choice for carrying in chukar country.
Weatherby Orion I
To my way of thinking, a chukar hunter should carry a double instead of a semi-auto or a pump. Handling dogs, climbing over fences and negotiating boulder slides are just some of the things that distract a hunter. It's easy to tell at a glance when a break-action gun is safe. Introduced in 2015, the Weatherby Orion is easy to carry,at seven pounds, it has 3-inch chambers, a beautiful walnut stock and a Prince of Wales grip. It's classy, points and shoots fast and, with auto ejectors, it's quick to reload.
Silynx Clarus Pro
I'm testing the new Silynx Pro, which uses in-ear microphones about the size of a pin and a AAA battery inside the user control module. It allows for integration of a phone or handheld radio. At the medium setting, I can hear voices at normal volume, but the shotgun report is canceled out. At super-normal, I can hear chukar re-grouping calls over a mile away.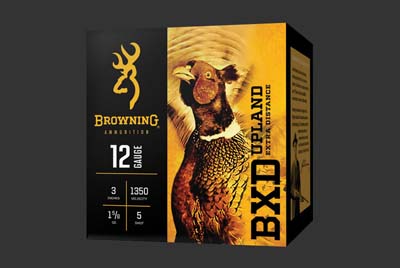 Browning BXD Upland Ammo
Browning's latest offering is called BXD Upland, available in 3-inch and standard loads in 12, 20 and 16-gauge. For wild chukar, I'd pick 6-shot in 2.75-inch with a load that promises 1,485 fps out of the muzzle.
Bushnell Engage
If I need to check out movement of a flock of chukar on a far slope, I remember I should have brought optics. This year, I'm going to carry a binocular. A great new option from Bushnell is their Engage line. I'd opt for 10x42 and carry it in a good case like the Bino Harness X from Alps Outdoorz.
Danner High Ground
Danner's High Ground boot employs nubuck and oil for improved water resistance. A leather upper offers durability and a shorter break-in. At 46 ounces per pair, these boots are light, waterproof and breathable. A tighter heel pocket and a wider toe box lend to an athletic fit.
Browning Training Whistle
It's easy to forget a whistle. But when you need it, you really need it! This one is a good choice because it comes with a thermometer, a retractable cord and a clip to attach to the bird vest.
Brunton TruArc Compass
After twice being lost in fog, I swore my bird vest would never be without a compass. I carry a Brunton. A compass doesn't have to be expensive, but it does have to be reliable. A cheap one will get you lost or worse.
For the 4-legger
SOL Adventure Dog Series Workin' Dog
On our hunts, the dog typically covers three times the amount of ground as the two-leggers. Abrasions, splinters, ticks, porcupine quills and barbed wire cuts are common problems we have to help our four-legged friend with. A medical kit to fix the dog when it hurts is indispensable and takes up very little space in the truck or in the vest.
Ultra Paws Rugged Dog Boots
Up in the lava flows and rim rock, a dog's paws wear out fast - especially early in the season. Hunt longer with dog boots like these from Ultra Paws.
Browning Safety Vest
Do you have a brown dog? Yea, me too. And it is way easier to spot in heavy cover when it is wearing a safety vest. Keep your dog safer when hunting with several partners and protect it from abrasions and weed seeds too.
Browning Orange Canvas Training Dummy
I don't know about you, but I lose these things, so I like to have one or more to work with my dog in and around water. This one is rugged and durable, made from high-tensile canvas.
In the Truck
Browning Dog Bench Seat Cover
Protect the truck seat from dirt and dog hair and sharp claws. This pet seat cover fits most bench seats.
Browning Insulated Crate Cover
Late in the season, the dog crate can be a chilly place. When the temperature drops below 30 degrees, a dog needs more insulation than nature gave him. The Browning insulated crate cover has mesh windows with a clear plastic cover for insulation. Exterior pockets offer extra cargo capacity for doggy energy bars and other items.
Camp Chef Stryker Multi-Fuel Stove
I keep my stove in the truck year-round, but it gets the most use in November and December, when I can put a can of soup on to heat or water for oatmeal or coffee. This multi-fuel unit packs up small, but comes with a 1.3-liter pot, stove and lid, all in one mesh carry bag. Cook up a hot bowl of soup after a chukar hunt. It's a great way to finish out a day in chukar country.
To order a signed copy of Hunting Oregon, send $24.95 (includes S&H) to GLO, PO Box 1364, Bend, OR 97709 or visit www.GaryLewisOutdoors.com