ALPS Outdoorz Pursuit Bow Pack
The Pursuit Bow Pack is perfect for keeping your bow secure and stowed away when you're trekking through the fields and rugged terrain. The lashing straps, along with the expandable bow pocket, make a great combination to securely keep your bow in place. Having a pack that will hold your bow is nice so you can keep your hands free. There is a large main pocket, large front pocket and lower side mesh pockets to keep your gear organized. The waist belt is padded so when you're carrying a little bit of extra weight, the comfort level is still going to be top of the line. A blaze orange rain cover is included in case you are in the great outdoors when some rain rolls through. The Pursuit is offered in RealTree Xtra or Mossy Oak Break-Up Country.
Hybrid Light PUC150 Flashlight and Charger
The Puc Expandable Lantern is a portable and light weight lantern that can also double as a flashlight when collapsed. It's a versatile, water resistant lantern that shines at 75 lumens. You'll get 40 hours of light on one full charge from the 4000 mAh rechargeable lithium-ion battery (holds a charge for 7 years). The Puc has a USB port for charging your mobile devices. It also features a Micro USB port for rapid charging or you can simply use any light source to keep your Puc charged through its built-in solar panel.
GoPro Hero 6 Black
With features like better contrast so you don't have a bright sky and a dark foreground, digital zoom capability, waterproofing without a case, and a touch screen built into the camera, the GoPro Hero 6 strikes out into new territory in the action camera market. The new GP1 custom image processor delivers stunning 4K video with truer color and better stability, coupled with GoPro's software to make editing and sharing high quality video easier and more intuitive than ever before.
Outdoor Edge Razor-Lite EDC Knife
This is the sharpest, strongest, replacement razor-blade knife available, with blades that change safely and easily at the push of a button. The black-oxide coated blade holder supports the razor-blade for the strength of a standard knife and sharpness of a surgeon's scalpel. The 3.5" Japanese 420J2 stainless razor-blades are precisely heat treated and hand finished shaving-sharp. The double molded Grivory handle features rubberized TPR inserts for a non-slip grip, even when wet. The double-sided thumb stud allows easy, one-hand opening and the replaceable pocket clip contours with the handle so it feels like an integral part of the grip. The Razor-Lite EDC is available with orange, blue or gray handles and comes complete with six replacement blades. Replacement packs of 6 blades sold separately.
Midland Radio X-Talker T71 38-Mile Radios
Pushing the envelope of range and battery life, the T71 Radios in the Midland X-Talker line provide up to 15 hours of constant standby use from a single charge and reach 38 miles in range. With Midland's patented NOAA Weather Alert and Weather Scan technology, 36 channels and 121 privacy codes, they are one of the most robust handheld radios you can have without an FCC license.
SNTV DVD
With seven hours of quality outdoor programming, product reviews, and some of the best hunting and fishing shows available, the Sportsman's News team, with partners Love of the Hunt, The Fishful Thinker, and Eastmans' Hunting provide excellent programming in your downtime. These DVDs are excellent stocking stuffers. Every purchase entitles you to an entry to win a gold medal trophy red stag and tahr hunt in New Zealand, including airfare for two and accommodations at Woodbury Safari Lodge (see cover story). Pick it up at the checkout at Sportsman's Warehouse.
Sportsman's News Pro Membership Sweepstakes
The ultimate gift for the sportsman or woman who has everything, and annual membership to the Sportsman's News Pro Membership Sweepstakes automatically gives the member 5 chances to win drawings every 10 days for up to $300,000 in world class hunting trips, guns, and gear. We have hand selected these outfitters for the best in the business and each prize is a hunt of a lifetime experience. Additional member benefits keep your outdoorsperson occupied with digital subscriptions to Eastmans's Journal, Eastmans' Bowhunting Journal, BaseKamp, and much more. Buy your special loved one a membership at
www.promembersweepstakes.com
.  If you email ldeming@sportsmansnews.com and let us know the name of the recipient by December 18th, we will create a certificate and Christmas card to place under the tree for Christmas morning.
Benchmade Mini Barrage Assisted Opening Knife
Sportsman's Warehouse Exclusive Mini Barrage 2.91 inch Assisted Opening Knife by Benchmade. The blade is made of CPM-S30V premium stainless steel that has a reversible tip-up pocket clip. The handle is stabilized wood with laser-etched gunstock checkering. This knife also features Benchmade's AXIS Assist mechanism that makes it easy to open with one hand and locks blade into place. This mechanism also features an integrated safety lock system.
Blackhawk Omnivore Holster
No more searching to find a holster for every pistol. The Omnivore from Blackhawk uses a locking tab connected to your accessory rail to secure your pistol in the holster. The best part is that a single Omnivore will accommodate 150+ handguns. The thumb release is optimally placed for easy access and secure retention. It comes with an extra tab for a second gun and additional tabs can be purchased from Blackhawk. It has attachments for both belt slide as well as a paddle.
Nite Ize Steelie Dash Ball Car Mount Kit
Using a small magnetic disk that attaches to your phone and a magnetic ball that attaches to your dash, the Steelie gives you easy viewing of your smartphone for navigation right on your dash. Just place the phone on the dash ball, orient it for best viewing and have hands free use of your device. No latches to operate, just a strong attachment that you pluck your device from. Great stocking stuffer.
Garmin Fenix 5 Sapphire GPS Watch
One of the most functional devices you can wear on your wrist, the Garmin Fenix 5 Sapphire is an upgraded version of the Fenix 5. Various modes for every sport you can imagine; tracks elevation change, peak heart rate, miles travelled and much more. It features a built-in heart rate monitor, fitness tracking and GPS Navigation. Order an Uber, read text messages, control your playlist, the list goes on and on. The Fenix 5 Sapphire has so many functions that it could take hours to list them all. The outdoorsman in your life will love this under the tree.
Hornady RAPiD Safe 2700
Keeping your gun locked in a vehicle just got more convenient. Using RFID technology, the RAPiD Safe from Hornady comes with a locking cable to secure the safe to your vehicle. It also includes an RFID bracelet, key fob, access card and can accept up to five different RFID access keys. It is large enough to accept most handguns and small enough to discretely hide out of sight under your seat.
Camp Chef Sear Box
The ultimate grilling experience - In the past, if you wanted a delicious smoky taste with that satisfying seared finish, you had to fire up both your pellet grill and your gas grill. Two grills for one cookout? Not anymore. With Camp Chef's BBQ Sear Box, you can do it all with one unit. The Sear Box offers 180 square inches of cooking space, a 16,000 BTU propane burner, enamel-coated cast iron and specially designed heat diffuser plates to vaporize grease drippings. It's easy to add to your pellet grill with a simple mounting system and the included propane tank holder. You can have the best of both worlds—tell Santa you have just got to have one!
Browning's Pet Antler Chew Toy
How about a little something for your loyal hunting partner? The Browning Antler Dog Chew Toy is made of soft, durable TPR rubber for hours of chewing, training and all-around play. This antler-shaped chew stick from Browning will appeal to your dog's natural hunting instincts. It's soft, durable materials will massage and stimulate their teeth and gums. The Browning Antler Dog Chew Toy is ideal for medium and large dog breeds. Check out this and all of the great Browning dog training products at your local Sportsman's Warehouse.
Pelican 1750 Long Case
The Pelican 1750 Protector Case for long rifles gives up to two rifles the ultimate protection. As one of the leading manufacturers of protective cases, Pelican hard gun cases provide watertight security that you can take virtually everywhere so you can be assured that your firearms will remain safe and functional throughout your travels. Interior 50.50"L x 13.50"W x 5.25"H. Available in black, desert tan and OD green.
Buck Shadow ATACS boot
Have you seen Browning's new signature big game hunting boot? The Buck Shadow is built for spot-and-stalk hunting in demanding backcountry terrain, where lightweight, stealth and complete weather protection are essential. Their patented OutDry, a one-step direct lamination of its membranes, provides the most advanced waterproofing technology available in the industry. Silent Cell provides long lasting cushioning with more rebound and is collapse resistant. Symmplate is Browning's integrated external shank process, adding torsional rigidity for carrying heavy loads in unpredictable terrain. Do yourself a favor and check these great new boots out and maybe if you're lucky, Santa will leave a pair under the tree for you this year.
5.11 Rush 72 Pack
This pack is designed for a three-day trip in any terrain, however it is versatile enough for anybody to use. From the hunter to the college student, this pack contains two large compartments and a multitude of storage pockets to store all of your gear and is equipped with a compression strap system which enables you to expand or contract the pack depending on how much gear you are carrying.
Klean Kanteen Classic Stainless Steel Bottle
This is a great container for storing a variety of beverages for anybody and suitable for a multitude of activities, terrain and conditions. This is my go to container when I go out for a day hike or a 2 to 3 day backpacking trip. It keeps your beverages well insulated by keeping hot drinks heated up to 6 hours and cold drinks chilled beyond 24 hours. Its built to last with its 18/8 food grade 100% stainless Steel interior. Its BPA free and completely recyclable. It also comes in a multitude of sizes and colors to suit your likings and needs.
Gerber Swagger AO Assisted Opening Knife
This lightweight 2.8oz pocketknife is quick, compact and versatile for anybody to use. I've owned a Gerber knife for years and being right at my side it's been used as my go to tool for a multitude of heavy duty purposes that tested its durability. These knives are built to last. This knife is equipped with a pocket clip, an ambidextrous thumb stud for easy access to the blade, a plunge lock for safe storage, a lanyard hole, G-10 scales in the handle for easy grip and a drop point across the top of the blade with serrations across the bottom.
Rustic Ridge 7-in-1 System Sleeping Bag
This affordable, compact sleeping bag is rated for 40 F and -40 F weather. This bag has multiple configurations designed for various weather conditions, but you don't have to take it apart if you're hot or cold; all you have to do is pick a layer to sleep in as if they were sheets on your bed. With seven different configurations, it has an inner and outer bag that can be configured into a 2-person sleeping bag as well. The outer layer is made of a thick, rugged canvas material, built to last and keep you warm.
Kelty Grand Mesa 2 Person Tent
This is an excellent lightweight and affordable tent for any backpacker. No need to waste time trying to slide poles through frustrating thin sleeves. This tent comes equipped with clips that allow you to quickly fasten your tent poles, allowing you to set up camp on the fly if you happen to be in a predicament where time is a factor. The base and rainfly are made of PU-coated polyester-taffeta, keeping you dry and free of moisture. The upper half of the tent is fashioned with mesh for maximum ventilation and the rainfly is designed to cover it in its entirety, keeping it free of any moisture. Not only does the rain fly protect you from moisture, but it is also a great barrier against the wind as well as a thin insulator for heat in mild weather. This tent is compact enough to store while backpacking and roomy enough to sleep two people in comfort.
5.11 Mike Class Rush Delivery Tactical Bag
This bag is a personal favorite of mine. I used it while enrolled in college to carry my laptop, books and other various school supplies. This bag is light and compact as well as durable and protective. You can travel at ease while carrying your valuables in this bag equipped with a padded laptop sleeve and a heavy-duty nylon exterior. There are also several other smaller compartments in which you can store smaller objects like a flashlight or multi tool.
Nikon Monarch Fieldscope
True to its legendary name and reputation, the MONARCH Fieldscope brings the excitement of awe-inspiring observation and incredible visual experiences to the eye of its beholder. It's advanced Apochromat Optical System with ED (extra-low dispersion) glass minimizes chromatic aberration to the furthest limit of the visible light range, realizing a contrast-rich, clearer field of view. The Monarch's Field Flattener Lens System provides consistent sharpness across the entire field of view, all the way to the periphery and multilayer coatings are applied to all lens and prism surfaces for natural and bright images.
Browning X-Bolt Stainless Stalker Rifle
The X-Bolt Stainless Stalker is anything, but high maintenance. With Dura-Touch Armor Coating and a matte Stainless-steel barrel and action, it will endure punishing weather and terrain and still give you the performance you can expect from a Browning rifle. It has a comfortable palm swell for right-hand shooters, textured gripping surfaces for keeping your hands where they should be on the stock, even in wet and cold conditions. The X-Bolt Stainless Stalker also features a deluxe Inflex Technology recoil pad and sling swivels. If you are looking for a hard-core bolt action rifle that you can rely on, in the rugged areas and inclement weather conditions hunting deer, elk, varmints and the like, the X-Bolt Stainless Stalker is your rifle.
Jetboil Flash Stove
Jetboil Flash Stove - Like all of Jetboil's innovative systems, Flash is an all-in-one design, combining burner and cooking vessel in one compact unit. Cook meals, boil water and more in minutes or less with this compact cooking stove!
Alps Outdoorz RMEF Ridge Stalker X Bino Case
The RMEF Ridge Stalker X Bino Case has a front u-shape design that allows for easier access to binoculars, as well as a padded back panel, which provides added comfort as well as fleece lining for added protection to your bino's lenses. The Ridge Stalker Case was a new addition to my hunting equipment this fall and will definitely be part of it for years to come.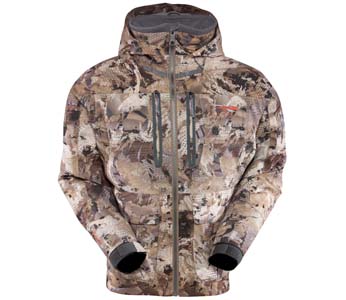 Sitka Men's Boreal Jacket
Why should cold winter temps keep you from going after waterfowl? Sitka's Boreal Jacket features a GORE-TEX lining and plenty of insulation to keep you warm and dry while chasing your web-footed targets, allowing you to focus on the hunt, not on being cold. The Boreal Jacket gives you maximum warmth with minimal layers and bulk, so you have the freedom to swing and shoot. It incorporates two chest pockets as well as two shell pockets, additional hand warmer slots, a fully adjustable hood and water sealing cuffs.