By Kent Danjanovich
With waterfowl season in full gear in most areas of North America, I hope you are all taking advantage of the great bird numbers and favorable weather conditions. And if you are still looking to add to your waterfowl hunting equipment, the following are a few suggestions that the Sportsman's News Team are incorporating into their list this fall.
Avian-X A-Frame Waterfowl Blind
Don't waste time searching for cover; take it with you. The A-Frame Blind features a noncorrosive aluminum modular frame complemented by a rugged 600-Denier Mossy Oak Shadow Grass Blades shell. Grass straps and pockets incorporated into the blind's outer cover allow for quick, easy, and complete concealment using natural vegetation, while the A-Frame design eliminates those bird-flaring hard edges and shadows common with some blinds. Measuring 96" L X 60" W X 48" H and weighing 26-pounds, the A-Frame can easily accommodate four hunters, yet sets up in mere minutes. The A-Frame blind comes complete with four adjustable gun clips and EZ-Carry webbing strap, which makes packing the A-Frame into the field a cinch.
Browning A5 Wicked Wing – Realtree Max-5
Now you will have to admit – this gun is just plain cool as the Wicked Wing A5 features a Cerakote Burnt Bronze camo finish on both the receiver and the barrel to compliment the Realtree Max-5 camo on the stock. Along with its great looks and design, the Kinematic Drive System simply makes it one of the most reliable, fastest cycling, best balanced, and softest-shooting autoloaders on the market today. Now that's pretty good coming from a guy that is a tried and true gas-operated man. And with it now available in 3 ½ inch chambering and a 30" barrel, those ducks and geese don't have a chance.
Hevi-Shot Hevi-Metal Longer Range
Hevi-Metal's waterfowl load uses Pattern Density Technology which boosts pellet count to "fill in the blanks" of your shotgun pattern. These high energy, high density shotshells put 20% more lethal pellets on-target at 40 yards than any steel ammunition, greatly boosting clean kills. Hunters can now enjoy greater lethality at even longer range than with their original HEVI-Metal shells. The new bismuth pellets are 16% denser than old HEVI-Shot "HEAVIER THAN STEEL" alloy, which allows them to pack smaller pellets that have greater killing power than traditional or even "super steel" pellets. Available in 10ga, 12ga, and 20ga loads.
Mossberg 930 Waterfowl Shotgun
Rugged reliability and ease of operation make the Mossberg 930 the shotgun of choice in duck blinds and late season goose hunts. It features a dual gas-vent system, quick-empty magazine release button for easy unloading, a drilled and tapped receiver for optics and adjustable drop at comb with a stock drop spacer system on synthetic models that adjusts the vertical angle of the stock for improved sightlines and a custom-type fit. Mossbergs 930 semi-automatic 12-gauges features: 5-shell capacity, ventilated rib barrel, fiber optic front sights, Accu-Set chokes, 13.875-inch length of pull and a Mossy Oak Shadow Grass Blades finish. The barrel measures 28 inches, with an overall length of 48.5-inches and weighs in at 7.75 pounds. A great gun at a reasonable price point for a semi-auto.
Winchester has re-engineered the way steel loads are built to deliver consistent performance for value-conscious hunters. Winchester Xpert Steel shotshells offer a true breakthrough in high-performance, value-priced, steel loads built to meet the increasing demand for lower-cost, lead-free loads. A new proprietary shot manufacturing process and a specially designed shot cup deliver optimum performance at an affordable price. Xpert's engineered wads have thicker wad segments for increased barrel protection from the shot. In addition, steel shot offers more pellets per ounce compared to lead, making it ideal for both game and target shooting, especially with velocities at 1,500+. Available in 12ga and 20ga.
Drake Large Floating Blind Bag 2.0 Bottomland
Waterfowl blind bags are an essential item to get everything you need to the duck blind safely and securely. Drake's ultra-tough, double-lined HD2 waterproof material protects your gear from the elements and hunting abuse. Five panels of closed-cell foam and padding keep the bag afloat in case it takes a dive. Updated with an improved zipper and durable hardware, the Drake Waterfowl Floating Blind Bag 2.0 has plenty of gear-packing space with 18 organizational pockets in the large bag and 20 pockets in the extra-large bag. The elastic loops in the outer face pocket holds your shells and choke tubes. Other storage highlights include two large zippered shell pockets, adjustable gun-case loops, a see-through map pocket and sunglasses holder.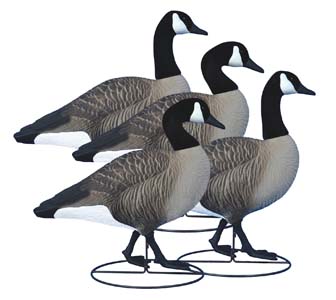 Higdon Apex Full Size Canada Goose Decoys
The Apex one-piece Full Size Canada Goose Decoy is made for a lightning fast setup, durability, realistic motion and high visibility thanks to the Apex stake system, XHD HyperFeathering and a more flexible body. One-piece full body design is lightweight, agile, adaptable and simple to set up and break down. The XHD Hyper Feathering process details and highlights each individual feather with a high contrast paint for ultimate visibility. The Apex stake system gives you maximum natural movement in even the slightest breeze, an important part of any decoy spread setup. And to top it off, a percentage of your purchase will go towards wetland conservation. Package Includes: 6-decoys with flocked heads, 6-Apex stakes.
MOJO Outdoors Rippler Duck Decoy
The Rippler will make ripples and waves throughout your spread giving motion to otherwise dead decoys. Duck hunters must have dependability and reliability and this decoy is designed to meet the rigors of all-weather hunting. All moving parts plus batteries are contained in an easily removable housing of a screw lock design. This is the easiest and most economical motion device you can add to your spread. The Rippler is available in either the full body model or the mallard "Butt Up" design. Both operate on 4 AA batteries.
Rustic Ridge Max 4 Bootfoot Wader
Extend your hunting time in the coldest weather with the 5MM Dura-Stretch Neoprene Bootfoot Wader from Rustic Ridge. With 1600-grams of Thinsulate insulation and fleece lining for maximum warmth and added comfort, you'll never be cold in the blind again! This great wader from Rustic Ridge has additional padding on the knees and rear with plenty of functional pockets including a handwarmer pocket on the front, a flip-out chest pocket, two additional Velcro pockets on the front, two lower front pockets with drainage and front shell holders for easy access to your shotshells. Also includes a nylon web wading belt for added safely and support a 1-year warranty.
Built from a proud tradition of innovation, the Alphaburly Pro is Lacrosse's premium hunting boot. Combining high-quality, scent-free rubber with naturally insulating neoprene, the Alphaburly Pro fears nothing. Not the cold. Not the harsh terrain. Not the challenges of a grueling hunt. Its unique tread pattern gives you the traction to move through demanding terrain while its chamfered edges keep you fast on your feet by shedding the mud, the muck and the mayhem below. The Alphaburly Pro features a thick EVA midsole for less weight, more comfort and unequaled hunting performance season after season. The Alphaburly Pro proves that durability and flexibility can comfortably coexist in a boot. It features three layers of rubber in the toe guard and heel to make it more durable in these high-stress areas and two layers of rubber in the instep for added flexibility where it's needed most. So, no matter where the hunt takes you, rest assured that these boots will be durable, flexible and, of course, comfortable. Available in Realtree Edge or 800g insulated for men, and Realtree Edge for women.
Check out these and other great waterfowl products at your local Sportsman's Warehouse!