"Use the right tool for the job!" Your grandfather probably preached that to you on more than one occasion. I know that mine surely did. He was right and when I picked the right tool for the job, things got a lot easier. That is just the case with the new ALPS Trophy X + pack in their Extreme line.
This is an external frame pack and bag combination designed for the hunter who wants to get off the roads and be gone for two to three days. Better yet, once you tag out, you can get a whole deer and your load back out in one haul. That is a lot of weight, but the Trophy X system is definitely up to the task.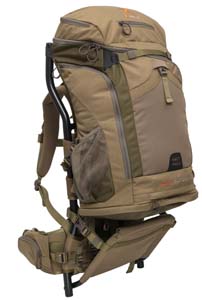 The frame itself is a lightweight powder-coated aluminum. The multiple cross braces give it rigidity and are designed for hauling heavy loads. It has a built-in load shelf which helps support the load, but also makes the initial load up of your harvest very simple. It comes with sufficient tie downs as well as extensions to get a very large load strapped to the pack frame. When you talk about carrying heavy loads, you have got to have a good fit to your body on the pack. This means getting the majority of the weight on your hips. The torso adjustment on this pack system is well thought out with the end user in mind and it works. You have a total of 4.5" of torso adjustment. The waist belt is excellent as well and the padding for your back is well vented and has lots of padding for that heavy load. It has a pocket on each side and will accommodate a clip style holster for a pistol or bear spray.
The pack itself is super easy to attach to the frame. It is a 3,900 cubic inch main pack that does have the ability to expand out to 4,575 cubic inches. It is H2O compatible and will hold the largest of bladders. It has a fully-lined spotting scope pocket which will hold a full-sized spotter of most makes. It has a lid-style top pocket which is a great place for snacks or readily used items. It also has a lined top pocket which is great for a cell phone or GPS unit. The pack itself weighs just a few pounds and it has its own hideaway shoulder straps. This can be used when you get to your base camp and just need to take short hikes to a lookout and don't need all your gear.
This is a great frame, pack and overall design by the ALPS OutdoorZ team. Pack one out from your local Sportsman's Warehouse today!