By Dan Kidder
Managing Editor
With all the devices we carry with us these days, having the means to charge them up or run them has become even more important. Whether it is for convenience, like an iPad or a TV, or for necessity like a Satellite phone so we can call the bush plane to come pick us up, making sure all of the electronics and gizmos are full of juice is now more important than ever.
The biggest problems with most power sources is that they were either very heavy, large, noisy, or just couldn't store and deliver enough power to be useful. Thanks to Lithium Ion battery technology, we have seen an increase in the storage capacity of devices and they have gotten lighter and smaller at the same time. Coupled with increases in output from solar panels, the need to take along a noisy generator has been eliminated. Here are two products sold at Sportsman's Warehouse that bring plenty of power in a small and lightweight package.
Goal Zero Yeti 200X Portable Power Station and Nomad 50 Watt Solar Panel
Goal Zero was the company that originally innovated portable power to make it accessible to the every man. As technology has improved, they have continued to work to bring down weight and increase capacity. Their small and lightweight Yeti200X Lithium is just the latest offering for delivering plenty of power in a portable package.
The Yeti 200X offers 187-watt hours of capacity and can output up to 120W with a 200W surge through its single 120V power plug. It includes an inverter that will convert the battery's DC power to that needed by your AC appliance. Additional USB, 12V car port, and two USB-C ports provide DC power directly to devices that work on DC power. The 2 USB-A ports provide 5 volts of power up to 2.4 amps with a maximum output of 12 watts for charging phones and tablets. The single USB-C port between 5 and 12 volts, depending on the needs of the device at up to 3 amps with a regulated output of 118 watts. The second USB-C port is a USB-C PD and outputs 5-20 volts up to 3 amps with a 60-watt regulated output. The overall dimensions of the unit are 7.9 by 5.1 by 5.1 inches (20 by 13 by 13 centimeters) and weighs just 5 pounds.
In our testing of the Yeti200X, we found that it would handle a wide variety of small appliances like a blender and a TV, but will not power high drain devices like a coffee pot. It did run my Dometic CFX3 in 12V mode quite well and got the unit down to below freezing pretty quickly.
On larger draw items like Halogen lights, it would shut off immediately. It also would not run an angle grinder, a mini fridge, or our Camp Chef DLX pellet grill.
The 50-watt solar panel did slow down the battery drain when connected to the 12 volt cooler, but since the display shows only percent remaining and not the input or output wattage, it is hard to be certain how much it was helping. That is, in my opinion, the largest deficiency in this product. I would love to be able to see what the input and output power readings are so I can adjust usage and calculate my remaining time of power. I have seen this feature on other units that sell for far less than the Goal Zero Yeti200X.
For small electronic devices, it easily charged my laptop and claims that it will be able to charge it 3-4 times on a single charge. My cellphone was no problem and only reduced the percentage of charge remaining in the Yeti by five percent, so we can determine that it will charge it at least 20 times. It also can charge all of our action cameras and our digital SLR batteries with very little effort. It will run standard 60-watt bulbs for the entire night. We charged the unit for completely empty using the solar panels in direct sunlight at 6,000 feet and moved them throughout the day to give them as direct of an angle to the sun as possible and the unit charged to 100 percent in 7.5 hours. The Nomad 50 solar Panels fold up into a nice flat package, but do not have any legs to help you angle them toward the sun. Because they fold, you need to find four different objects to prop up each segment to get it to point toward the sun. The panels fold flat and take up minimal space, but at 6.5 pounds, they weigh more than the Yeti200X. Also, because the panels put out 20 volts and the Yeti200X cannot exceed 22 volts of input, you cannot run an additional Nomad50 solar panel in sequence without risk of damaging the battery.
The Yeti200x retails for about $300 and the Nomad 50 solar panel is about $250.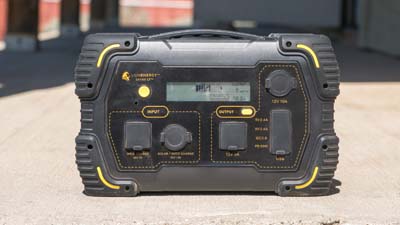 Lion Energy Safari LT and Lion 100 Watt Solar Panel
At 11 pounds, the Lion Energy Safari LT was more than twice as heavy as the Yeti200X but it was a real power horse in all of the items it could run. It features 450 Watt Hours of capacity and a 500-watt pure sine wave inverter that was able to easily run an angle grinder, a pair of high intensity halogen studio lights, the blender, and our Dometic cooler; individually. The best feature of this power supply is the information it provides on the LCD screen. It will show input watts as well as output watts and also give you the remaining amount time for that wattage. With this
information you can quickly tell if your solar panel is providing more watts in than your appliance or device is drawing out. When we hooked up our Camp Chef pellet grill, it initially showed 260 watts of draw as the computer, auger, fan, and heating element were running. At this wattage, the fully charged unit showed that it would run the pellet grill for 1.7 hours. But once the grill was lit and the heating element wasn't glowing, it dropped to 20 watts and indicated that it would run for 17+ hours; which is plenty of time to smoke a perfect brisket. Knowing that I can take my pellet grill on my next campout without a noisy and stinky gas generator makes me no end of happy.
The Safari LT features two 120V outlets, a 12V car plug, two 5V 2.4A USB2 outlets, a USB QC 3.0 with a 5-20V range at 3 amps, and a USB-C (PD) 60 Watt outlet. The dimensions are 11.8 by 6.5 by 7.3 inches, so it is about twice as large as the Goal Zero, but carries almost two-and-a-half times the power. It can charge your phone more than 32 times, run a laptop for up to 10 hours and a small TV for around 30 hours.
The Lion 100 Solar panel is a hard suitcase-style folding panel with a pair of fold-out friction legs that can be adjusted to get optimal angle to the sun. The solar cells are a hard monocrystalline and have a lifespan of 20 years. Two panels are able to be linked together to double your input. In our testing at 6,000 feet altitude on a sunny day, we were getting about 93-98
Watts of power, and after 6 hours the unit was three quarters charged, but clouds moved in and dropped our input to about 54 Watts before we could get the unit fully charged. According to the LCD screen, it would have taken another hour and a half or 7.5 hours total to a full charge at full sun. The panels fold in half to 26.5 by 20 by 2 inches and set up to be 26.5 by 40 by 1 inches. They weigh 20 pounds and have a built-in charge cable, daisy chain port for multiple panels, locking latches, and a suitcase-style carrying handle.
The battery on the Safari LT is a Lithium Ion and can sit for 6 months without charging. It has more than 1,000 charge/drain cycles for years of use.
The Safari LT retails for $599 and the Lion Solar Panel retails for $299.
Depending on your power needs and where you will use these power supplies, you will find one of them a great companion on your next outdoor trek or for power during a grid down emergency.