The hottest new products we found at SHOT Show.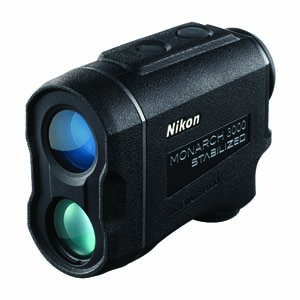 Nikon 3,000 Yard Stabilized Rangefinder
Nikon just changed the laser rangefinder game with the introduction of its new MONARCH 3000 STABILIZED. This incredibly small, lightweight unit is feature-packed with Nikon's award-winning optical image stabilization technology, crisp new red OLED display and 3,000 yard fast-ranging capability. It will most certainly redefine the expectations of hunters and shooters in 2018 and beyond.
The optical stabilization system in the MONARCH 3000 STABILIZED reduces viewfinder vibrations by approximately 80%*, while simultaneously aligning the viewed image with the laser. This function begins immediately when the unit is powered-up and assures faster, more successful "first-shot" measurements.
MONARCH 3000 STABILIZED has a maximum measurement distance of 3,000 yards on reflective targets and displays distances in .1-yard increments. An all-new variable intensity, crisp red OLED reticle display provides either automatic or five selectable brightness levels for maximum contrast against most targets and backgrounds. The rangefinder's 6x monocular features bright, fully multicoated optics, user-friendly 18mm eye relief and a wide 7.5° field of view for fast target acquisition.
Nikon's HYPER READ technology displays all measurements in approximately 0.3 seconds—regardless of the distance. By holding down the power button on the MONARCH 3000 STABILIZED, the user can continuously measure across multiple targets for 8 seconds.The MONARCH 3000 STABILIZED integrates Nikon's ID (incline/decline) Technology to take the angle out of your shooting equation--up to an incredible +/- 89 degrees. It also offers the ability to switch between First Target Priority Mode (reading of the closest target) or Distant Target Priority Mode (provides range to the furthest target through clutter, branches etc.)
Sikta Gear Kodiak Jacket
Rugged as the island from which it was born, the Kodiak Jacket is the ultimate in extreme and extended protection for rainy coastal climes. A knee-length durable 3-layer GORE-TEX® Pro laminate ensures complete waterproof coverage with the option of shortening the jacket to a standard length with internal snaps for unencumbered hikes. Pit zips easily allow instant relief from overheating. Four chest pockets are conveniently located to store essentials, and two reach-through pockets grant quick access to dry layers underneath. Whether breaking trail through soaked brush in pursuit of brown bear or enduring a torrential storm on the boat back to camp, the Kodiak Jacket has you covered.
Alps Outdoorz Traverse X Cervidae
The Traverse-X Pack is a tried and true hard core tested pack and not new to the field. This pack was awarded the Editors Choice by Petersen's Hunting. ALPS has expanded this pack with the addition of the new camo pattern called Cervidae. The tans and dark pattern are ideal for the western hunter.
The pack itself starts out as your go-to daypack for backcountry hunts with capabilities to carry everything from your expensive glass to your trusty side arm and rifle or bow, and then it ends up a meat hauling solution for the spoils of a successful hunt. It accomplishes these mission specific tasks by carrying features that cater to the western hunter. Wing pockets serve as both fleece-lined storage for a spotting scope and as part of the lashing system for hauling out meat. The stow away meat shelf is the other hidden component to the Traverse X that transforms and lets the pack live up to its reputation allowing weight to be added and carried securely and comfortably. The combination of Lycra shoulder straps, a molded foam back panel, and padded waist belt along with load lifters and anti sway straps makes this very capable pack a necessity for the 1 or 2 night stay in the backcountry.
Sig Sauer P365
High capacity in a micro-compact size are two terms you usually don't hear together. But Sig has taken their new striker-fired pistol and given it a double stack magazine for better grip in larger hands and higher round count. A Nitron finish will hold up to the rigors of daily carry with minimal wear and protect your pistol from corrosion caused by condensation and sweat. It comes with a single flush-fit 10-round magazine, as well as an extended grip 10-round magazine. A optional 12-round extended magazine is also available. At 5.8 inches long and less than an inch thick, the P365 is suitable for daily carry 365 days of the year and is a breeze to conceal.
Zeiss Victory RF Binoculars
ZEISS unveils its newest and ultimate binocular laser rangefinder, Made in Germany, the Victory RF. The family consists of four model configurations: 8 x 42, 10 x 42, 8 x 54, and 10 x 54. All models are Bluetooth® enabled and they sync to the ZEISS Hunting App.
The Victory RF models not only represent ZEISS' super-premium product offering in this category, but also establishes a resounding and definitive new standard for all future binocular laser rangefinders. Innovative design, advanced performance, and smart connectivity to the digital world provides the foundational development parameters of the all new Victory RF models.
Enhanced ergonomics are quickly and clearly appreciated as the architecture incorporates a proven double-link-bridge construction with smooth and unimpeded lines – making them easy to hold and use for extended viewing sessions. The lightweight magnesium housing affords no protrusions or bulges to push against the chest while carrying them or while trying to simply hold the device for a quick ranging opportunity. These are sleek, compact, and extremely manageable for carry, observation, and ranging. With the two control buttons cleverly positioned on the top of the binocular barrels and in close proximity to the focus wheel, and the index fingers, the user can easily range with either hand. This eliminates the need for awkward hand placement and continuous finger stretch. All of this is due to the ZEISS' ComfortFocus Concept. The two control buttons are also able to be programmed for either right- or left-handed operation.
ZEISS pushed the limits of the Victory RF models, and was able to achieve 2500 yard capable binocular laser rangefinders, in reference to hard targets, using better algorithms and a narrower divergence pattern for the laser.
Browning X-Bolt Pro Long Range
Browning delved into semi-custom rifle production with the X-Bolt Pro in 2017. This year they are introducing the Long-Range version of the X-Bolt Pro, featuring a heavier profile barrel for increased accuracy at longer distances. What classifies the X-Bolt Pro as a "semi-custom rifle" is the level of specialized finishing touches and higher end construction above the already top-tier X-Bolt family of hunting rifles. First, the X-Bolt Pro features a true carbon fiber stock, making it extremely lightweight and rigid. The stock is filled with a noise-dampening foam. The Cerakote finish on the action and barrel is also on the exterior of the stock for added protection. The burnt bronze hue mutes the color of the stock for better concealability. The barrel features a new proprietary lapping process to provide consistent accuracy and easier bore cleaning - avoiding the need for a time-consuming break-in process. Other features include a spiral fluted bolt, enlarged bolt handle, and a threaded muzzle with a muzzle brake or thread protector cap. It comes in 8 very popular calibers from the 6MM Creedmoor to the 300 Win Mag.
Leupold Mark V Riflescope
When Leupld set out to create the Mark 5HD, they brought in elite military personnel and professional shooters to have a conversation; what do you need in an optic? What they found was an overwhelming demand for high level contrast, increased travel, improved ergonomics and without question, something that could take a beating in the field.
With these key features in mind, they got to work. The design of the Mark 5HD all started with the new 35MM main tube. This allowed them to maximize the 30 usable mils elite shooters would require. This is done in 3 full revolutions of the low-profile dial. We know what you're thinking, this thing must be a tank. That's where you're wrong. The Mark 5HD is one of the lightest scopes on the market weighing in at just 30 oz. Don't let the weight fool you, built with solid aluminum, this scope is ready to take a beating. Drop it on the gravel, throw it in the back of your truck, and then lock-back-in and nail the target without hesitation.
With weight taken care of, they focused in on the contrast between background and target. Searching for targets with glass that was built to look good in a department store can be a real hassle when you're trying to take home the win. They squared that away long ago but found ways of making it even better. The Mark 5HD features their proprietary Twilight Max HD Light Management system. Low light shooting will never be an issue when the late-night critters and bad guys are out.
Everything on the Mark 5HD is engineered for precision accuracy and speed. If you need to get from 5x to 25x fast, they have a feature for that. No overly complicated locking dials, they have simplified that. Tired of losing zero when your rifle hits the deck, you won't. The field can be a brutal place but you will not find an optic that will outperform or outlast the Mark 5HD.
HydraPak
Pushing boundaries to redefine the future of hydration, HydraPak creates innovative solutions that stand up to the harshest environments. Easy-to-use and highly functional, every HydraPak product showcases the technical manufacturing expertise that has distinguished the company for nearly two decades. By offering a better way to hydrate, and continually seeking to refine its offerings, HydraPak has pioneered new product categories and become a trusted partner for dozens of major OEMs. These renowned global brands integrate HydraPak's proprietary designs and technologies into their hydration products for recreational, athletic and military use.
Bergara Premier HMR Pro Rifle
Bergara, a company world renowned for their high-quality barrels, has mated the precision of their barrel to a precision rifle action and chassis to create a superbly performing rifle, at a fraction of the cost of a custom gun. Using state-of-the-art production and including a TriggerTech Frictionless Release Technology trigger adjustable down to one pound, the Bergara Premier HMR Pro is an excellent shooting factory rifle that performs like it came from a high end custom shop.
UAR Unique-Grip
UAR Unique-Grip is unleashing a new era of grips for the AR Rifle, the first grip that perfectly fits each shooter's hand, regardless of size or dominance. Simply grip it, lock it and fire away. Instant fit, instant comfort. The UAR Grip is made of durable molded plastic and comes in black. The locking mechanism is easy to manipulate for a sure fit. Staggered platters take a mold of your hand and turning the set screw on the bottom locks the shape in place. Loosening the screw causes the platters to return to neutral, making it ready to take a mold of the next shooter's hand. The Unique-Grips lets each shooter have a custom mold of their hand for hours of comfortable shooting, while minimizing fatigue.
ExoTAC titanLIGHT Waterproof Lighter
Even though ExoTAC makes high quality ferrocerium rod firestarters, a good quality lighter is a great companion if venturing into the outdoors. Liquid fuel wick lighters have long been a staple, but the fuel can evaporate or if you get soaked, they can get wet and fail to function. ExoTAC has addressed both of those concerns with their new titanLIGHT Waterproof Lighter. Featuring aircraft aluminum construction with an O-ring sealed cap and base, these lighters won't let the fuel evaporate away or leak. They also protect the wick and flint striker from moisture, so you get a consistent light every time. A heavy wick provides a large flame with every strike of the wheel. A lanyard loop built into the cap provides an easy way to hang the lighter around your neck. Spare flints can be carried under the refilling cap at the base, so you always have a backup. And they are made in the USA in their Winder, Georgia factory.
Outdoor Edge Chow Pal
There are a ton of nesting eating utensils on the market and not one of them provides a knife that will cut hot butter, let alone a thick ribeye. Outdoor Edge has tackled that problem with the introduction of the Chow Pal. A nesting fork and spoon slide together to lock up for easy and quiet storage and slide apart to provide an ergonomically friendly fork and spoon. On the back of the spoon is a stainless-steel folding knife with a frame lock to provide superb cutting power. A flathead screwdriver, graduated wrenches and bottle and can openers round out the tools offerings packed into this little package. It even comes with a rip-stop Nylon carrying pouch.
Walker Razor XV Ear Bud Headset and Hearing Protection
Looking like a standard Bluetooth headset, the Walker Razor XV also includes compressor technology to provide 31db NRR of hearing protection while shooting. Built-in omnidirectional microphones allow regular conversation on the range and then limit the sound of gunfire or other loud noises. A long-lasting Lithium Ion battery provides hours of music in the field. Now you can have a conversation, listen to your favorite tunes, or actually hear the tone on the shot timer app you downloaded to your phone. The flat, retractable cables won't tangle and are heavy duty enough that if they get caught, they are unlikely to break. While they are built for the range or the field, they are comfortable and robust enough for daily use.
5.11 Tactical Response XR2 Flashlight
Featuring the awesome power of the Cree XXXX chip LED, the Response XR2 flashlight pumps out a blinding, 2,000 lumens of bright white light. The new LED creates a super bright spot for focused attention to detail and a flood of light for better situational awareness. The hard-anodized aircraft grade aluminum body means that it is rugged enough for tactical use, but light and bright enough for daily activities. The knurled body fits comfortably in the hand and the tail switch rubber button is beefy enough for use with gloves in constant or intermittent activation. Three modes, bright, low and blinding-oh-my-gosh-my-eyes-are-burning strobe, give you options in the field. It will run for up to two hours on four CR123 batteries or you can use a pair of rechargeable Li-ion 18650s. 5.11 Tactical offers a rechargeable kit with the charger and two 3400 mAh Li-ion batteries that can also double as a phone charger.
UCO Mini Flatpack Grill
Taking the popularity of their full-sized Flatpack Grill, UCO has created a mini-version for even more packability. The Mini Flatpack Grill & Firepit provides more than 60 square inches of grilling surface for your brats or burgers and will work with wood or charcoal. It weighs just 2-pounds and folds down 1.5-inches thick for minimal space taken up in your pack. It is ideal for 2-3 people and can be used even where open fire restrictions are in place. A heavy-duty Nylon bag is included to keep soot from getting all over your spare clothing in your pack. The sturdy steel legs support the stainless-steel firebox, providing a stable base for cooking on the go.
Muck Boots Woody PK
Yes, a high-performance hunting boot, designed specifically for women! Offered in both a warm weather or cold conditions package. Comes in breathable airmesh or warm fleece lining, 100% waterproof, 4mm neoprene bootie, EVA midsole and MS2 molded bobbed outsole.
Winchester Ammunition
Deer Season XP Copper Impact rifle ammunition provides devastating terminal performance on deer with outstanding weight retention and deep penetration. Like the original Deer Season XP, Copper Impact features a large-diameter polymer tip and engineered hollow-point bullet that initiates rapid expansion on impact. What differentiates Deer Season XP Copper Impact is the solid copper bullet design that offers improved weight retention for deeper penetration and a red, reinforced polymer tip for product differentiation from standard Deer Season XP loads. Deer Season XP Copper Impact will be available in 20-round boxes and can be used in areas that require lead-free ammunition. Available in .243 Win, .270 Win, .300 Win Mag, .30-06 Springfield and .308 Winchester.
Dogtra ARC HANDSFREE
Dogtra introduces the newest addition to the best-selling ARC e-collar remote training system, the ARC HANDSFREE. Perfect for hunting dogs and police K-9 professionals, the ARC HANDSFREE e-collar provides owners the freedom to multitask while maintaining control during field operation. The flexible ARC HANDSFREE Remote Controller allows you to apply stimulation using only fingertip control, providing more versatility with your hands at any given time. Designed for all dog breeds with soft to medium temperaments, the ARC HANDSFREE Remote Controller is pre-set with Constant stimulation, controlled by the Rheostat Dial with 127 available levels, but can adjust to "Nick" stimulation or pager vibration only. Equipped with a ¾-mile e-collar range and low-medium output, the ARC HANDSFREE maintains the ARC product line's slim ergonomic design for a discrete fit around a dog's neck, even for dogs as small as 15lbs. The water resistant, flexible and intuitive ARC HANDSFREE buckle allows for versatile use in the field or on the range; simply attach the buckle to your wrist, belt buckle or gun and have complete control in any situation.
Sentry Armadillo
Hunting often involves adverse conditions that can affect your rifle's ability to perform. Dust, fine debris, snow, and generally wet conditions that are allowed to get in your gun or scope can cost you a trophy. The Armadillo from Sentry is a very packable full gun cover that protects your rifle from the elements even while shouldered with your favorite sling. Stretch fabric and a simple draw string system allow the Armadillo to easily slide on or off the rifle and it's available in three sizes to fit any long gun.
Raptor Razor Combo Pack
Skinning big game is a happy chore, but a chore none the less. Make it easier and safer with the Raptor Razor Big Game Skinner and Mako combo pack, a very unique set featuring a two sided, encased blade and a convertible knife/saw, each with a "T handle" that is very easy to hold. The Big Game Skinner has a curved inner blade that cuts from the inside, perfect for opening the hide, cutting around legs, or popping leg joints. The outer blade is shrouded making for an efficient way to skin without risk of cutting the hide or meat. The Mako's interchangeable blades convert it from large skinning blade to bone saw in seconds. Besides the two unique blade housings, the kit is sold with two T handles (each housing tools to swap blades), multiple blades for each, and a carrying pouch for easy packing.
Chef's Choice Knife Sharpener Xtreme
Fact: We outdoors folks like our knives but we are hard on blades. Want a very fast and easy way to sharpen even your beefiest blades? Check out the Chef's Choice Knife Sharpener Xtreme. It is a mechanical two-stage sharpener featuring 100% diamond abrasives and precision blade angle guides. The Knife Sharpener Xtreme quickly and accurately creates a durable arch-shaped edge on both double and single bevel knives from tip to bolster, and is designed to handle the thickest tactical blades. It even works with serrated knives. Designed and built in the USA.
Muck Boots Woody Arctic Ice
This cold-conditions, performance hunting boot features an 8mm bootie with fleece lining wrapped in layers of soft rubber, so your feet will stay warm and dry in the most extreme conditions. The EVA midsole offers added underfoot comfort with a Vibram Arctic Grip outsole, with Icetrek for confidence on the iciest surfaces.
Skull Hooker Trophy Tree
Hunt big game very long and you will acquire a collection of European mounts, eventually leading to "where do I hang them all?" The easy answer is you don't; you display them in a corner on the new Skull Hooker Trophy Tree. The Trophy Tree is a vertical pole system with up to five Euro mount hangers along its length. Like the rest of the Skull Hooker European Mount hangers and stands, the Trophy Tree is adjustable for angle, while adding height and 360 degree display adjustments as well. The Trophy Tree is a very unique and space saving way to display a wide variety Euro mounts.