The days of guessing where to hold on an animal is over. Knowing the distance to your target is essential to making accurate shots and with the launch of the new Vortex Impact Laser Rangefinder, it's attainable for everyone.
This compact, handheld rangefinder will be hitting the market this fall and will fall into that under two-hundred bucks' category. So, although $200 is still a good amount of money, you won't ever regret spending it when you know the exact distance to that buck of a lifetime this coming season.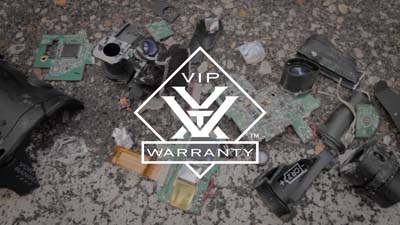 The new Vortex Impact is another quality product by a well-known and respected name in the optics industry and as with all of Vortex's products, it is backed by their VIP warranty. If you aren't familiar with it, you should be. If it breaks, they will fix it or replace it, no questions asked. This is truly the best warranty in the business.
The rangefinder itself is nice and compact at 3.8" long and 3.0' high, which isn't much larger than a standard business card. It weighs in at a mere 5.5-ounces and has 6X power magnification. This is a very basic rangefinder, which allows Vortex to keep the unit extremely affordable. However, it has some great features you are going to want as well.
Angle range compensation or HCD is what Vortex calls it, as it will calculate the exact range based on the angle uphill or downhill and give you a shoot for yardage. This is the most common usage for your average hunter and the unit comes preset when you purchase it. You can adjust it to provide a direct line of sight yardage as well as the angle of shot, if you so desire. You can also adjust between yards and meters. It also comes equipped with a SCAN mode which is ideal for moving targets. This mode can be entered by holding down the measure mode button.
The setup and menu for this unit is very user friendly and quick to navigate. However, the real meat and potatoes of this unit is in the field testing. Vortex's claim is that it will scan a reflective target between 10-yards out to 850-yards with a maximum angle reading of sixty degrees. It will work on non-reflective targets between 10-yards out to 400-yards. We put the unit to the test here at Sportsman's News and on reflective surfaces, the best we could get was 815 yards, which was on a very bright building with subdued sun. We could easily pick up reflective targets at 700, regardless of color or lighting.
We then took the unit to the field to check deer and elk and found that it outperformed the claims. I consistently ranged deer and elk sized targets in the low 500-yard range. Once we got into low light conditions, we were below the 500-yard range, but still exceeded the 400-yard claim.
Overall, this rangefinder performed extremely well. So, the price to performance ratio with a lifetime warranty is hard to beat. Never hit the woods not knowing how far it is to your target again. Check out this great new rangefinder at your Sportsman's Warehouse gift bar.