Abu Garcia's Veritas series of rods has been one of their best sellers for several years. Now they've upgraded the popular line with the Veritas Ltd., the difference being in the grip. EVA foam grips on the standard model line are replaced with a very tacky and tactile Winn advanced polymer Dri-Tac grips. The up-locking reel seat which ratchets for a secure hold on the reel, titanium alloy guide train with ultralight zirconium inserts and 30-ton graphite blank reinforced with proprietary Sublayer Armor have all been retained. The resulting Ltd. rod has increased feel and grip, especially when wet, and a distinctive look. Veritas Ltd. comes in a range of models to handle whatever presentation you may need to catch fish.
Berkley Trilene Professional Grade Braid
Braided "superline" is no longer fringe tackle for hardcore anglers. Instead many weekend anglers have learned the benefits including much higher tensile strength, increased castability, lack of stretch, and especially far-superior sensitivity. In short if you want to really feel what your bait or lure are doing and also be able to winch in whatever monster you hook, get yourself some high quality braided line. Given that Berkley is the industry leader in line sales, it stands to reason that their most popular Superline, Trilene Professional Grade Braid would be a good choice. Professional Grade Braid lasts forever, holds knots great and in general is very user friendly. In fact, its overall performance and value earn it a home on most of our guide rods, meaning we seriously believe in the stuff!
"The most popular fishing rod sold in America." That's a big statement and only Shakespeare's iconic Ugly Stik can claim that title. The Ugly Stik name is synonymous with durability, but that does not tell the whole story, especially for the GX2 model line-up. GX2 has higher-quality guides, reel seat, and handle. The result is a rod that has better balance, feels better in hand, and looks better too, yet retains all the legendary strength Ugly Stiks are famous for. If you fish a combination of bait and lures with one rod, GX2 is a great choice.
Lowrance HOOK Reveal TripleShot Fish Finder
You know you need technology to keep up with modern angling tactics, but you don't want the hassle of learning new stuff or spending a ton of money. Well, Lowrance made it much easier and less expensive to bring high-tech sonar and GPS technology to your boat with the Hook Reveal TripleShot package. This unit features CHIRP multifrequency sonar and DownScan imaging which combines on one screen known as FishReveal. SideScan allows you to see way outside of your boat and all three images are generated by a single TripleShot transducer. In addition to GPS and the ability to utilize MicroSD map chips, this unit even allows real-time mapping while you drive your boat! All images are displayed on the new SolarMax display for clarity and visibility, even in bright sun. If you want full featured sonar/imaging/GPS/mapping in one simple unit, the Lowrance HOOK TripleShot package is a great value and overall choice!
Johnson ThinFisher Blade Baits
Okay, so how does something so simple as an inexpensive metal lure make this list? Because this list is about tools to help you catch more fish and the Johnson ThinFisher blade bait will do that without the glitz, glamour, and cost of other lures. The secret is in the versatility. The ThinFisher is balanced so it can be fished vertically or horizontally or any mix thereof, deep or shallow, fast or slow. It has a built in tight vibration when lifted or retrieved to attract fish and subtle, wiggling slack line fall to get them to bite. The ThinFisher is available in a range of sizes and colors and will catch you walleyes, bass, trout, and just about any other predator fish you may encounter during any season you fish, even under the ice!
Costa Tuna Alley 2.00 C-Mate Readers Polarized 580 Sunglasses
Polarized sunglasses are a staple item for any serious angler, and it's no secret that Costa makes the best polarized lenses on the planet. Polarized lenses protect your eyes from harmful U/V rays while cutting surface glare so you can see in the water, as well as some protection from errant bugs and baits. Alas, many anglers need some magnification help for their vision and prescription polarized glasses are very expensive. So, Costa offers C-Mate, a reader style with 2X magnification to allow you to see tiny knots or read maps, while offering all the benefits of their 580P polycarbonate blue mirror lens. This lens is very light-weight for all day comfort, impact resistant and removes the light waves that cause glare. Best of all is the C-Mates are similar in cost to Costa's regular 580P lenses.
The most common complaint about fly fishing is that it is expensive to learn. It doesn't have to be that way if you choose your tackle wisely. Fenwick HMG has been around for a very long time and the company brings the same value and performance to fly tackle that HMG has always featured in conventional tackle. The HMG fly rod is available in the most popular weights and the most common nine foot length, all in a four piece blank that is easy to transport. It's a fast-action blank that loads easily yet is powerful enough to reward even experienced fly casters. The uber-popular 9', 5wt model weighs in at a paltry 3.7 ounces and would be a great choice for any fly angler, beginner or experienced, without breaking the bank.
Classic Accessories Colorado Pontoon Boat
Before kayak fishing exploded on the scene there were personal pontoons, and they are still a great choice for anglers that prefer hand-launch boats. Personal pontoons are lighter in weight and shorter in length making them transportable even in a small car, and they deflate and disassemble for storage as well. The Classic Accessories Colorado Pontoon is a great choice because the frame allows for mounting an electric trolling motor and battery as well as a storage basket for your tackle box, etc. It comes with oars for use with or without the trolling motor and the padded seat and non-slip foot rests are adjustable to fit most bodies comfortably. The heavy-duty pontoons have abrasion-resistant PVC bottoms and durable nylon top. There are built in insulated drink holders, 10 mesh pockets,12 zippered pockets, and even a stripping apron for fly guys or as a work station of sorts. It has three-position rod holders on each oar stand to keep your fancy rods safe and out of the way while you fish. Fully assembled, the Colorado Pontoon comes in at 9' long and about 71 pounds and will get you and your gear off the bank without breaking the bank!
Pflueger President XT Spinning Reel
Need a bread & butter, lasts forever, no-nonsense quality spinning reel that's also a great value? Look no further than the Pflueger President spinning reel. The President series has been super-popular amongst those anglers in the know for decades and the latest incarnation, the XT, got some some cool upgrades. It now features a 10-bearing system and an aluminum main shaft and pinion gear for performance even with light lures, a braid-ready spool that eliminates the need for backing of other anti-line slip measures, and the drag is fully sealed. The hybrid rubber cork handle is super-comfy, and the overall reel is lighter, faster, super-smooth and built to last. The Pflueger XT is a great all around spinning reel value for anglers of all skill levels.
Lowrance HOOK2 5 SplitShot and US Inland Maps for Kayaks
Kayak fishing has literally exploded over the last few years, and for good reason. It's fun, affordable and gets you off the bank so you can access the fish you desire. But what if those are located on offshore structure? Then your kayak needs a "fish finder" but in keeping with the simplicity and affordability theme kayak fishing brings, it needs to be … well, simple and affordable. Lowrance's HOOK 5 SplitShot with US Inland Maps is just that! It utilizes auto-tuning sonar to constantly keep up with conditions so you can focus on fishing instead of your fish finder. The 5" SolarMax display can be seen clearly in bright sun and the menus are very simple with one-touch access to key features. In addition to US Inland Maps, a MicroSD slot is included to allow other "map chips" so you can find the good spots. A quick release mounting bracket is perfect for kayaks. The Lowrance Hook 5 SplitShot is simple, affordable and very effective, much like kayak fishing itself.
Abu Garcia C3 Line Counter Round Casting Reel
Abu Garcia has been making round reels since about WWII so it stands to reason they've figured it out. The basic design is durable, proven and popular world-wide making the Abu Garcia 5500 and 6500 series of round reels the standard that all other round reels are judged against. The C3 Line Counter version takes that proven winner trolling with the precision and depth control a line counter brings. In short, if you want a repeatable trolling pattern and/or a way to know how deep your trolled lure is running, you need to know how much line you're pulling. The size is "palmable" for comfort, counts line in feet and has a simple counter reset. It has the bomb-proof Carbon Matrix drag found on many popular Abu Garcia reels and the gear ratio is a powerful 5.3:1. Available in two sizes to fit most trolling needs, the C3 Line Counter has the quality and performance to take your trolling to the next level.
BW Sports 2 pc 7ft Spinning Rod And Reel Case
If fishing is a key to happiness - and it is - then more fishing equals more happy. Keeping a fishing rod and reel combo in your vehicle at all times is a great way to fish more; it allows you to fish on a moment's notice wherever your travels find you. Since fishing tackle isn't cheap, protecting your gear is important and you can do so by transporting (or storing) your favorite spinning rod in the BW Sports 2 pc Spinning Rod and Reel case. There is an internal plastic square tube to protect the rod and guides from damage that would compromise their strength and the reel portion is padded. The whole case is wrapped in beefy nylon and there is an extra zippered pocket to store your pliers and perhaps a spare spool or two of line. The case has a padded shoulder strap and web handle. Protecting your quality rod and reel is easy and affordable with the BW Sports 2pc case.
Pflueger Trion Underspin Reel-10U
Might you be introducing someone new to fishing, perhaps a kid even? Here is your answer! The Pflueger Trion Underspin Reel 10U makes this list by virtue of being the best tool for teaching somebody to cast. Why not a thumb button reel, you ask? Because the under-spin design is far more ergonomically correct and natural to use. To prepare a cast or "open the bail" so to speak, just pull the trigger with your index finger. To release the cast, simply let go of the trigger. Does this sound suspiciously like casting a open-face spinning reel? It should … and that's the point. The logical next step in fishing namely hold the line in your index finger during a cast, will have already been mostly learned. Also, when your student moves up to a longer, higher quality rod, or perhaps is handed down one of yours, you can move the Trion Underspin to that rod; moving a thumb button reel to a spinning rod is a very bad idea but not underspin since it is designed to hang on the rod like a spinning reel. The Trion Underspin reel is made mostly of aluminum, has a smooth drag, dual titanium pins to catch the line internally, and a soft knob. The basic workings are similar to a thumb button reel, but the design is far superior. Geez, even those just looking for a simple way fish regardless of casting skill can appreciate a reel design this well thought-out. Oh, and thank you for teaching someone new to fish!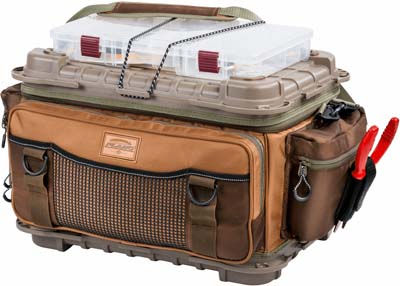 Plano Guide Series 3600 Soft Tackle Bag
The words Plano and tackle storage are virtually synonymous, and for good reason. Plano makes not only tackle storage products, but also storage products for a wide range of industries including the first responder field; they know how to store stuff, lots of stuff, well! The Plano 3600 Series Soft Tackle Bag is a great example of that. Utilizing the industry standard 3600 size modular plastic boxes, this bag combines the best features of a hard box with those of a soft bag. The bottom of the bag is rigid and water proof with non-skid feet to keep it off wet surfaces. The top is also rigid with bungee system to hold the box you need most without digging inside the bag. They call it the Utili-Tackle rail system and it has 34 attachment points total. There's a clear zippered pocket inside the lid (think truck keys or wallet) as well as side pockets, several external D-rings and even an external pliers holster. The overall size is not so large as to be too heavy or awkward when loaded, but it holds enough stuff to keep you prepared for whatever the fish throw at you.
Abu Garcia Revo STX Baitcast Reel
Whether you're a bass club guy, a serious basser with high aspirations of turning pro someday, or a casual weekender that lives to chunk a topwater up in the lilly pads on Saturday mornings, the Abu Garcia Revo STX baitcasting reel will handle your fishing. The Revo STX series hits the sweet spot between cost and very high performance making it a solid value for serious anglers. Available in both left and right hand versions, the Revo STX is built with 10 stainless ball bearings and one roller bearing, the proprietary Duragear brass gear, and the Everslik coated pinion shaft and pawl and Duraclutch design for big time smoothness and durability. Abu Garcia's famously powerful Carbon Matrix drag is included and the alloy frame is flanked with an aluminum side plate on the handle side and a C6 carbon plate on the palm side, complete with a Gull Wing design for easy access to the Infinitely Variable Centrifugal Brake spool control adjustments. The line guide is titanium coated to resist damage from braided line under a load and the EVA foam handle knobs are grippy and comfortable. The Abu Garcia Revo STX is popular on professional bass tours around the country; when the money is on the line, the Revo STX will help you land it!
Berkley Flicker Minnow Pro Slick
What do walleye, bass, trout, white bass, stripers and many other sportfish species have in common? They all love Berkley's Flicker Minnow Pro Slick …which means you'll love it, too! Whether you troll it or cast it, the Flicker Minnow has a steep dive curve to get down to the fish and an alluring action to get them to bite. In particular the slim, realistic profile has been proven over the last couple of years to be a winner, and now it's combined with Pro Slick finish which is especially effective in clear water in the more muted colors and muddy waters in the brighter versions.. Trollers will appreciate the range of speeds at which the bait will run straight, and casters will really like the immediate dive, making it perfect for fishing steep shorelines and breaks, or just keeping the bait at depth for more of the retrieve. The Berkley Flicker Minnow Pro Slick brings you a highly refined and versatile fish catcher at a very reasonable price.
Fly fishers carry a lot of stuff and they often carry it into the middle of a river where it's difficult to set anything down. So, Fishpond set out to build a design rich pack to handle the task efficiently. Enter the Fishpond Summit Tackle Sling, a hybrid between a backpack and a … well, sling. The single shoulder strap allows the sling to be rotated around front for access to your stuff, yet stays on your shoulder securely while wading and fishing. The patented fly/cargo "bench" zips open and lays flat giving you a place to work and store flies, and there is a tippet spool holder and immediately handy as well. Stretchy straps are built in to hold rod tubes and your net slides conveniently in between the main pouch and back for quick access yet secure travel. The Fishpond Summit Tackle Sling shows high build quality, extremely well thought out design and it's even made from recycled nylon fishing net so you're being planet friendly wearing it!
Onyx Sportsman's Warehouse Auto/Manual AM/24 PFD Inflatable Life Jacket
Let's face it, wearing a Personal Flotation Device, PFD, life jacket, or whatever you call it is no fun, especially on hot days or while actually fishing. They typically aren't very comfortable and they're bulky, thus restricting movement. Having said that, the number one way to stay safe in a boat is to wear a PFD. The answer? Try an inflatable version! Problem is they can be expensive so thankfully Sportsman's Warehouse teamed up with Onyx to come out with a suspender-style inflatable at a reasonable price! They did not cut safety or performance though, and the resulting PFD will inflate manually by pulling an easy to grab tab, or automatically in the event you end up in the water. The vest has a yoke style back and shoulder area to distribute it's weight and a fully adjustable waist strap to ensure it stays on when needed. Of course it is rechargeable with a new CO2 cartridge allowing more than one use and it has a D-ring to attach your engine's kill switch for even more safety. The design is cool, comfortable and allows full range of movement so you can even fish with it on. Now you have no excuse to not wear your PFD; the Onyx Sportsman's Warehouse Inflatable PFD is affordable and easy to wear all day!
If you are looking for an easy way to transport all your fishing gear to your favorite fishing hole then look no further than the Berkley Fishing Cart. The Berkley Fishing Cart can easily be collapsed for transportation and can hold up to 200 lbs. of gear.The Berkley Fishing Cart features 6 removable rod holders, heavy duty wheels, durable fabric liner, adjustable handle, corrosion resistant aluminum frame, and work table with cup holder. It features 6 removable rod holders, a durable fabric liner that secures all your fishing gear, an adjustable handle, a corrosion resistant aluminum frame with an electrostatic finish, heavy duty wheels, and durable hook and loop straps that secure chairs or surf spikes during transport.
Tilley Men's AirFlo UPF 50 Brim Hat
Any old wide brim hat can shade you from the sun, but the Tilley Airflo provides 50 UPF of sun protection on your head, face, neck, and ears. The Airflow mesh in the crown allows cooling breezes to keep you from overheating. it is made with Tilley's Nylamtium, which is Nylon on steroids. The Hydrofil sweatband wicks away moisture and prevents sweat rash. it has a double wire brim for finding the ideal shape and double wind cords both fore and aft to keep the hat from blowing away. What makes a Tilley extra special is that they have designed more than a hat, but an adventure companion that will last a lifetime. In fact, it even includes a lifetime guarantee for damage, loss, or theft. They can't replace the memories you will share with it, but they can and do guarantee the hat so that at least if something happens, you can replace the hardware.