By Chad LaChance
We can all agree that 2020 has been a crazy year but one thing that has remained normal is the annual launch of all the new fishing tackle that takes place in July in conjunction with the ICAST trade show. The physical show was cancelled for 2020, but that didn't stop the fishing industry. A whole slew of cool new stuff was rolled out and here's our list of new fishing items that may improve your time on the water.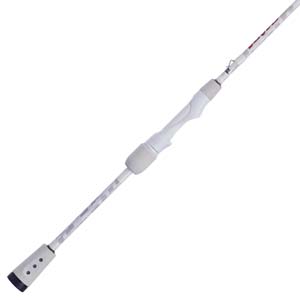 Abu Garcia Veritas PLX Rods
Ok, in the spirit of disclosure, I must admit that I was on the team that first started field testing the new Veritas PLX rods. What that means is, I have extensive experience with the distinctive white rods and can say unequivocally that they perform at a high level while providing a great value. The new Powerlux - or PLX - resin increases the blank strength by 15 percent over the previous generation Veritas, while new components like titanium alloy guides with zirconium inserts and the Abu designed reel seat with closed cell EVA foam handles for comfort and durability, have decreased the weight by 5 percent. The guide train is robotically optimized for casting distance and the overall result is a rod series perfect for a wide range of angling and that looks great as well. A variety of models include spinning and casting versions to cover all angling bases and did I mention their sweet look. PLX is also available in a combos paired with reels.
Z Man Chatterbait Willow Vibe
In my mind, for a lure to be valuable it must demonstrate appeal to more than one species of fish. Well, the Chatterbait may have been invented for bass anglers, but in my experience the bladed jig genre works great for a wide range of fish including pike, large trout, inshore fish, and others. The originators of the bait launched the Willow Vibe bladed jighead, which now allows anglers to fine tune the presentation with their favorite soft plastic bodies. Available in 1/4 oz and 3/8 oz, the stainless steel blade is a narrow willow-style shape for more subtle vibration. The ball head comes in four colors and features and wire bait keeper. Paired with your favorite 3-4 inch soft minnow or paddle tail and you have an easy casting, great swimming, highly attractive lure especially effective in stained water, wind, or lowlight conditions. The Chatterbait ain't just for bassin' anymore! The Willow Vibe comes in a two pack.
Berkley Hit Stick
Ahh, what a relief. I can finally share the new Berkley Hit Stick! You see, I've been on the test team providing feedback to the designers of this lure for more than a year and the success has been so good that it's been hard to keep it a secret. Available in sizes ranging from 3.5cm to 15cm, the Hit Stick was designed to provide all the fish catching advantages of an old school balsa wood lure in a more durable, consistent, and affordable bait. The secret is in the rolling action and tight tail wiggle achieved with the use of disc weights in the belly known as FlashDiscs that also aid in stability and consistent tracking. The lure provides a ton of side flash and roll, even at very low speeds, and can be cast or trolled with equal success. Hit Stick floats up slowly in all sizes except the tiny 3.5cm size which sinks very slowly and it's available in 20 great colors. Hit Stick has been very successful in testing across the country on everything from walleyes and bass, to trout and pike, and salty water fish and it's armed with quality Fusion 19 treble hooks.
Berkley Power Pop
Over the last few years, Berkley has been attacking the topwater game with a wide variety of very successful offerings. The latest is the Power Pop and is the most innovative, owing its roots to the Japanese bass market. The design bridges the gap between a traditional hard-bodied surface popper and the super popular weedless frog genre. The body is soft yet very durable and features a line-through design that allows the supplied Fusion 19 EWG hook to be Texas rigged, thereby making the popper extremely weedless. The bait floats very high on the surface with a wide mouth that produces a ton of surface disturbance when worked aggressively, or it can be subtly popped along. It is available in two sizes and the larger size 70 model has an internal chamber to allow rattles to be utilized if the angler desires. The Power Pop is a very versatile surface lure that can be cast into any cover without worry or fished over open water. Berkley Power Pop is available in two sizes and 10 colors.
Abu Garcia ZATA Combos
I am not sure what ZATA means or where it came from, but I can tell you it equates to great value in my mind. That's because the all new line of ZATA reels have many of the proven features of the high end Abu Garcia favorites like the Revo Rocket, yet they can be purchased in combination with a matched lightweight 24 ton carbon graphite rod for considerably less than its family members cost alone. The casting reel has a fast and versatile 7.1:1 gear ratio, graphite frames and sideplates, Carbon Matrix drag system, Infini variable brake system for cast control, and a compact bent handle for comfort and performance. Ten stainless ball bearings plus one roller bearing, a brass Duragear, and a lube port lead to its durability. The spinning reel has the same bearing details but housed in an aluminum frame and one-piece gear box, stainless steel main shaft and components, and is equipped with the Everlast bail system make it bombproof. Casting features include the Rocket Line Management system, Rocket Spool Lip design, and machined aluminum braid-ready spool that add up to smooth consistent casting. The ZATA series brings pro-level performance to the bass fishing masses.
Fenwick Eagle Spinning and Casting Rods
Multi-species anglers have a long history with Fenwick Eagle rods, more than 70 year's worth, and Fenwick takes that history very seriously each time the Eagle series is updated. For 2020 the tradition continues with the best Eagle casting and spinning rods yet. The series has been updated with tough but light stainless steel guides filled with super hard aluminum oxide inserts, grips that are a mix of premium cork and TAC for feel and comfort, and minimalist reel seats that allow blank access yet still provide plenty of gripping surface. Most importantly, the time-tested proven actions are retained for the feel and balance thousands of anglers have come to expect from the Fenwick Eagle.
Ugly Stik Ugly Tough Reels
The iconic brand, Ugly Stik is synonymous with tough and durable. That reputation is well deserved and it's why they are the number one selling rod in the US. So, when the company decided to build reels, they had to be tough. Enter the Ugly Tuff line of spinning and spincast reels. These are reels built for real life, like riding around in the bed of a pick-up always ready for use. They aren't built to be flashy or pretty, they're built to last. The spinning reel has an Ugly Tuff aluminum body and machined aluminum spool, graphite rotor, always-on anti-reverse, and a five-bearing system. The spincast version has an aluminum body and nose cone, a three-bearing system, and comes spooled with line. There are five sizes of the spinning reel and three of the spincast reel to cover all the angling angles. Ugly Tuff is the perfect compliment to your favorite Ugly Stik rod and to show the brand's confidence in their durability, both reels have seven year warranties.
Aqua-Vu Strike Vu
What good is catching a fish if you can't share pics? These days not much, and while the ol' grip-n-grin or selfie is great, what if you could show off video of the fish eating your bait? That is exactly what the Aqua-Vu Strike-Vu is designed to do. The Strike-Vu has an 8-inch through-wire allowing it to be attached to your main line from one end and a leader to the other, thereby bringing you eye to eye with fish as they follow or strike. The camera shoots full color HD video in three-minute clips for up to 4.5 hours, storing it on an internal 32 GB hard drive. The lithium ion battery is capable of up to 5.5 hours of continuous shooting and is recharged via a magnetic water-proof USB port that also allows for file transfers to your computer or other viewing device. Strike-Vu can easily be trolled or even cast on heavier tackle. More than simply being sharable, this kind of video content can also teach you how fish respond and react to various presentation details, and is just plain fun to watch.
Carhartt Shoreline Jacket and Bibs
Carhartt may be famous for its super durable and functional workwear and almost iconic "brown duck" material, but over the last few years the company has focused on fishing outerwear built with synthetic materials. The new for 2020 Carhartt Shoreline waterproof and breathable jacket and bib overall are prime examples of that. The outwear is built waterproof and breathable with the use of Storm Defender material under a 7.3 oz nylon oxford shell. The body is lined with polyester mesh for more breathability while the jacket sleeves and hood lining are lined with taffeta for slick on and off. Typical of Carhartt wear, seams are triple-stitched, and they are fully taped for additional waterproofing. The hood is removable via snaps and both the hood and waist have a drawcord to snug them. The cuffs have internal rib-knitting to keep the cold out. Bibs have waist to ankle zippers for easy on and off, reinforced kick panels, and even double lined knees that allow for your pads. Both the jacket and bib have loads of pockets, some of which are internal. The Carhartt Shoreline series are a great buy for anglers looking to stay dry and cozy in any weather.
In closing, I would be remiss as a tackle junkie and reviewer if I didn't mention that while all of these products would normally begin hitting store shelves by early September, the current COVID situation worldwide has created delays and backorders for not only these new items, but also the familiar fishing tackle and gear we know and love. To that I say, we all need a bit of patience. It is not that retailers like Sportsman's Warehouse aren't trying to keep the shelves full; they would dearly love to have everything you need in stock, especially given the significant spike in fishing and outdoor recreation that has accompanied the pandemic. The problem is that a very high percentage of fishing tackle is built overseas, and incoming shipments have been drastically slowed. Even within the US, shipments are delayed, raw materials are in shorter supply, and manufacturers and factories are running at partial capacity. The supply chain is faltering at the same time demand is peaking, and retailers simply can't get product in a timely manner. While it's frustrating to be sure, my conversations with several industry leaders assure me that as time is going on, systems will catch up. Fishing can sometimes be a game of patience. At this crazy time in society, anglers would be well served to keep that in mind when acquiring new tackle and gear too.