By Kent Danjanovich
For many of us, our first introduction to shooting sports was with a shotgun. I remember when I was just a pup some fifty years ago (sigh!) my parents bought me a .410 single-shot. Now a BB gun might have been a safer purchase in most peoples' eyes, but my mom and dad knew that I would only be using it when they were around to instruct, rather than me being on my own, probably shooting at everything in sight with a BB gun! So, my introduction to the sport of shooting started a little more advanced than most.
Soon I became pretty proficient with my little .410, so the next step was to move me up to a "big boy's" gun. My dad and all of my brothers were Browning guys, to be specific, 'Sweet-Sixteen' guys, so of course, I followed suit.
Now, I give you this little history introduction to explain why I am a little partial to semi-automatic shotguns and this is exactly what this article is about – my view of some of the best semi-loaders on the market today and all are carried at your local Sportsman's Warehouse.
Browning
Browning semi-autos have been around for a long time. In fact, they introduced the very first gas operated, semi-auto loading shotgun to the market. The original "Auto-5" was THE gun of choice for decades and still adorns gun cases and vaults around the world. Although similarities still exist, the new models in the Browning line offer even greater diversity, quality and workmanship.
A5
As mentioned, the original was gas operated, where as the new A5 is powered by Kinematic Drive. In its simplest term, kinetic energy is the energy of motion. The new Browning A5 makes better use of kinetic energy with its powerful, short recoil-operated Kinematic Drive System. Kinematic Drive harnesses recoil energy and converts it into the mechanical motion needed to operate the action. This concept is tried and true and now perfected by the company that broke ground first with autoloading shotguns. The beauty of Kinematic Drive is the simplicity of design for consistent, reliable function with any load and under the full extremes of weather, temperature,
moisture and grime. This gun is designed to work, no matter the conditions. Operation is clean because gases are sent out the barrel and away from the action. There's also extreme load versatility. The extensively tested Kinematic Drive offers reliable performance with virtually all loads down to 1-ounce field loads with no adjustments. The A5 comes in eight different models, including both wood and synthetic stocks, camo patterns and finishes. A5's are available in 12 gauge 2 ¾-, 3- and 3 ½-inch models as well as 16 gauge in 2 ¾". MSRP starting at $1,499.99.
Maxus Hunter
As shotgun pedigrees go, the Browning Maxus Hunter is a true blueblood. After all, its granddad was John Browning's own Auto-5, the model by which all other semi-autos were judged. Since the introduction of the Auto-5 over 100 years ago, there have been several advancements in semi-auto technology. Chief among these was the development of a reliable gas-operated action that would cycle a wide range of loads while reducing felt recoil. The Maxus has taken gas guns to a new level and proven the old American system is incredibly reliable while significantly softening the blow of hard-kicking shells. The Maxus Hunter is a perfect companion for the upland hunter or clay shooter who still values the feel of a well-built, classically-styled field gun. It was designed for hard work and has the same heavy-duty guts as any of the other Maxus variants. For starters, the Power Drive Gas System has larger ports that allow increased flow from high-powered loads. But the Hunter model is aimed more toward wingshooters and clay-bird enthusiasts who are more likely to be shooting very light loads. The larger gas ports and a 20-percent longer stroke mean that the Maxus will cycle anything you feed it. The Maxus handles very well, partly because it is slightly nose-heavy, making the gun point naturally and swing smoothly on passing shots. Browning has a long history of making dependable upland guns and the Maxus' family history shows through in its build, quality and function. The Maxus is available in the Hunter and eight other models, 12ga in 3- and 3 ½-inch models in most. MSRP starting at $1,379.99.
Silver Field
Browning's Silver line is built on an aluminum-alloy frame and employs a gas-operated action. With several stock and finish options, as well as a few 3 1/2-inch variants, you can have your Silver just about any way you want it
in a 12 and 20ga, even in a couple of rifled options. This is actually my preferred Browning shotgun in the whole line of great autoloaders. I love the sleeker, semi-humpbacked look and the thinner fore-stock allows for me to swing on my target quicker and more efficiently. The barrel also has a lightweight profile and a fully constructed ventilated, slightly raised rib. Its gas operated action utilizes the Active Valve System, making it possible to shoot light to heavy loads with ease while sparing your shoulder along the way. MSRP starting at $1,069.99.
Benelli
Benelli Armi S.p.A. was formed in 1967. The idea behind the company, however, first came to the Benelli brothers, owners of the famous Benelli motorcycle company of Pesaro, in 1940. The Benelli brothers were passionate hunters as well as fine engineers and at that time were already convinced that the future of hunting shotguns lay with semi-automatic models. This idea became reality when a brilliant designer from Bologna, Bruno Civolani, invented a revolutionary action. Civolani's design led to the creation of an extraordinary hunting shotgun that used a simple inertia driven mechanism in place of a conventional gas operated system. With the bolt providing all the movement needed, this revolutionary design provided the fastest reloading action the world had ever seen. The Inertia Driven system, combined with features like ComforTech, AirTouch, SteadyGrip, GripTight and Crio System, offers shooters and hunters an edge that allows them to hunt longer, harder and more successfully.
ETHOS
The Ethos has the time-proven, Inertia-Driven Operating System introduced by Benelli back in 1967. Lockup is accomplished as twin lugs on the rotating head of the breech bolt engage shoulders on the inner wall of the barrel extension. More than 3-million have since been sold, so, obviously, no small number of hunters and shooters like it — and for good reason. It has proven to be an extremely rugged and totally reliable design and the Ethos introduces a major difference in operation that makes it even better. Several Ethos design features were borrowed from other Benelli shotguns and there is no better example than the receiver. Similar in concept to the Vinci, it
consists of a lower unit containing the trigger, cartridge-drop, bolt-release and cartridge-feed mechanisms, while an upper unit mainly serves to enclose the bolt. Upper and lower receivers are precision-machined of aircraft-grade aluminum. The ETHOS is an elegant semi-automatic shotgun that is the culmination of Benelli's latest innovations, refinements and design, all centered around the core – the Inertia Driven System. It incorporates the Progressive Comfort recoil reduction system, cycles even the lightest of loads and is available in 12, 20 and 28ga. MSRP starting at $1,999.99.
Super Black Eagle 3
Ever since Benelli introduced its innovative and durable Super Black Eagle semi-auto shotgun many years ago, the SBE name has been somewhat revered in hardcore hunting circles. For years, hunters from around the world, have used the original Super Black Eagle and the second-generation Super Black Eagle 2, to bring down a host of feathered offerings in about every known hunting scenario. The Super Black Eagle has proven itself rugged, reliable and high-performing in every way. Last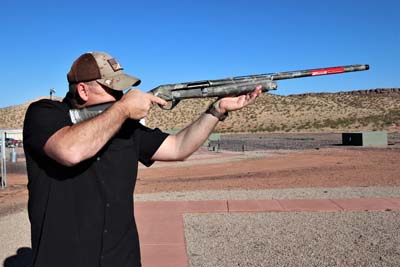 spring, Benelli revealed that it was introducing the Super Black Eagle 3. Impressively, Benelli has managed to further improve on the SBE's design, incorporating elements that enhance ergonomics, functionality and style. Obviously, the new shotgun retains an Inertia-Driven Action, but it also received an upgrade in the Easy-Locking System, an improved breech-closing system that eliminates the potential for shooter error when trying to gently close the bolt and prevents it from slipping out of battery if the gun is hit hard or knocked over. This was an issue that had afflicted earlier Benelli models; when a shooter tried to ease the bolt closed on a shell, proper lockup would not occur, resulting in the inability to fire. This great gun is still really made for heavy loads in the field and in the marsh and is available in 12ga 2 3/4-, 3- and 3 ½-inch offerings as well as a left-hand model and a rifled barrel too. Options include, satin walnut, black synthetic and three camo patterns. MSRP starting at $1,899.99.
Stoeger
Stoeger Industries, established in 1924, is a member of the Benelli USA family of companies, offering a complete lineup of shotguns. Technology and expertise are integral to Stoeger's manufacturing processes. Stoeger products have a solid reputation for affordable quality. These shotguns are built with the same operating system as their mother company.
M3500
The Stoeger M3500 is a 7.8-pound inertia-driven semi-automatic shotgun capable of cycling everything from light 2 3/4-inch to heavy 3 1/2-inch magnum loads. The M3500 ships with standard accessories including improved cylinder, modified, full and extended extra-full turkey screw-in chokes. Stoeger is able to boast that there are only three moving parts in the M3500's bolt — to help speed cycling and increase reliability. A steel recoil reducer is
housed within the stock to improve follow-up shots and balance the firearm. The shotgun's balance point is ideally located directly beneath the step of the rib. The M3500 is a larger gun, built more for adults than for young shooters, but its edges are all smooth and very manageable. This gun is by far the lowest priced of our reviewed group and is a solid, reliable choice for getting the job done in the field, in a turkey blind, or decoying in ducks and geese on your favorite waterway. MSRP starting at $669.99.
Winchester
Oliver Fisher Winchester was an innovative and driven man who saw the future of firearms and built an industrial empire around the lever-action rifle. Born in Boston in 1810, Winchester's initial foray into business was as a maker of men's shirts. Seeing the economic potential of the fast-growing firearms industry, Winchester began to assemble investors and secure venture capital and in 1857 bought a controlling interest in the Volcanic Repeating Arms Company from two inventive gentlemen named Horace Smith and Daniel B. Wesson. Winchester continued to refine firearm designs with inventors Benjamin Tyler Henry and Nelson King and on May 22, 1866, the Winchester Repeating Arms Company was born.
Super X4
It's hard to believe that Winchester's Super X semi-auto series in its modern form has been around for nearly 20 years. Introduced in 1999, the Super X2 was a revamped version of the original Super X. After enjoying a good run, the Super X2 was eventually replaced by the Super X3. The lighter and more streamlined SX3 proved to be a worthy replacement. Available in 3- and 3½-inch 12-gauge models, as well as 3-inch 20-gauge, the SX3 has been offered in waterfowl, turkey, field and various target configurations. Now we welcome the fourth generation, the SX4 that is even lighter (7.15 oz), faster, more reliable and truly handles like a dream. The fit and balance of a shotgun stock are critical factors of how well you're able to shoot it. The new SX4 comes with polymer length of pull spacers that fit between the stock and the recoil pad and when adjusted properly, the shotgun can be shouldered with a smooth confidence and "felt recoil" is greatly diminished. Also adding to the reduction in 'kick' is their Inflex Technology in the recoil pad as well as the Active Valve gas system that automatically self-adjusts to allocate the exact gas pressure necessary to cycle a wide range of loads. I recently put the SX4 to the test on a Saskatchewan spring snow goose hunt and was very impressed with its handling and workability, evidenced by the smile on my face from the big numbers of birds falling from the sky! It is fast, smooth and a little easier on the pocket book than other options in the same class on the market at an MSRP starting at $939.99.
Beretta
Fabbrica d'Armi Pietro Beretta S.p.A. is an Italian company born of the dream and capability of a renaissance craftsman. Thanks to the courage, vision and skills of its lineage, its name has earned international status for its high-tech content, performance and for the Italian style that distinguishes its products. Passed down through 15 generations of the Beretta family, the company was already active in Gardone Valtrompia in the 1400s and its work has been documented since 1526. Beretta's output is approximately 1,500 Firearms a day and covers just about the entire range of portable firearms. An estimated 90% of Beretta's production consists of sporting firearms, with more than 75% of its arms being exported to about one hundred countries. Industriousness, inventiveness, traditional methods, attention to the needs of its customers and its craftsmen, as well as ongoing research, technological improvement and state-of-the-art manufacturing methods are the foundation on which Beretta has built its image.
A400 Xtreme Unico
Beretta's A400 Xtreme Unico was introduced in 2015. It is designed with three recoil-reducing systems to reduce an overall combined felt recoil of 70%. The three systems work together to minimize recoil, reduce muzzle raise and to lessen mechanical stress on the shotgun. The one I noticed on my first shot was the Kick-Off Mega. The Kick-Off Mega is a hydraulic damper system built into the stock, reducing axial movement on the cheek, alleviating 60% felt recoil. Even on rushed shots where I did not mount my gun solid against my cheek, the shots were much less harsh than I experienced with other models. Another recoil reduction system built into the A400 Xtreme is the Kick-Off 3 located just behind the alloy aluminum receiver. It is compressed by rearward travel of the bolt assembly and it reduces 10% felt recoil in the two distinct recoil peaks of a shot: the cartridge ignition and the
impact of the bolt against the receiver, which also aids in reducing wear and tear of mechanism. The third recoil reducing system is located in the butt-end of the gun stock and is a system of two hydraulic dampers and springs which form a spring-loaded recoil absorber with a GelTek recoil pad. The total system is capable of absorbing 3/8″ during recoil. The reinforced lightweight fiberglass stock, ventilated rib with a low-profile design not only allows for natural placement and line of sight down the barrel; it also allows for fluid motion swings for more control over the shot. The Unico System allows for efficient cycling of any 12-gauge shell, from 2 ¾- to 3 ½-inch magnums. Beretta's Optima Bore HP and exclusive tri-alloy blend steelium barrel offers the best ballistic performance available with shot size versatility and dense patterns. This shotgun proves to be a versatile, do-it-all shotgun with features that enables a shooter to have improved shot placement accuracy with marked recoil reduction. The low profile, lightweight 12ga Beretta A400 Xtreme Unico has an MSRP starting at $1,899.99.
Remington
Remington's first gas-operated, autoloading shotgun was introduced to American hunters in 1956. Called the Model 60, it was made by High Standard for Sears and sold under the J.C. Higgins banner. It was quite heavy and its forearm was oversized to house a bulky gas piston along with a huge action spring, but it was more comfortable to shoot than most recoil-operated guns of the day. Most gas-operated guns today are basically refined versions of the Model 60. Cycling is simple. During firing, gas flows through a port in the barrel, which is usually located inside its magazine tube loop. Gas enters a chamber to push on a piston and the energy is transferred to the locking bolt of the action by a long action bar. Year after year, decade after decade, Remington has withstood the test of time. A right-of-passage spanning generations, the soul of the American hunter forged in steel and proven afield, Remington autoloading shotguns are still one of the most popular on the market.
VERSA MAX
Remington's Versa Max entered the scene in 2010. In the VERSA MAX, there are seven ports in the wall of the chamber of the barrel. All those parts sliding to and fro on the magazine tube are missing as well from the original. It's called the Self-Cleaning Versaport Gas Piston System and when a 2 3/4-inch shell rests in the chamber, all ports are located forward of its mouth, allowing just the right volume of gas to flow to the operating pistons. The
three-inch shell produces a higher volume of gas than is needed to operate the action, but since its longer case seals off three of the seven ports, the amount of gas flowing to the pistons is reduced to about the same volume as generated by a 2 3/4-inch shell. And since the 3 1/2-inch shell is even longer, it blocks off four of the seven ports when chambered. Rather than one large gas piston riding on the magazine tube, two smaller one's rest inside their cylinders at the bottom of the chamber section of the barrel. As gas enters the two cylinders, their pistons push on both sides of the bolt face to shove the bolt through its operating cycle. The pistons are free to travel about ⅜ inch before coming to a stop and as they reach that point, two large ports in the sides of the cylinders are opened. At this point the gas has done its job, so it is exhausted outward and deflected upward along both sides of the barrel by the walls of the forearm. The reason I tell you all of this is that this process all adds up to possibly the best cycling system that I have tested, for any loads, in any order you can imagine. Also available in a left-hand model, the MSRP on the VERSA MAX starts at $1,455.99, but another version, the VERSA MAX Sportsman is a great alternative, with not quite all of the bells and whistles for under a thousand bucks.
Weatherby
The smell of rich leather and gun oil greeted every customer stepping into Weatherby's Sporting Goods in California, where the legend began back in 1945. With a mind as fast as the cartridges he designed, Roy Weatherby relied on his trusty dictating machine to document his rapid-pace innovations. He was a stickler for detail with all of his notes, memos, ballistic data and photographs. Weatherby has also become well-known of late for their diverse and ever-changing line of shotguns, including the SA-08 semi-auto.
SA-08
The SA-08 semi-auto is a practical field gun available in 12, 20 and now 28ga. Models with wood stocks wear satin or high-lustre finishes; synthetic stocks are black or camouflage and metalwork is available in matte or high-gloss blue. All operate with Weatherby's unique "Dual-Valve System," designed to optimize the recoil impulse, depending on the load. Weatherby includes two gas valves or "pistons" with every SA-08, clearly marked "Light
Loads" or "Heavy Loads." The loads that function with each are clearly delineated in the owner's manual. Besides reliability, another benefit of these valves is that they help manage recoil. This saves wear and tear on both the gun and the shooter. The balance point on the SA-08 is exactly at the barrel-receiver junction and comes to the shoulder very smoothly. The trigger on this gun was one of the best in my testing, breaking at a crisp 5 pounds, 10 ounces and a cross-bolt safety is located at the back of the trigger-guard behind the trigger, where I like it. MSRP is $649.99 for the synthetic and SA-489 Turkey Xtra Green models, $849.99 for the wood-grain Deluxe.