By Dan Kidder

Managing Editor
I have been reviewing guns for more than 14 years, and it isn't every day that I get to do a review of a gun that I was able to have input on in the design phase.
About a year and a half ago, I was able to travel to Connecticut to meet with Mossberg's designers and shoot a prototype of this pistol and make a few suggestions, which were all integrated into the final design. I was sworn to secrecy at that time and even signed a non-disclosure agreement, and I have been silent until now. But now I can tell you about this great little pistol.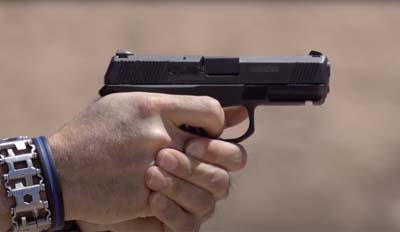 Most people who think of Mossberg, think of shotguns, and a few rifles. But many don't know that 100 years ago, Mossberg's first gun was a four shot .22 pistol. When World War I broke out, they shifted gears from pistol manufacturing to shotguns for use in the close quarters trench warfare in Europe. That is until January of 2019 when they released their first pistol in a century, the MC1 subcompact. In reviewing that pistol, I discovered an issue and that was why I flew across the country to work with their engineers to fix it and why I was able to see their next offering in the design and testing stage.
The MC1sc was a single stack 9mm concealed carry pistol that many missed hearing about because it hit the market at the same time as the Sig Sauer P365, which was a game changer in very small, full sized caliber, high capacity pistols. But the MC1sc remains a great little pistol and an excellent choice for concealed carry. The MC2c builds upon that excellent design in a slightly larger package, that is still plenty small enough for comfortable concealed carry. It also does this in a double stack 9mm configuration, and comes with both a flush fitting 13 round and an extended 15-round steel magazines.
The most familiar comparable pistols to it in size are the Glock 19 or the Smith and Wesson M&P Compact. It is a bit slimmer than both of those pistols, coming in at barely over an inch wide. For those who geek out on the techs and specs, it is .916 at the slide and 1.130 at its widest point on the grip. The overall length is 7 inches and it sports a 3.9-inch long barrel with a 1:16 right hand twist. It is 4.75 inches tall and features an 18-degree off square grip angle, so it is more in line with a 1911 than a Glock. It weighs one pound 6.8 ounces with the unloaded 13-round magazine.
So now that we have the tech specs out of the way, let me tell you a few things that make this pistol special. First, Mossberg has continued the very easy and safe rapid disassembly process into the MC2c that they released with the MC1sc. Since both pistols are striker fired, the mechanism Mossberg has created is super simple, and super safe. Most striker fired pistols have to be decocked to take them apart and most require the user to pull the trigger to do this. If you somehow manage to forget to check the chamber and make sure the gun is unloaded, this will fire the gun. Mossberg gets around that by simply pushing on this button, removing the slide plate, and then removing the striker. If for some reason you fail to properly unload the gun, which happens more often than you might think, this prevents the gun from being able to be fired. It also minimizes any small parts or springs from flying out and getting lost. Just two parts to remove and the gun is dissembled for cleaning. Reverse the process, and the gun is ready for business.
The gun is smooth in the hand and very comfortable. There are no sharp edges to bite into your skin and the grip is supremely comfortable. One of my recommendations was to get rid of the standard trigger guard undercut that rubs your knuckle raw. They took it one step farther and flared the underside of the trigger guard to spread out the force applied to your finger. This allows you to shoot longer with more powerful ammunition without pain. The grip on the MC2c is very comfortable in the hand, and the aggressively checkered swells fill the hand nicely while still accommodating shooters with a wide variety of hand sizes and also provide a great grip texture for positive control when your hands are damp or sweaty. A reversable magazine release gives you some versatility for left-handed shooters, but I would have also liked to have seen an ambidextrous slide lock.
A pair of index divots on the frame were my next recommendation and I love that Mossberg textured them for positive tactile feedback. This reminds shooters where their trigger finger should live when they are not pulling the trigger.
And finally, an innovative pattern on the rear slide striations give a better grip for both 5-point and two-point gripping of the slide. They also took my recommendation for forward striations for easy and quick press checks. I would also have liked to have seen a loaded chamber indicator, but I didn't think to mention it at the time.
The trigger is also a great feature. Our test model was breaking at 5.07 pounds but Mossberg advertises a trigger pull of 5.5 pounds. This is ideal for a self defense gun. The trigger has a center safety blade and features a flat face trigger for a straight back pull. This trigger has given me fits because I have spent so many years training to use just the very tip of the pad of my trigger finger. This flat trigger lets you put more of your finger on the trigger, which gives you more control and strength. It is just something you need to train into if you are not used to it. It is very easy to use if you are a new shooter.
This pistol is a perfect companion for those who are new concealed carriers as it is engineered to make you a better shooter. It is simple to use, lightweight, compact, and still provides ample capacity. It comes in solid black and in a two-tone matte stainless slide with black polymer frame. There are also versions with a cross-bar safety behind the trigger. And finally, the MC2c comes with superb solid steel three dot sights or with the option of Truglo Tritium Pro Sights.
Once you get used to that flat trigger, it shoots very well and is not a picky eater. It flawlessly fed, fired, and extracted everything we fed it from very stiff 124 grain +P Controlled Expansion from Doubletap to 124 grain +P Federal premium HST, to weak bulk reloads.
These pistols are awesome for those who have been shooting for years, but are an especially great choice for new shooters and concealed carriers. If you are trying to decide on your first concealed carry pistol, I highly recommend the Mossberg MC2c. Because it is so new, it does have very few holster and accessory options, but DeSantis has made holsters for it and I have found that certain other holsters for the Glock 19 also work well for it. Ask your Sportsman's Warehouse gun counter associate about the Mossberg MC2 compact and check it out for yourself.