Anyone who spends any time in the outdoors has come to realize what an indispensable aid a good and reliable flashlight can be.
Without fail, when you need your light, the batteries will be dead, especially if you have kids.
To solve your lighting problems, HybridLight has created the Pro Kit, complete with multiple options to provide hours of reliable lighting. Best of all, each piece of the kit will hold a charge for up to 7-years in storage, so you know it will be ready when you need it. Each piece, with the exception of the headlamp, can also be used to recharge your electronic devices, such as cell phones, GPS, cameras or anything chargeable by USB, at the same rate as if they were plugged into the wall. And all of the individual parts of the kit have the ability to supplement their run-time with solar charging.
Journey 250
From a capacity standpoint, the big daddy of the Pro Kit is the Journey 250 handheld light. This 250-lumen handheld flashlight contains a 4,400 mAh internal battery to power the dual brightness light. Each push of the button alternates between high, medium or off. Holding the power button causes it to strobe. In addition to being a super bright handheld flashlight, the Journey also floats and is waterproof.
Mammoth
If you could only have a single light, the Mammoth would be the one to pick. This workhorse is built around a 4,000 mAh battery and offers solar, USB or direct wall plug 110 AC or 220 DC charging. It has a bank of 20 dual intensity LEDs in a 400-lumen area light as well as a super bright 150-lumen flashlight beam. It will burn for up to 35-hours on a full charge. A magnetic base, flexible head and rotating foot with a hook for hanging, allow the light to be positioned where you need it.
PUC 150
The handy little folding light with a reflective bellows is called the PUC. Resembling a hockey puck when the light is closed, the PUC provides 2,200 mAh of power with a 150 maximum lumen light that can be focused through the high intensity lens or expanded to allow the bellows to act as a diffuser, providing area light. A rubber ring on top and four rubber feet on the bottom, as well as an open hook, allow you multiple placement options.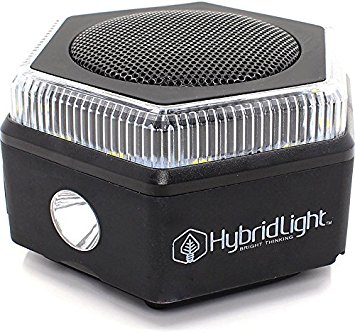 Hex Bluetooth Speaker
Not only is the Hex a rocking little speaker with big sound, it can also take a micro-SD card of your favorite MP3 tunes for playback. It will even pick up your favorite sporting event with a built-in FM radio transmitter. Easy controls let you quickly skip through music. A glaring 400-lumens spotlight or a ring of soft 40-lumen LEDS provide directional or area light, depending on your need. The pivoting handle acts as a stand or provides an easy way to hang your speaker and light. The 2,000 mAh battery will provide hours of light and music.
Atlas Lantern
The Atlas lantern provides a 4,000 mAh battery in an ultralight polycarbonate case with an adjustable dial from 25- to 400-lumens of light for more than 100-hours. A hook/handle on top allows easy carrying or hanging in camp.
The Headlamp
With 75-lumens of light and 120 degrees of rotation vertically, The Headlamp provides hands free light for up to 30-hours. It can be charged by USB or with the removable solar panel.
Check out the entire HybridLight Pro Kit at your local Sportsman's Warehouse store and save over $40 by purchasing the kit over getting each of these amazing lights separately.