I was first introduced to Nite Ize in the 90s, when I picked up a tail-cap switch and LED conversion for a Mini Maglite. This ingenious device solved a problem I didn't know I had; it made my light brighter and gave me the control of a push button switch with the ability to activate the light intermittently or click it on completely, which was superior to the twist head of the existing light.
Since that time, Nite Ize has continued to innovate solutions to problems that I haven't realized I had. Now, with thousands of different products geared toward solving everyday problems, I find myself carrying a wide variety of Nite Ize products in my vehicle, packs and on my person and every day, these products continue to solve problems for me.
Nite Ize has hundreds of solutions for problems you didn't know you had and here are a few that are available at your local Sportsman's Warehouse you should consider adding to your gear.
Dual CamJam
The CamJam family of products provides a variety of tiedowns with built-in cams to increase cinching power. The Dual CamJam looks like a typical cam lock cinch, but has an additional cam built into the buckle to not only allow you to get your load tight, but to let you place your buckle anywhere on the strap. The tough zinc alloy buckle has a rear cam to allow it to be moved along the strap and a forward cam for cinching it tight. The Dual CamJam comes with either 12- or 18-feet of high strength, high density 1" polypropylene webbing, with an integrated bar tacked end loop, which allows the system to be used in two configurations; either a fixed end or a loop. This makes it a great tool for tying down gear on your vehicle or cinching it down to take up less room for transport or storage. The webbing has a 400-pound load limit and a 1,200-pound break strength.
CamJam Cord Tightener
The traditional CamJam features a carabiner-style hook, with an integrated sliding cam ratchet to allow any cord between 2-5mm (1/16-3/16 of an inch) to only slide in one direction, but can quickly be released to allow it to be loosened. This eliminates the need for tying knots and can be used on anything from an ATV to a hunting pack. These are one of my favorite tools for attaching a rack and skull to my pack. The CamJam comes with two heavy-duty plastic CamJams and 8-feet of 5/32 rope and will work with most cord between 2-5mm.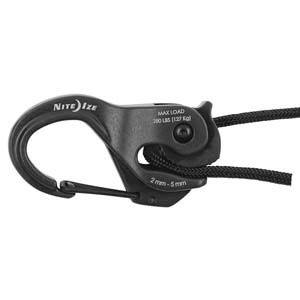 CamJam XT
The same great reliability of the regular plastic CamJam in a strong aluminum body, the CamJam XT provides greater strength and the ability to use it in a closed loop or by tying one end of the included 16-feet of 550 paracord firmly to an anchor.
Watch the video to see these and several other great Nite Ize products in action and check them out at your local Sportsman's Warehouse.