By Chad LaChance
The Bassmaster Classic is the most prestigious tournament in fresh water fishing. It's a three-day event held on the country's best bass lakes each spring, where 53 anglers compete for the $300,000 first prize and title of World Champion. Television and social media cover the event for anglers not lucky enough to attend in person and this year's event drew almost 200,000 visitors to Houston's Lake Conroe. Due to the large numbers in attendance, the Classic Expo has grown into the largest fishing consumer show in the country, with 300,000 square feet of pure bass fishing goodness presented by all the major manufacturers. Having just returned from the show, here are a few of the products that caught my bass fishing eye.
St Croix Legend Long Bass Rods
The trend in bass fishing for the last decade has been towards longer rods and for good reason. Longer rods give anglers more casting range, hook-set leverage, line control and ultimately fish control. Bass fishing participation is driven by tournament fishing and until this year, tournament rules prohibited rods longer than eight feet. Now that has changed and in typical St Croix Rod fashion, the company is leading the way in developing new, super long spinning and casting rods, perfect for modern bass fishing. The Legend Glass series has been a hit with Crankbaiters since it revolutionized fiberglass crankbait rods and a new 8'8" medium-heavy power model is ready to launch your favorite big crankbait to the moon in search of deeper dives and has the backbone to fight your catch. The Legend Tournament line of graphite rods was blessed with six long additions ranging from two 8'6" spinning rods, to six casting rods, 8' to 9'11" in length.  We're particularly looking forward to the medium-light spinning rod and 8'11" flipping/pitching rod, along with the over-achieving new Legend Glass.
Abu Garcia Revo Rocket
I'm a speed junkie and I'm not even shy about it, so when I was given the chance to test Abu Garcia's Revo Rocket casting reel, I jumped on it. Awhile later, the opportunity came up to test the Revo Rocket in the new spinning version and again I was quick to agree. Now both reels are in production and I have a year of use on them. To be short, they are among my favorites of all time. The casting version is available in left or right handed and features 10 stainless bearings and one roller bearing, the proprietary Carbon Matrix drag system and most importantly, has a 9.0:1 gear ratio allowing it to retrieve 37 inches of line per handle turn. The spinning version has a 7.0:1 ratio also recovering 37 inches per turn, along with the bomb-proof K-Clutch anti-reverse bearing, Carbon Matrix drag and Rocket Line Management to handle all line types. Rockets feature a distinctive red and black finish that looks fast even sitting still. If you don't like to waste time while fishing, get a Revo Rocket.
Lowrance HDS Carbon 16
High tech anglers have been on a constant trend to better their electronics game to the point that many hardcore bass and walleye guys now mount multiple SONAR/GPS. After all, why split screen your SONAR, Down Scan and GPS into tiny little displays when you can just add a whole other head display unit to your console and have nice big images! Well, Lowrance decided to make things easier and supersized one of the new-for-2017 HDS Carbon units -  enter the HDS Carbon 16 - 16 inches of pure viewing pleasure. Now, when the four-way screen split commonly used by today's anglers is being displayed, we get the same effect as having four 7" screens all at once. Lowrance SolarMAX™ HD display technology features high-definition views and clear visibility in all conditions with a wide range of viewing angles, even when wearing polarized sunglasses. The new displays are engineered to withstand higher temperatures than conventional units, offering enhanced reliability in warmer climates. Carbon 16 features dual core processors for speed and of course, supports StructureScan 3D with DownScan and SideScan Imaging, StructureMap and even SiriusXM weather overlay. Video game fishing just went big-time, big!
Trilene 100% Fluorocarbon
While Trilene 100% Fluoro Pro Grade is technically not a new product, its popularity amongst anglers has steadily grown since its introduction. At the 2017 Bassmaster Classic Expo, it was by far the most popular line of show attendees - nearly 900 miles of it was spooled! Trilene is the #1 selling brand of line nationwide, so when that brand name is applied to fluorocarbon, it better be good. It starts with a proprietary 100% PVDF formula that is very dense so the line sinks at a fast rate for less "line bow" between angler and lure, better sensitivity and great shock absorption. Abrasion resistance is very high and the line holds knots like a champ. Of course, fluorocarbon's light refraction is very similar in water's, making it nearly invisible under water, but it's also available in green tint just in case. 100% Fluoro Pro Grade is available in 4- through 25-pound test in 110, 200 and 2000 yard spool sizes.
Berkley Dredger Crankbaits
Every year more bass anglers find out about power of deep cranking and the definition of deep gets pushed farther down in the water column. To answer that push for deeper baits, Berkley added the all new Dredger series of crankbaits to their popular hard bait line-up that already features powerhouses like the Cutter jerkbaits, SquareBull shallow crankbaits and Warpig lipless crankbaits. The Dredger was designed by crankbait legend David Fritts to run on a steep dive curve, track straight and not be overly fatiguing to retrieve. Then the paint shop put some amazingly vibrant colors on the bait and the rest is history. Part of the dive curve success is due to the weighted lip that ensures the lure starts every retrieve nose down and in my testing, the bill has been very durable. The Dredger series is available in five depth ranges from 10.5 feet to 25.5 feet deep and 20 colors - pretty sure you can cover all your deep cranking needs with a selection that varied.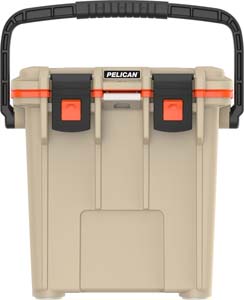 Pelican Elite 20Q Cooler
Ever since roto-molded coolers hit the scene, manufacturers have scrambled to one-up each other in the race for cooler dominance. Pelican, an industry leader in extremely tough cases of all sorts, has once again upped the ante with the Elite series of Pelican coolers. The new series is lighter than previous coolers, but don't let that fool you, this was the only cooler tested by Popular Mechanics to actually be grizzly bear proof, despite claims of others. The smallest model is 20 quarts worth of cold storage, tall and slender to take up less space, yet holding 15 cans or four bottles of wine upright, all the while retaining ice for three full days. The largest model boasts 10-days of ice retention!  The Elite 20Q has built-in drink holders on top, a bottle opener (genius!), a user friendly handle and the best locking system in the biz.  Just ask a grizzly bear!
Costa Sunrise Silver 580P Polarized Lens
Costa and "fishing glasses" may as well be congruent terms, after all, the company has built its entire reputation around helping anglers "see what's out there" and can be found protecting the vision of many of the best anglers in the world. So, when Costa saw the need for a new lens color for varied low-light conditions, Silver Sunrise was born. Of course, it features all of Costa's 580 lens technology that blocks harmful high intensity blue light and harsh yellow light while increasing contrast, definition and overall increased sharpness. Silver Sunrise is offered in their polycarbonate lens, bolstered with C-Wall molecular bonding that helps deter scratching and of course, Costa's multi-patented polarization. This lens is absolutely ideal for morning and evening fishing or anytime the light gets low. Silver Sunrise is available in a variety of frame options to fit any face, including my personal favorite, Corbina.