The Revo family of reels from Abu Garcia has been developing a solid reputation for a long time and one of the newest additions to the family is Revo X. Available in both spinning and low-profile casting versions, the Revo X casting reel features the proven X2-Craftic alloy frame, eight stainless bearings, and MagTrax brake system, while the spinning version has seven bearings, IM-C6 body, and the Rocket Spool Lip design. Both come with fast retrieve speeds and the proven Carbon Matrix Hybrid drag system.
Over their 70 year history, St Croix Rods, has become synonymous with quality. One of the most popular rod series they produce is the Avid and it's a staple of anglers worldwide. Well, check out Avid X; the hot rod Avid. Avid X features the legendary Avid blank but notches up performance with a split-grip cork handle and Kigan Z micro guides. The result is a very light, sensitive and responsive rod. It's available in a range of lengths, powers and actions, both casting a spinning versions, to cover all your presentation needs, and they're made in America.
PowerBait MaxScent Flatnose Minnow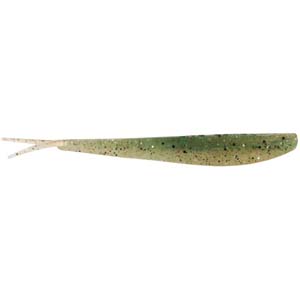 Fact: big fish eat little fish, so you might as well use little fish for bait, right? The MaxScent Flatnose Minnow is the latest minnow rendition of a minnow from the soft plastics leader, Berkley. MaxScent is an extremely soft and porous material that won't dry out yet holds a ton of scented and flavored liquid, much like a sponge. When molded into the universal shape of a 4" minnow and combined with PowerBait's attraction, you end up with a potent multi-species fish catcher. The Flatnose Minnow comes in a wide range of natural matte finish colors and has subtle yet lively action perfect for drop-shotting, split shotting or on a light jighead.
Onyx A-24 In-Sight Inflatable Life Jacket
A life jacket is only effective when actually worn and you're far more likely to wear one if it's comfortable. The Onyx A-24 is extremely light weight, non-encumbering and comfortable enough to encourage all day use. It will inflate automatically upon immersion in water, or whenever the wearer pulls the large pull tab. The neckline is padded with neoprene and it's fully adjustable to wear over a T-shirt on hot days or a big jacket in the cold. The sight window allows you to quickly confirm the PFD is charged and ready and of course it's US Coast Guard compliant. The Onyx A-24 is perfect for any type of fishing.
Trilene Professional Grade Braid
Braided fishing line has revolutionized the sport, allowing longer casts, stronger hooksets, and much increased durability. But not all braided line is created equal. Trilene is by far the number-one selling line in the country so it stands to reason that their Professional Grade braid would live up to its name. Woven with eight bomb-proof Dyneema fibers, which are then finished with a proprietary coating, Professional Grade braid is smooth and quiet yet extremely strong. The low-viz green color is durable, and the line is available in pound tests from 20 to 80, perfect for bass and other line-intensive applications.
Transporting all your favorite tackle need not be complicated or expensive with the Spiderwire Soft Tackle Bag. Like its namesake, this bag is very durable and designed to be versatile. The main compartment holds up to four large plastic tackle boxes, two of which are included, so you can mix and match your boxes as needed for the day's adventure. It has zippered side and secondary pockets for tools, line spools or whatever as well as a front stash pocket perfect for quick access. The top handle makes for easy grab-n-go while the shoulder strap adjusts for comfort on longer treks. The Spiderwire Soft Tackle Bag is available in two colors to match your fishy style.
Outdoor Edge Edge-X Pro Sharpener
Serious anglers know the value of sharp tools. If you want to eat fresh fish, you first have to hook them and then fillet them. Well, the diminutive Edge-X Pro sharpener will not take up much space in your tackle box but may lead to a fuller cooler! The versatile sharpener features three sharpening slots to repair or maintain the edge on your favorite fillet knife, a tapered diamond coated rod for serrated edges, and even a fish hook sharpening slot. It's all housed in a durable Zytel base with the company's distinctive orange rubberized handle.
Dig into any serious angler's tackle box and you'll find an ample selection of jig heads because the jig is the most versatile presentation of all. Jigheads can be tipped with any sort of soft plastic bait from grubs to minnows to craw shapes to create the desired look. Since Berkley, the company behind PowerBait and Gulp!, is the industry leader in soft plastics, it stands to reason that the Half Head jig would be well thought out to pair with them all. The head itself has a very durable, high quality coating in a bunch of colors with no paint in the hook eye, and the hook is extremely sharp. Best of all, the collar style holds plastics solidly without tearing them, allowing you to fish without going through as many baits.
Pretty much all modern fishing boats have sonar and GPS and anglers have come to realize their importance in catching. Problem is, they can be cumbersome to learn and use. Enter Lowrance Hook 5 Triple Shot, a full feature unit with GPS, sonar, DownScan and SideScan Imaging only it's much easier to learn and use. The menus are greatly simplified with easy access to key features and the screen can split views to see what you need. Most importantly, Hook 5 Triple Shot features Autotuning sonar allowing you to focus on fishing instead of adjusting your sonar. It comes pre-loaded with US Base map and mapping options include Insight Genesis, C-Map and Navionics. All these features and simplicity can be had for only about $400!
No product round-up would be complete without something for the young anglers, and the Ugly Stik GX2 Microspin rod and reel combo is perfect for just that. This little combo starts with the oh-so-durable Ugly Stik rod in 4'8" size, perfect for smaller anglers that may be hard on equipment. Even better, the reel is an underspin design, which is much more natural to use than the old thumb style we're all familiar with. The underspin design also makes the transition to open face spinning reels infinitely easier as the young angler grows up. Want my advice? Skip the Snoopy pole and go straight to the GX2 Microspin combo. They'll be better off for it.
Rustic Ridge XT Breathable Wader
Designed by fisherman for fisherman. The fabrics that make up this wading pant are carefully selected for the best combination of breathability and durability at an affordable price. Take the Rustic Ridge XT Breathable Wader down the river on your next trip out fishing and decide for yourself.Every Rustic Ridge Wader is thoroughly tested before leaving the factory to ensure the waterproof integrity of the product. When you buy a Rustic Ridge wader, you are assured of high performance, great value and most importantly a dry fishing experience.