Eskimo Quickfish 3 Ice Fishing Shelter
Eskimo originated the category of Pop-Up Portables. Easy 60-second set up and take down. Storage pockets keep your fishing gear handy. Reinforced corners for strength and durability. Reliable YKK quality zippers. Removable Velcro windows. Comes with easy-to-carry backpack - everything fits comfortably for easy transport. 34 square feet of fishable area. Strong, threaded ice anchors for deeper connections with the ice. Shelter has interior window covers to block out light.
Shakespeare Ugly Stik GX2 Low Profile Baitcast Rod and Reel Combo
Equipped with a sturdy aluminum handle, the Ugly Stik GX2 Low Profile Baitcast Combo is a rod and reel that you can rely on when in those high stress fishing situations where reliability is most important. Featuring an adjustable magnetic cast control this GX2 baitcaster is by far the smoothest caster on the market. The reel comes pre-spooled with 12-pound Stren line and is ready to be taken on your next fishing trip right out of the store. Put your trust in the Ugly Tech Construction which combines both graphite and fiberglass to bring a super strong rod that still maintains the necessary sensitivity to detect even the slightest of bites and nibbles.
Frabill Pro Thermal Yellow Tip-Up w/ Lil Shiner Light
The original insulated tip-up; prevents ice build-up and keeps the wind from blowing in snow and slush to cover up your hole. This round thermal tip-up also blocks out the sunlight so as to not scare off the shallow water fish species. The thick insulation round tip-up covers the entire hole and helps prevent freezing as much as 25 degrees Fahrenheit. Never have to worry about losing your tip-ups again with the highly visible chartreuse round tip-up. This round tip-up can cover up to a 10-inch hole. Also, will fit inside a 5-gallon bucket.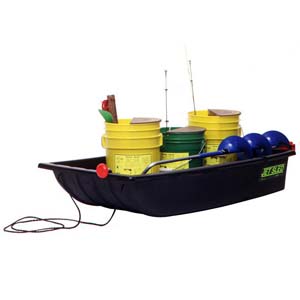 Shappell Jet Sled
Rugged polyethylene sleds with molded runners for strength and stability. Ideal for ice fishing, transporting deer, firewood, traps, decoys, feed, etc. Specially contoured hull allows for easy pulling by hand. Optional covers available to keep snow, slush, dirt and rain off your gear.
Sealskinz Men's Waterproof Ultra Grip Gloves
Featuring a stretchy but impermeable inner layer, these gloves are completely waterproof. The inside lining is Merino wool for extra warmth, and the outer surface is dotted with rubberized grip points to provide excellent grip and dexterity while keeping your hands warm and dry. Perfect for pulling in your catch.
KnotMaster Polarized Sunglasses
Available in a variety of styles and magnifications, the KnotMaster polarized sunglasses provide protection for your eyes from sun glare off the ice while also giving you bifocal magnification for tying those fine knots. Available in +1.50 (Mild), +2.00 (Medium), and +2.50 (Strong) magnifications.
Striker Ice Guardian Jacket and Bib
The Guardian Jacket features a 320D Tussor shell, 210T inner lining, Lycra inside cuffs with adjustable closure and front zipper storm flap. For ventilation, the Guardian Jacket has "through-to-skin" underarm zip vents. And of course, there are plenty of pockets to haul what you need. The matching Guardian Bibs have extra flotation material in the seat and knees for additional protection. The bibs also have full length leg zippers, 600D Endura knees and an adjustable inseam/cuff. Easy to use velcro closures on storm flaps. Both the jacket and bib have 50g of Thermadex insulation to provide additional warmth and separation barriers for more comfort.
Smartwool Men's Mountaineer Hiking Socks
Extra-heavy full-cushioning keeps your feet warm and dry when you're mountaineering, ice climbing, ice fishing, or for multi-day backpacking. Arch brace holds the sock in place and adds additional support. Flat-knit toe seam keeps you comfortable. The Smartwool fabric is strong and breathable.
South Bend Ice Safety Kit
Package includes whistle, sure grip ice cleats, and ice escape grips to pull yourself from icy water.
13 Fishing Descent Ice Reel
The 13 Fishing Descent Ice Reel will dominate the hard-water with the ultimate high-performance inline reel. Eliminate line twist and drop even the smallest jigs with precise control. The graphite soft touch frame with built-in fender helps you feel the bite and allows you to fish in the pencil/pistol grip without touching the spool. Change spools in an instant with the all new rapid release spool design.
Berkley FireLine Micro Ice Fused Line
FireLine Micro Ice Fused Crystal combines the ultimate in low-visibility line with all of the benefits of Berkley FireLine. Extremely thin diameter to work perfectly the tiniest micro baits. Supple enough to handle the most extreme cold weather possible. Incredibly strong line that is three times stronger than mono. Ultimate sensitivity to telegraph feel for structure and strikes.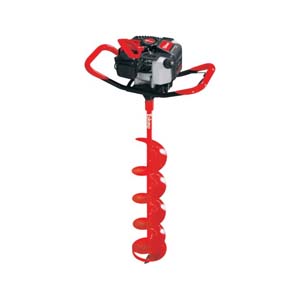 Eskimo Mako 43cc 10in Power Ice Auger
The Mako 43cc ice auger delivers the perfect blend of strength and stability for any angler's needs. It offers many of the features found on high-end augers, but in a more economical package. With Eskimo's exclusive Quantum blades, the original cold-weather Viper engine, and features like a mitten-grip recoil rope, you'll have a cost-effective, easy-to-use ice auger that you'll come back to year after year.
Frabill Ice Dipper
Made out of a durable polypropylene and reinforced nylon, the construction of this ice scoop will long outlast the other scoops on the market that are not near as tough or durable. Frabill backs this product with a limited lifetime warranty just to show how reliable the product is. Use the 30-inch engraved ruler on the handle to measure those big trophy fish you catch out on the ice. The large scoop on this ice dipper removes more ice, more quickly to be much more effective than other scoops. Relieve the stress and pain in your back by not having to bend over while scooping the slush and ice out of your ice hole with the longer handle on this ice scoop.
JawJacker Hook Setting Tip Up
This hook setting tip-up will revolutionize your ice fishing. It can be used with rods up to 36 in. depending on flexibility, and all ice rods up to 30 in. The trigger is easily adjusted from light to heavy so you can ensure that you are getting hooks set exactly to your preferences. It is made of tough ABS plastic and collapsible for easy transportation and storage.
Marcum LXI Handheld Sonar
The ultimate portable sonar, LX-i is the size of a flashlight, allowing for easy, one-handed depth and fish finding on ice. No fumbling with separate transducers— just press the face of the LX-i against wet ice, and digital depth immediately appears on the large LCD display. Powered by a 6-volt battery (included), LX-i comes nicely protected inside a padded carrying case.
Hi Mountain Seasonings Fish Brine
Once you get your catch on dry land, it is time to brine and smoke it for a delicious treat. Kit includes 2-6.5 oz brine packets and instructions. Makes 2 gallons of brine. Each brine kit contains two packets of mix. Each packet will season 1 gallon of water, detailed instructions included. Kit includes brine packets and instructions. Available in two varieties; Alaskan salmon with maple syrup and trout with honey
Browning Dakota Camp Chair
The Dakota is a great chair when space is limited, and weight is a factor, but comfort is a must. While stools are nice, the Dakota is similar to a stool, but with a back on it for maximum comfort and still compacts and fits into a small carry bag so you can easily travel with it. It has an extra wide seat and angled back so whether you're sitting around the ice hole, campfire, or in your ground blind, you're able to be comfortable for hours. The sturdy design of the chair allows it to hold up to 300 pounds.