By Chad LaChance
You've thought about it for a while but haven't taken the plunge. The weather is nice and the word on the street is that now's the time; you're finally going to dabble in fishing. But wait, you don't have a rod and reel or a tackle box or waders or any of that other paraphernalia you see other anglers draped in. Don't despair oh fledgling fisher, I got'cha covered in this very column. And in case you're not independently wealthy or possibly fear commitment, we're going to outfit you at your local Sportsman's Warehouse for a hundred bucks.
Before we get into details, let's make some assumptions. First, you have nothing; no rod, reel, line, bait, lures or anything else specifically fishing related. Furthermore, this same advice may apply to a kid, say 10-15 years old, that may be inclined to try fishing, perhaps having been invited to fish with a friend or, as was my personal case, was drawn to fishing even though my single mom didn't fish. She didn't understand my desire, but was smart enough to support me in it as a youngster. I get emails along those lines from parents commonly, so this column applies to that scenario as well as an adult that has become fish-curious.
But what kind of fish will you try to catch? I always encourage newbs young or old to start simple; at first you just want to catch fish. You can worry about catching big fish later. My recommendation is a local pond. If that is not available, perhaps a smallish reservoir. The idea is find a place with panfish (bluegills, green sunfish, pumpkinseeds or crappie) and bass, or a place stocked with rainbow trout. Small bass, panfish and trout can all be caught with the same gear and they are typically willing participants in our fishy game. A quick visit with a fishing associate at your Sportsman's Warehouse, a Web search or call to you local DNR will yield local places to fish. Remember, we're not looking for Shamu-sized trophy fish, we just want to get our string pulled.
So, what do we buy with our $100? Let's make a list of requisite items; Rod, reel, line, hook, sinker, bobber, a few lures, needle nose pliers, and something to carry it all in. Anything extra is classified as a want, not a need.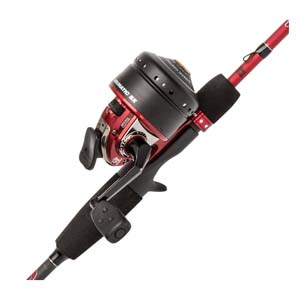 Fishing tackle 101: match your rod/reel/line such that it is a balanced package and sized appropriately to cast the bait you will fish with and handle the fish you will catch. Since we're just getting started and simply want to catch fish, we're going to start small. The easy answer to getting a balanced set-up and solid value is to buy a pre-assembled rod/reel/line combo. I'm going to spend half our budget here and get an Abu Garcia Abumatic SX 10 spincast rod and reel combo. At 6' long and medium power (I'll spare you rod rating details for now) it's well suited for pond fishing. It comes pre-spooled with Berkley Trilene XL in 8 pound test; again a very versatile and easy to fish with line. This combo is sized and of sufficient quality to grow with you as an angler, and could easily be used to fish ponds, rivers or lakes with bait or lures, and it's very easy to cast. Now for the ol' hook, line sinker, aka "terminal tackle".
Grab two packs of plain shank offset hooks, size 6 and size 12. That'll be about $4 total and will cover your bait bases. While you're on that aisle, grab a bag of size 3 re-useable split shot which will be about $2. Probably also on that same aisle, you'll see bobbers; grab a pack of 3/4" red-n-white bobbers, about $2. Now you should seek out "plain ball-head jigheads" and get a pack of size 1/8oz and 1/4oz. That'll be about $4 total.
Now what to put on those hooks and jigheads? In a word; PowerBait. Find those little yellow jars and get one of Crappie Nibbles, one of Honey Worms and another of Power Nuggets, in colors of your choice. They'll be about $9 total. Lastly, go find small bags of "curl tail grubs" in 2" and 3", natural green or brownish colors. That'll be about $4 and concludes your bait list.
Seek out the fishing tools and get a cheap pair of 6" needle nose pliers with line cutter, about $7. Use them to unhook all fish safely and also to cut line. Lastly, go check out the tackle bags. Look for the $17 Shakespeare Soft Tackle Bag. That's your new tackle box.
There, you're outfitted to fish for less than $100. I'd strongly recommend you wear sunglasses (preferably polarized, but anything that will protect your eyes and cut glare) and bring an old wash cloth or rag to clean up your hands. Equipped thusly, you can go chase panfish, small bass or stocker trout.
Before heading out, Google "Palomar knot" and learn to tie it with a piece of string or rope at home. It's a very simple yet effective knot and will serve you in all your fishing days. Use it to attach your hook or jigheads. The bobber and split shot can be clipped or pinched on the line, most commonly with a split shot 6"-12" above the hook and the bobber 1'-3' above that. If you are fishing on the bottom, skip the bobber and add two or three split shot about 12" above the hook instead. Use the smaller hook for a Honey Worm or Crappie Nibble (commonly with the bobber), the larger for a Power Nugget (with or without the bobber).
Also Google "how to rig a grub on a jighead" before heading out. Rig the small grub on the small jighead and vice versa. These can be cast out, allowed to sink and swam, jigged, or hopped back to you. They can also be suspended under the bobber and very slowly reeled in. Viola, you're bass fishing!
Yes, there is a lot more to fishing that I've detailed, but there doesn't have to be. Practice the knot, jig rigging and perhaps a few casts at home, ask around for simple local spots, and get after it. Be careful though, before you know it fishing may occupy a huge percentage of your daydreams!